Mustang Bolt Patterns
The bolt pattern is the diameter of the circle made by the centers of your Mustang's wheel lugs. Ford used several options with offset and backspacing over the years, depending on the year and model of their longest-running pony car! The list below will cover the details and differences of the wheel offset and backspacing and wheel size, stud size, and center bore. When selecting wheels from LMR, you never have to worry about buying the wrong wheel with incorrect bolt patterns! LMR.com only offers the correct specifications needed for a hassle-free installation! Common OEM bolt patterns include 4"X108mm for 4-lug 1979-1993 Fox Body Mustangs and 5'X114.3mm for 1994-present 5-lug applications.
---
How To Measure Ford Mustang Bolt Patterns
The bolt pattern or bolt circle is the diameter of an imaginary circle formed by the centers of the wheel lugs. Bolt patterns can be 4, 5, 6, or 8 lug holes, typically depending on the application. The first number will indicate the number of lug holes on the wheel hub face, the second number will be the diameter of the imaginary circle through the centerline of the lug nut holes. A wheel bolt pattern/circle of 4x100 would indicate a 4-lug pattern on a circle with a diameter of 100mm. Some manufacturers use metric or standard measurements depending on the application. So you can see examples like 5" X 114.3mm or 5'X 4.5". These measurements can be vital regarding wheel selection, wheel spacers, or even hub/brake rotor selection.

For example, a 4-lug, you will measure from the middle of each lug hole directly across from each other. On a 5-lug or a wheel with an odd num,ber of lug holes, you will need to measure from the middle point of one hole to the back end of the hole across from it.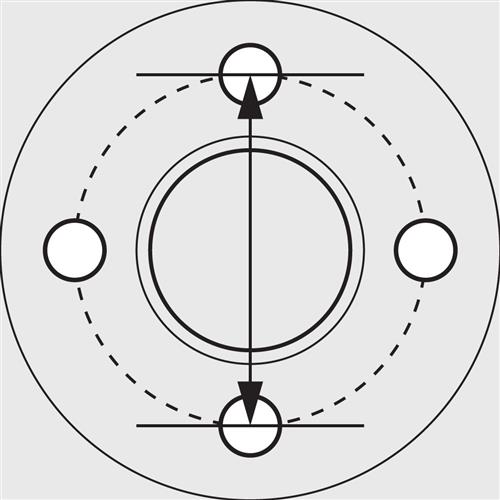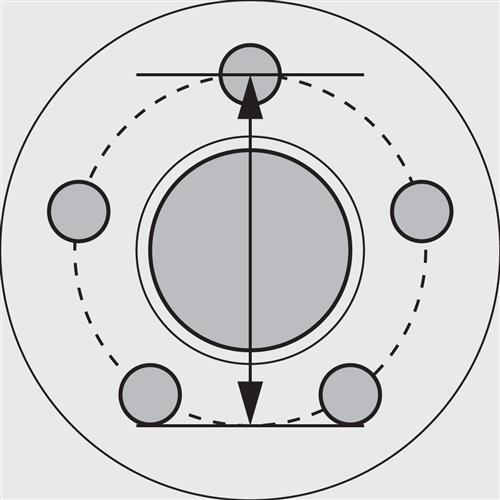 ---
Ford Mustang Center Bore
The Center bore of your Mustang Wheel is where the center cap is found. This center bore diameter can come into play for a few different reasons. Depending on the application, some brake rotors, dust caps, or hardware can cause interference with wheel fitment if this is incorrect.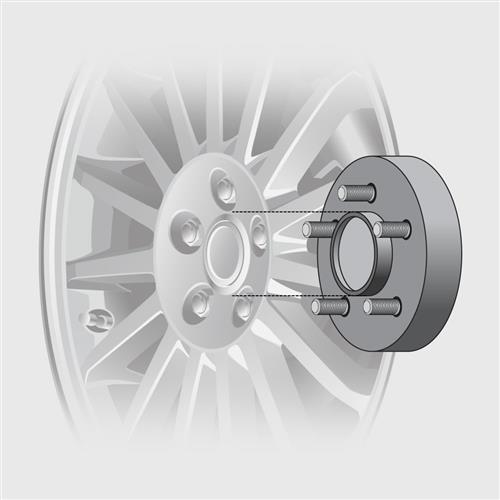 ---
Ford Mustang Stud Sizing
For the 1979-present Mustang, not much has changed over the years regarding stud sizes. For all 1979-2014 Fox, SN95, New Edge, and S197 chassis, the standard 1/2" X 20 serrated thread pattern was used. Beginning in 2015 for the S550 chassis; Ford started using a slightly larger M14 X 1.5" stud configuration.
---
Ford Mustang Offset and Backspacing
Having the correct wheel offset and backspace is paramount not only to your vehicle's performance but to your car's or truck's overall appearance! To learn more about this specific topic, LMr.com has a dedicated Wheel Offset Guide article surrounding this subject!
---
Conclusion
Having the proper knowledge before you purchase an aftermarket set of wheels for your vehicle can save you not only money but will save valuable time and reduce frustration! Whether you own a Ford Mustang GT, Ecoboost, or Lightning Truck, LMR.com has you covered! While this article highlights the Ford Mustang, any car enthusiast can learn from this priceless content when upgrading their car or truck!
Are you looking for 1979-Present Mustang Wheel installations or guides? Check out our extensive tech section for more info!
As always, for more informative automotive articles, keep it here with the real Mustang enthusiasts, LMR.com!
Source: Discount Tire
---