For this dyno article we will turn our attention to our 1985 ASC McLaren. This vehicle is part of our Project Mercury Rising Series and we can't wait to see how much power it makes to the rear tires with the Ford Performance Gen 2 Coyote Crate Engine. This crate engine is rated at 430 horsepower and 400 lb-ft of torque at the flywheel. It also includes a T56 Magnum Transmission which is a 6-Speed gearbox and they also include the control module for this kit so that you can make all of the goodies function. Check out our What Is An ASC McLaren Article to learn more about this extremely rare vehicle.
---
Jump To:
Dyno Numbers & Photos
---
← Swipe For More 1985 ASC McLaren Photos →
---
Mod List
Ford Performance Gen 2 Coyote Crate Engine
T56 Magnum Transmission
Control Module
BBK Long Tube Headers
BBK High Flow Catted Mid Pipe
JLT Cold Air Intake
Aluminum Driveshaft
Custom Tune
Custom SVE Series 1 Wheels
This dyno will be made in 4th gear which is the 1:1 ratio for the T56 Transmission with gas being filled with 93 Octane Fuel.
---
Check Out Our Dyno Results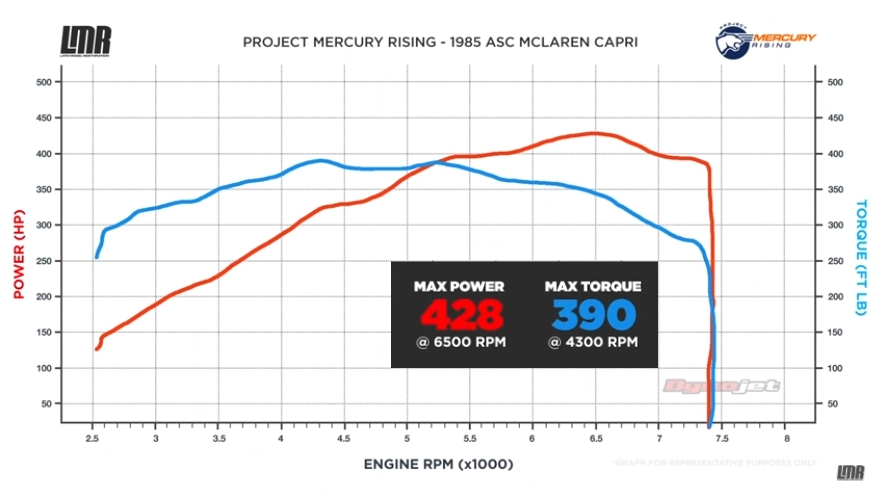 ---
Here are the results! This coyote engine cranked out 428 horsepower @ 6500 RPMs and 390 lb-ft of torque @ 4300 RPMs. This is extremely close to those flywheel-rated numbers and that of course is to the rear tire. A little performance history on the '85 ASC McLaren Capris was there was a pushrod 302 which turned out 210 horsepower and 265 lb-ft of torque. So with modern advancements and much better technology, this one-off Capri now makes 220 more horsepower and 122 more lb-ft of torque than its pushrod counterparts. We hope this dyno gave you some more insight into just what these iconic ASC McLaren's can do. As always keep a lookout for more dyno articles and videos right here at LMR.com. Shop our Fox Body Mustang Parts below!
---