LMR Showroom Temporarily Closed Beginning 4/12/2019
2019 Late Model Restoration Cruise In
Posted 2/19/2019 by Tyler Rodriquez
FOLLOW: 79 93 mustang , 94 04 mustang , 05 09 mustang , 10 14 mustang , 2015 mustang , mustang
Late Model Restoration will be hosting a cruise-in on Saturday, July 13 - Sunday, July 14. This event will be held at Texas Motorplex Dragway in Ennis, Texas from 9 AM till 5 PM on Saturday and 10 AM to 3 PM on Sunday. This cruise-in is Mustang and Lightning specific. There will be food/drink concessions, multiple door prizes, and giveaways. There will be no cost of admission for entry or need for registration.
Being at Texas Motorplex, we will be offering FREE test and tune drag runs, dyno runs (cost determined by vendor), burnout contest and a revving contest. All events including track usage will be Mustang and Lightning exclusive. There will be separate spectator parking for non Mustang and Lightning vehicles. For those wanting to participate in the test and tune, your cars will need to be teched at the track prior to runs. For all information regarding the track rules and regulations, please visit https://texasmotorplex.com/racer-info/track-rules/.
This event is still a Cruise-In style event and there will be no judging of cars.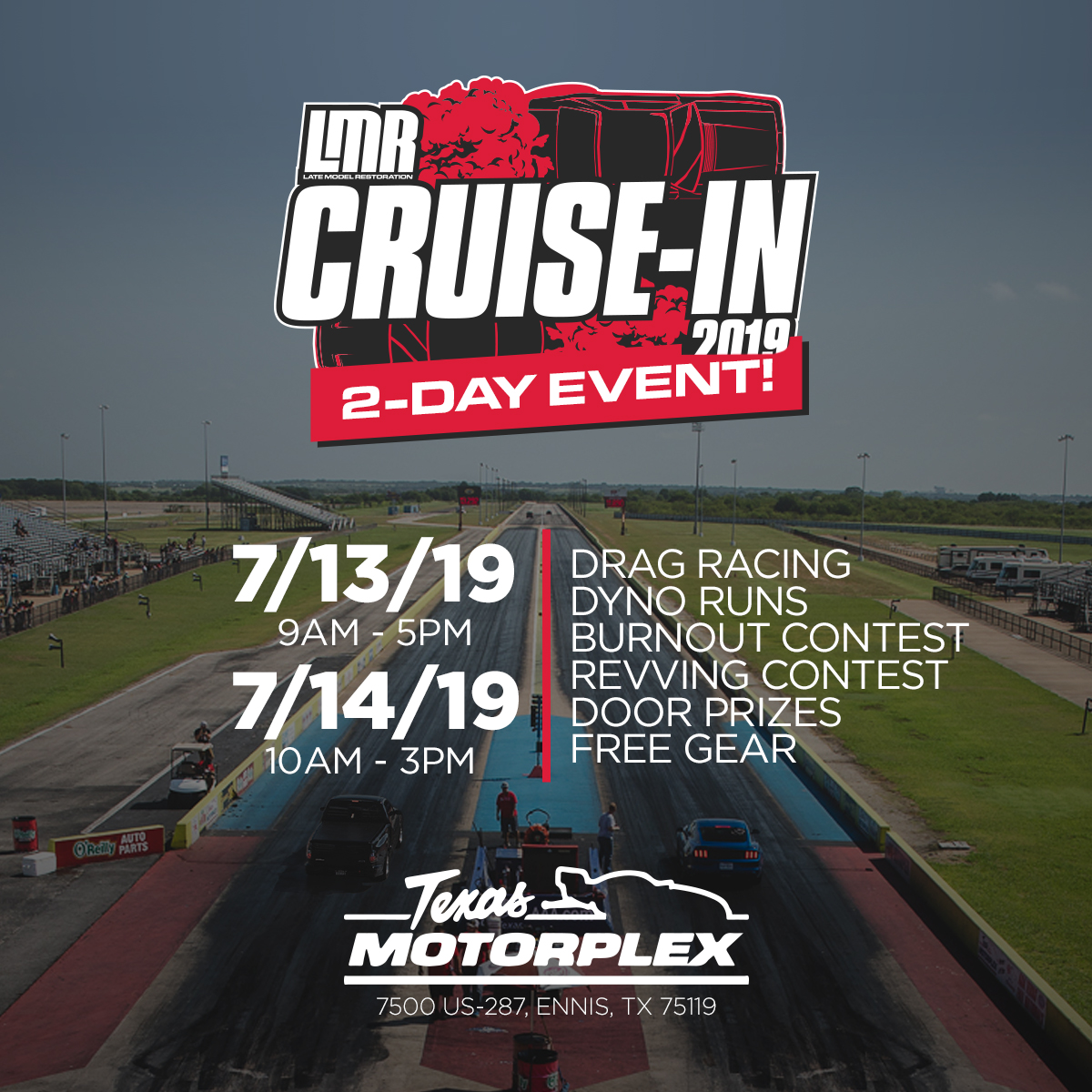 ---
About the Video
LMR Cruise In 2018
Check out our YouTube channel for even more tech tips, installation videos, how-tos, and more. The best place to go for anything Mustang related!
Published on 2019-02-18
On Saturday, August 25th, 2018, the Texas Motorplex in Ennis, Texas played host to the third annual LMR cruise-in!

The 2018 LMR Cruise-In attracted Mustang and Lightning enthusiasts from all over the great state of Texas and United States. From the revving contest, burn out contest, and drag racing ALL day; the 2018 LMR cruise-in was without question an awesome experience!

We would like to thank everyone who came out to support this event! For every customer, fan & friend of LMR who supports what we offer for the Mustang & Lightning aftermarket - we are powered by you, the enthusiast!