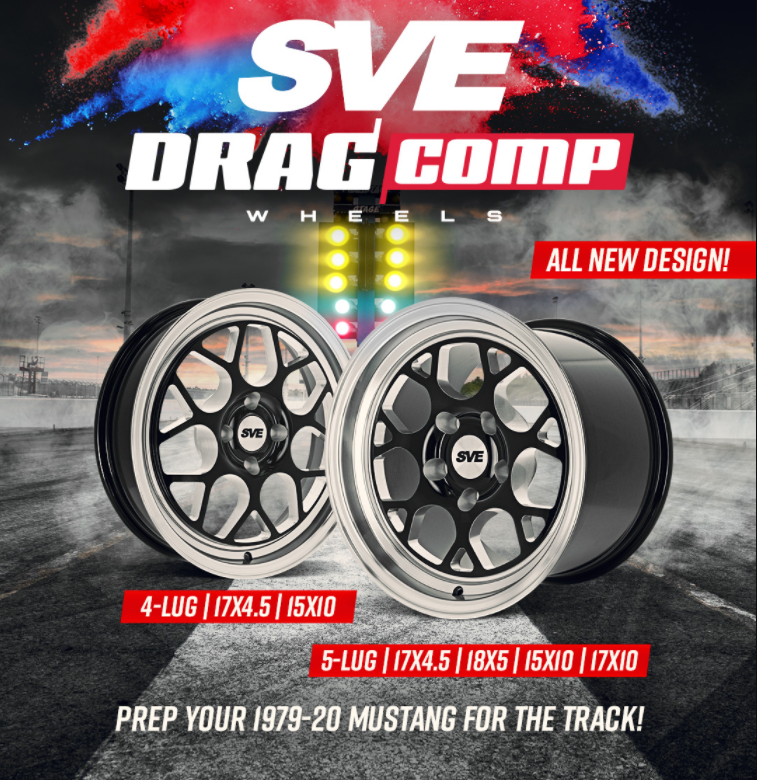 ---
History Of The SVE Drag Wheel
So several years ago at the time of this article & video, we released our very first SVE drag wheel. Since the release of that wheel, it's been very successful and well-loved by many Mustang enthusiasts. Now because of the enduring love and support from all of you, we've deemed the OG SVE drag wheel as the Drag "Classic" and it's currently still available on the site. But, as time goes on, the next great idea usually comes to fruition and it has with our exclusive SVE Drag Comp wheel!
---
SVE Drag Comp Wheel Specs
We took a simple yet aggressive approach with the design of the Drag Comp wheel. We were chasing a wheel design that would look great on any 1979 to present Mustang regardless of the color, the trim level, or the existing exterior modifications. We can also proudly say that this design was completed in-house by our wheel design team, which consists of very talented employees here at LMR. This dynamic design features a recessed center section with a crisp multi-spoke configuration. Both the front and rear wheels incorporate a mildly polished lip and one of our personal favorites features - the machined windows and the gloss black face.
Like several other of our SVE wheels, offsets and backspacing dimensions are very important to us and these measurements are something we don't make "generic". The Drag Comps will feature the right offset and backspacing so they properly fit within the fenders and wheel-wells on your Mustang. The SVE Drag Comp wheels are constructed from cast aluminum and are currently available in a few sizes and bolt patterns. Now because of this, we're not going to get into all of the little details for each individual wheel as this is easily referenced on the product pages. But, we will say this; Since we STRONGLY value customer feedback here at LMR and the most-asked question in regards to the Drag Classics was, "Can y'all make it in 4-lug?"... Guess what, the Drag Comp is available for 1979 to 1993 Mustangs that are still rocking that 4-lug setup.
---
← Swipe For Drag Comp On-Car Photos! →
---
Review Video
---
Before You Buy
Before you purchase a set of our SVE Drag Comp wheels, PLEASE thoroughly read over the product descriptions and fitment notes. After all, our product development and marketing teams do a TON of work to ensure we do our absolute best to comb through all of the fine and small print when it comes to wheel fitment.
In typical LMR fashion, you can purchase these SVE Drag Comp wheels by themselves, in a wheel-only kit, or in a wheel and tire kit that arrives at your doorstep mounted, balanced, and ready to bolt-on to the car. Furthermore, each wheel is currently supported by SVE's outstanding wheel warranty which you can find out more information on the warranty by visiting the product pages.
---
We at LMR hope you enjoy our long-awaited SVE Drag Comp wheels to complement our Drag "Classics" from years past. These wheels are something we are extremely proud and took the entire team at LMR to bring these from thought to reality