With the Fox Body Mustang ending in 1993, Ford Motor Company launched a major redesign of their beloved pony car with the introduction of the SN95 Mustang! Visually, this new look pointed back to the 1960s Mustangs with the return of the side scoops, tri-bar taillights, and running pony coming standard on all models. Naturally, with a new design, new Mustang color options were launched to complement the sleeker lines of the SN95.
---
Some very unique exterior colors were offered on select Mustang models during 1994-98. Colors like Canary Yellow were only available on the Mustang GT and GTS of 1994 and 1995. Other one-off year SN95 Mustang colors included Iris, Sapphire Blue, the infamous Aztec Gold, and Atlantic Blue. Ford was very creative on some other single-year run options, which became very popular color options like Bright Atlantic Blue and Chrome Yellow for 1998!
Mustang enthusiasts of any age can appreciate the color-changing Mystic SVT Cobra of 1996 with its flipping colors from purple, deep green, orange, and even gold color hues! This was the first time that an OEM color that flipped its appearance depending on the angle was used on a production car! Ford brought back a version of the SVT Mystic Cobra in 2004 with the Mystichrome Cobra. Even the seats and steering wheel featured color-changing paint! It is notable for adding that if there was a 2000 SVT Cobra, a very distinctive color-changing option was going to be used called Mystic Gold. This almost used color would flip from a bright metallic yellow and orange to a green tint. Sadly, the 2000 Mystic Gold SVT Cobra never happened because of the performance recalls of the 1999 SVT Cobra. Even though the 99-04 Color changing Cobras are not within the year range being highlighted, they are definitely worth mentioning!

---
HOW TO FIND SN95 MUSTANG PAINT CODES
Overtime, 94-98 paint colors on your SN95 Ford Mustang may fade in the sun, become scratched or damaged from daily use, or maybe you are replacing body panels that need to be painted to match your car! Having the correct paint code is key to ensuring your Mustang will not be driving around with a multicolor paint job!
To find your Mustang's correct 94-98 paint codes, you will need to locate your Vehicle Identification Tag. This is located on the B-Pillar when you open your driver-side door. On the bottom left-hand corner of the ID tag, you will see the phrase "EXTERIOR PAINT COLOR". The code will be listed directly above this phrase with a two-digit code.
Below is a list of the paint codes and the color names for your SN95 Mustang!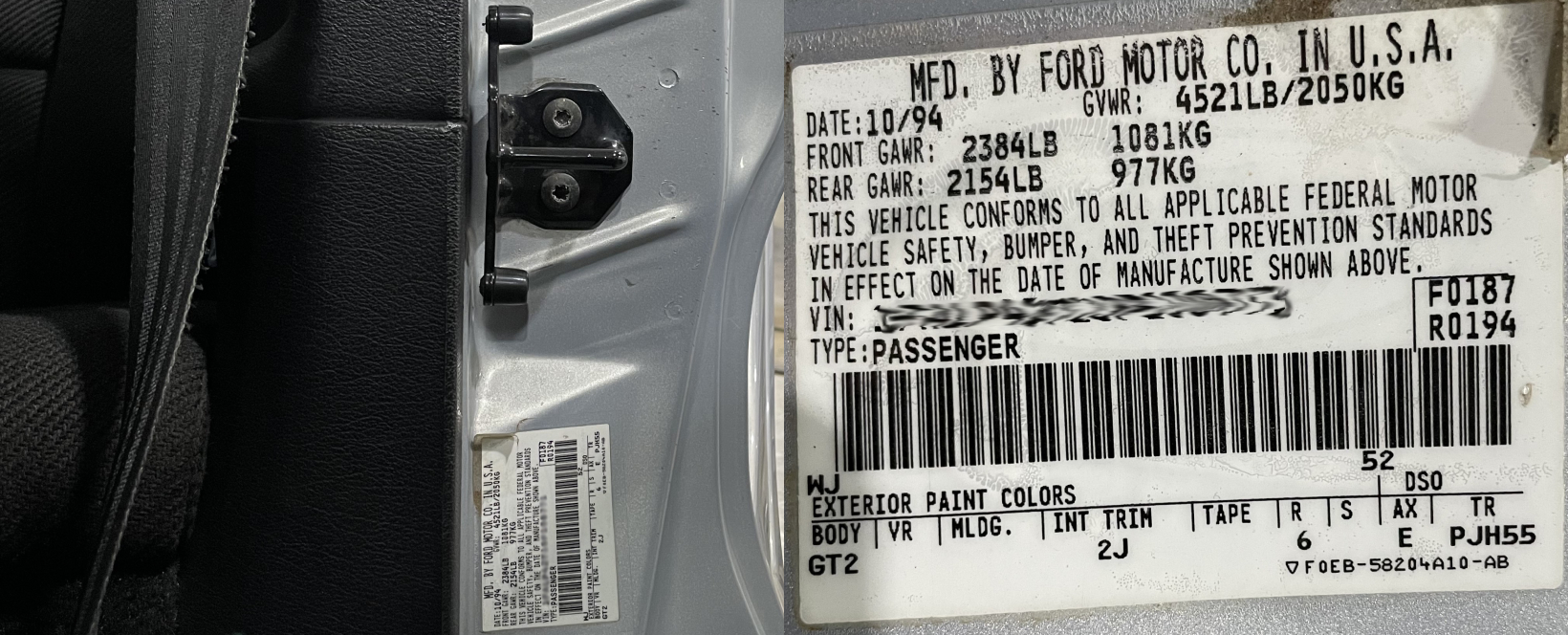 94-98 SN95 Mustang Paint Code List
| Paint Code | Name (Year Range) *GT/GTS only |
| --- | --- |
| BZ | Canary Yellow (1994*-95*) |
| E8 | Rio Red (1994-98) |
| E9 | Laser Red (1994-98) |
| ES | Vibrant Red (1994*-95*) |
| GC | Iris (1994) |
| KF | Bright Blue (1994-95) |
| NA | Deep Forest Green (1994-97) |
| RD | Teal (1994-95) |
| UA | Black (1994-98) |
| WJ | Opal Frost (1994-96) |
| ZF | Crystal White (1994-98) |
| JA | Sapphire Blue (1995*) |
| CM | Bright Tangerine (1996) |
| JU | Deep Violet (1996-97) |
| KM | Moonlight Blue (1996-97) |
| LF | Mystic (1996 SVT Cobra Only) |
| PS | Pacific Green (1996-98) |
| AZ | Aztec Gold (1997) |
| BG | Autumn Orange (1997-98) |
| BZ | Chrome Yellow (1998) |
| ES | Performance Red (1998) |
| FU | Dark Satin Green (1998) |
| K6 | Atlantic Blue (1998) |
| K7 | Bright Atlantic Blue (1998) |
| YN | Silver (1998) |
---
As we can see from this list, 94-98 paint colors the SN95 Mustang had some iconic options that will forever be remembered like Bright Atlantic Blue and the Mystic SVT Cobra of 1996 to some forgettable SN95 Mustang colors like the purple/pink "Iris" found on the 1994 model year.
To many, these Mustangs are what we grew up with and they hold a special place in our hearts and others, well, the 94-98 Mustang is just another memory of the dark days of Ford. Whichever group you fall into, nobody can argue that without the SN95 Mustang with its overhead cam V8's we may not have the powerful Coyote 5.0L Mustangs we have today.
---
1999-2004 New Edge Paint Codes
When it is time to upgrade the exterior of your New Edge Mustang by adding a 2003-04 SVT Cobra front bumper or a new cowl hood, you will need to know your correct paint code before your pony car goes to paint. This article will cover the basics of where to find your correct paint code and will cover the 1999-04 New Edge Mustang colors that were used!
1999 marked some major changes for the SN95 Ford Mustang. The aging chassis that started with the 1979 Fox Body Mustang was now 20 years old and needed to make a splash to take attention away from the newly LS-powered, high-performance Chevrolet Camaro. While keeping the shape of the SN95 Mustang, the 1999 model year dubbed "New Edge" featured significant exterior changes with sharper edges, a complete facelift on the front and rear of the car including new headlights and taillights, and large side scoops.
Performance-wise, the Mustang GT would receive Performance Improved (PI) cylinder heads and intake manifold bumping the horsepower from 225 to 260 and torque up to 302 lb/ft. from 290 lb/ft. These numbers would remain for the GT variant through 2004. However, Ford would offer several different "performance packages" or upgraded models for the last years of the Fox Chassis, including The return of the Mach 1 Mustangs, the 2001 Bullitt only offered with a manual transmission with its beautiful Dark Highland Green, and the continuation of the 32v, DOHC SVT Cobra now featuring an independent rear suspension.

As one can imagine, with the noted changes, the 99-04 paint colors would also need to fit the revised Flagship of FoMoCo. Mustang fans of all ages appreciate one of the best Mustang colors ever to be used on the color-changing SVT Cobra of 1996. Its Mystic paint job would switch between purple, deep green, orange, and even gold depending on the light and angle you viewed it. This was the first time an OEM color that changed appearance was used on a production vehicle!
With the Mystichrome SVT Cobra, Ford brought back a version of this rare Mustang in 2004. Color-changing paint was also used on the front seats and steering wheel. It's worth noting that if a 2000 SVT Cobra was built, a unique color-changing option called Mystic Gold would be used. When exposed to light, this almost-used paint would have changed from a vibrant metallic yellow and orange to a green tint. Unfortunately, the 2000 Mystic Gold SVT Cobra was never built due to the 1999 SVT Cobra's Intake, and exhaust recalls.
---
HOW TO FIND NEW EDGE MUSTANG PAINT CODES
You can find your paint code on the Vehicle Identification sticker located inside your driver's door (see picture above). The paint code for your New Edge Mustang is located on the bottom left-hand side of the manufacturer ID sticker. It is labeled "EXT PNT".
Once you have the paint code, you can use our simple Paint Code List below to find the official Ford paint name for your New Edge paint code. This will help you get your exterior restoration project underway.
---
| Paint Code | Paint Name | Years Available |
| --- | --- | --- |
| BZ | Chrome Yellow | 1999 |
| E8 | Rio Red | 1999 |
| FU | Dark Green Satin | 1999 |
| K6 | Atlantic Blue | 1999-00 |
| K7 | Bright Atlantic Blue | 1999-00 |
| ZR | Crystal White | 1999-00 |
| ES | Performance Red | 1999-01 |
| SW | Electric Green | 1999-02 |
| E9 | Laser Red | 1999-03 |
| UA | Black | 1999-04 |
| YN | Silver | 1999-04 |
| BP | Sunburst Gold | 2000 |
| SU | Amazon (Tropic) Green | 2000-03 |
| PY | Highland Green | 2001 Bullitt |
| B7 | Zinc Yellow | 2001-03 |
| L2 | True Blue | 2001-03 |
| TK | Mineral Gray | 2001-03 |
| Z1 | Oxford White | 2001-04 |
| TL | Satin Silver | 2002-03 (03 was SVT Cobra Only) |
| D3 | Torch Red | 2002-04 |
| CX | Dark Shadow Gray | 2003-04 |
| G2 | Redfire Pearl Metallic | 2003-04 |
| L5 | Azure Blue | 2003-04 Mach 1 |
| SN | Sonic Blue | 2003-04 |
| CY | Competition Orange | 2004 |
| D6 | Screaming Yellow | 2004 |
| FX | Crimson Red | 2004 40th Anniversary Edition |
| G6 | Mystichrome Metallic | 2004 Terminator Cobra |
---
That is a very extensive list of colors! Some were carried over from the SN95 Mustang and many were new releases specifically for the New Edge Mustang. Gone are the pink and purple hues from 1994-98 and colors like Redfire Metallic, Electric Green, and Dark Shadow Grey take their place.
The New Edge Mustang even had some other unique colors if you had owned one of the "Power in the hands of few" Saleen cars. Colors like the beautiful Beryllium orange in 2002, Extreme Rainbow in 1999, and Speedlab Yellow & Lizstick Red of 2000. These beloved Mustangs, like the Fox Body Mustang, are increasing in their value and many will be collector's items in years to come.
---
For more Mustang-related content, as always, keep it here with the Real Mustang Enthusiasts, LMR.com!
---