With the Fox Body Mustang ending in 1993, Ford Motor Company launched a major redesign of their beloved pony car with the introduction of the SN95 Mustang! Visually, this new look pointed back to the 1960s Mustangs with the return of the side scoops, tri-bar taillights, and running pony coming standard on all models. Naturally, with a new design, new Mustang color options were launched to complement the sleeker lines of the SN95.
---
Some very unique exterior colors were offered on select Mustang models during 1994-98. Colors like Canary Yellow were only available on the Mustang GT and GTS of 1994 and 1995. Other one-off year SN95 Mustang colors included Iris, Sapphire Blue, the infamous Aztec Gold, and Atlantic Blue. Ford was very creative on some other single-year run options which became very popular color options like Bright Atlantic Blue and Chrome Yellow for 1998!
Mustang enthusiasts of any age can appreciate the color-changing Mystic SVT Cobra of 1996 with its flipping colors from purple, deep green, orange, and even gold color hues! This was the first time that an OEM color that flipped its appearance depending on the angle was used on a production car! Ford brought back a version of the SVT Mystic Cobra in 2004 with the Mystichrome Cobra. Even the seats and steering wheel featured color-changing paint! It is notable to add that if there was a 2000 SVT Cobra, a very distinctive color-changing option was going to be used called Mystic Gold. This almost used color would flip from a bright metallic yellow and orange to a green tint. Sadly, the 2000 Mystic Gold SVT Cobra never happened because of the performance recalls of the 1999 SVT Cobra. Even though the 99-04 Color changing Cobras are not within the year range being highlighted, they are definitely worth the mention!

---
Overtime, 94-98 paint colors on your SN95 Ford Mustang may fade in the sun, become scratched or damaged from daily use, or maybe you are replacing body panels that need to be painted to match your car! Having the correct paint code is key to ensure your Mustang will not be driving around with a multicolor paint job!
In order to find the correct 94-98 paint codes of your Mustang, you will need to locate your Vehicle Identification Tag. This is located on the B-Pillar when you open your driver-side door. On the bottom left-hand corner of the ID tag, you will see the phrase, "EXTERIOR PAINT COLOR". The code will be listed directly above this phrase with a two-digit code.
Below is a list of the paint codes and the color names for your SN95 Mustang!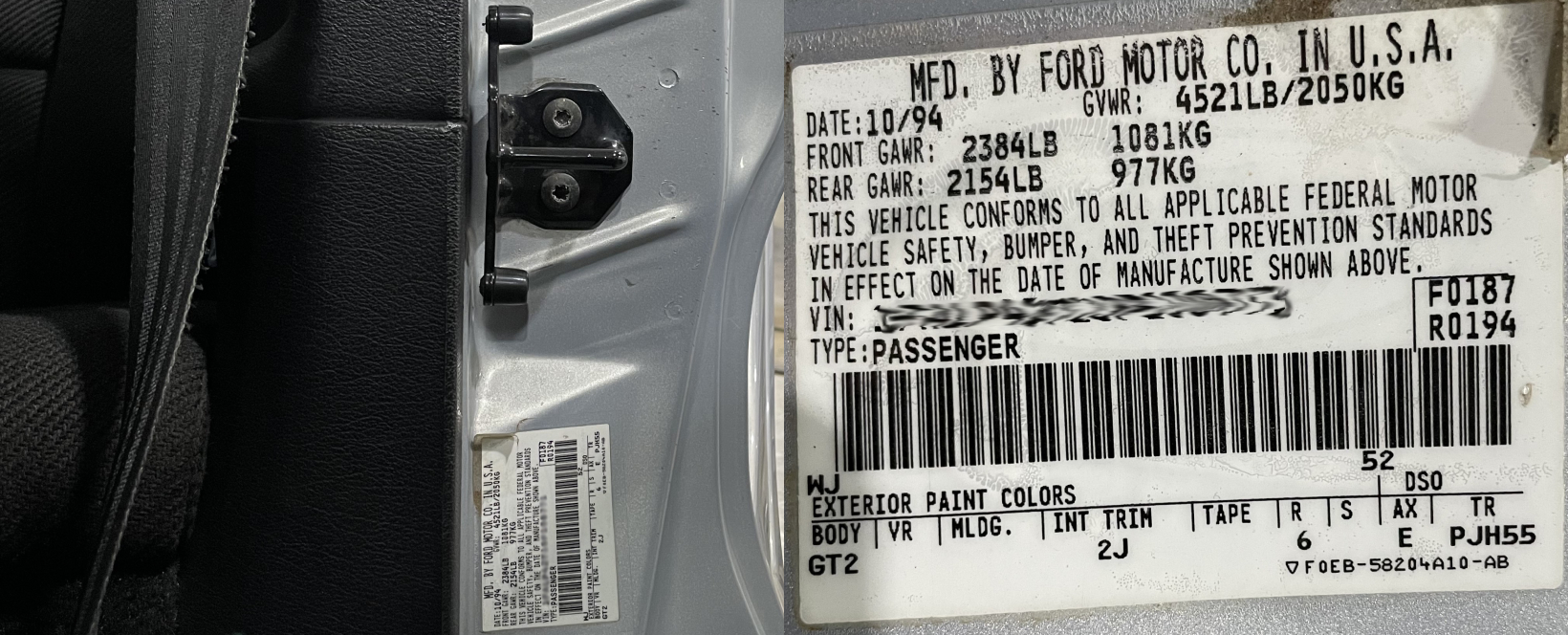 94-98 SN95 Mustang Paint Code List
| Paint Code | Name (Year Range) *GT/GTS only |
| --- | --- |
| BZ | Canary Yellow (1994*-95*) |
| E8 | Rio Red (1994-98) |
| E9 | Laser Red (1994-98) |
| ES | Vibrant Red (1994*-95*) |
| GC | Iris (1994) |
| KF | Bright Blue (1994-95) |
| NA | Deep Forest Green (1994-97) |
| RD | Teal (1994-95) |
| UA | Black (1994-98) |
| WJ | Opal Frost (1994-96) |
| ZF | Crystal White (1994-98) |
| JA | Sapphire Blue (1995*) |
| CM | Bright Tangerine (1996) |
| JU | Deep Violet (1996-97) |
| KM | Moonlight Blue (1996-97) |
| LF | Mystic (1996 SVT Cobra Only) |
| PS | Pacific Green (1996-98) |
| AZ | Aztec Gold (1997) |
| BG | Autumn Orange (1997-98) |
| BZ | Chrome Yellow (1998) |
| ES | Performance Red (1998) |
| FU | Dark Satin Green (1998) |
| K6 | Atlantic Blue (1998) |
| K7 | Bright Atlantic Blue (1998) |
| YN | Silver (1998) |
---
As we can see from this list, 94-98 paint colors the SN95 Mustang had some iconic options that will forever be remembered like Bright Atlantic Blue and the Mystic SVT Cobra of 1996 to some forgettable SN95 Mustang colors like the purple/pink "Iris" found on the 1994 model year.
To many, these Mustangs are what we grew up with and they hold a special place in our hearts and others, well, the 94-98 Mustang is just another memory of the dark days of Ford. Whichever group you fall into, nobody can argue that without the SN95 Mustang with its overhead cam V8's we may not have the powerful Coyote 5.0L Mustangs we have today.
---
For more Mustang-related content, as always, keep it here with the Real Mustang Enthusiasts, LMR.com!
---