---
The Coyote engine debuted in 2011 and is a V8 5.0 L. This 302.1 cu/in is the latest evolution in modular engines and was developed by Ford as they started to face steep competition from rival automotive companies. Their competition was from the GM 6.2L LS3 that is used in the new Camaros as well as the Chrysler 6.4L Hemi ESF that is used in the Challenger, Chargers, and Grand Cherokees. Ford developed two versions of the Coyote engine in 2011, which we explain in our Mustang vs F150 Coyote Engine article.
---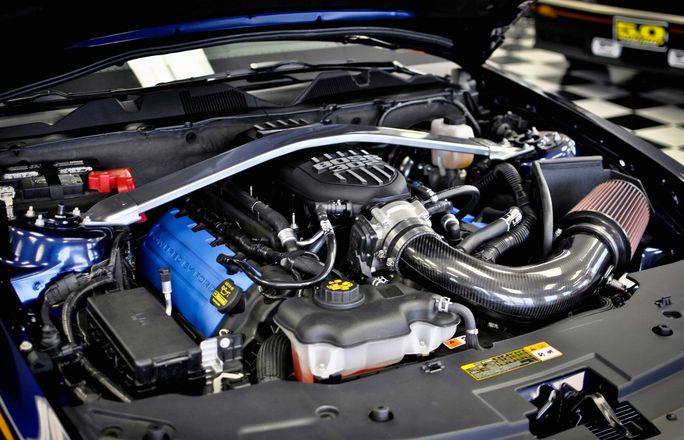 Why Name It "Coyote"?
On all of Ford's engine programs, they use code names because they want to keep everything under wraps in case there is a leak from any part of the company. For this specific program, they held a contest among a small group to come up with a name. It was as simple as sending out a mass email to the group for name ideas. The one they decided to take was from John Norcott, who was one of their V-8 engine planners. He came up with "Coyote" because it originated with A.J. Foyt's race team. Foyt had a 4 valve V8 back in 69' and was the 1st Ford 4 valve ever made. Since Ford's main goal for the Coyote was performance, they liked the idea of it being linked to an Indy engine. There was a big debate among the group between naming it either Road Runner, Coyote, and other versions of Coyote but ultimately settled on the Coyote name that we love today.
About The Coyote Engine
The Coyote had to stay close to the physical size of the 4.6L and share specifications such as deck height, bore spacing, bell housing bolt pattern, etc. in order for this engine to utilize the existing modular production line tooling. This Coyote engine produced around the same amount of power as its competitors but with a much smaller displacement. So, the block had to be strengthened and was done by using webbing to reinforce the casting instead of increasing the thickness of the walls. It also features the new 4 valve DOHC (double overhead cam) cylinder heads that have shifted the camshafts outboard. Also, the Coyote is Ford's first implementation of its CTA (cam-torque-activated) Ti-VCT (Twin Independent Variable Cam Timing) in a V8 engine. This allows the PCM (powertrain control module) to advance and retard intake and exhaust cam timing that is independent of each other. This provides improved power, reduced emissions, and fuel economy. This is all assembled in Ford's Essex Engine Plant in Windsor, Ontario.
Coyote Engine Specs
| Coyote Motor Specs | Gen 1 Coyote (2011-14 Mustang) | Gen 2 Coyote (2015-17 Mustang) | Gen 3 Coyote (2018+ Mustang) |
| --- | --- | --- | --- |
| Horsepower | 412/420 HP | 435 HP | 460 HP |
| Torque | 390 lb/ft | 400 lb/ft | 420 lb/ft |
| Displacement | 4.951 Liters | 4.951 Liters | 5.035 Liters |
| Compression | 11:1 | 11:1 | 12:01 |
| Bore | 92.2mm | 92.2mm | 93mm |
| Stroke | 92.7mm | 92.7mm | 92.7mm |
Latest Changes To The Coyote Engine
In 2018 Ford made some
changes to the Coyote
by adding high-pressure direct injection and increasing the piston bore diameter from 3.63 to 3.66 in. The increase in bore size brings the total displacement from 302 to 307 cu/in. Additional improvements include specific camshafts, enlarged exhaust valves and intakes, 7500 RPM redline, and an increased compression ratio of 12:0:1. After these changes were complete the new 5.0L Coyote is now rated by Ford at 460 hp and 420 lb/tq.
What Is A Coyote Swap?
The Coyote Motor Swap is a great performance modification for Mustang owners everywhere! Swapping a 5.0 Coyote engine has become one of the most popular engine swaps over the last few years and adds a great amount of horsepower and torque. What is included in a coyote swap are coyote engines, crate engine control packs, Coyote swap headers, exhaust x-pipes, tubular k-members, coil over kits, steering racks, flywheels, T-56 bellhousings, motor mounts, oil pans, pedal brackets, and other additional accessories that will complete the installation.


---
The Mustang Coyote Engine has been a staple among Mustang enthusiasts for some time now and is still the engine of choice in Ford's newest Mustang GT models.
---