---
Jump To: Specs | Why Is It Called Coyote? | Engine Features | 5.0 & Coyote Differences | What Is A Coyote Swap? | Latest Coyote Changes
---
Coyote Engine History
The Coyote engine is a modular V8 5.0 engine that was debuted in 2011 which was able to put out 412 horsepower and 390 lb-ft of torque. This 302.1 cu/in is the latest evolution in modular engines and was developed by Ford as they started to face steep competition from rival automotive companies.
Their competition was from the GM 6.2L LS3 that is used in the new Camaros as well as the Chrysler 6.4L Hemi ESF that is used in the Challenger, Chargers, and Grand Cherokees. These engines use the tried and true cam in the block, pushrod engine design that has been around for quite a long time.
Ford went in a different direction back in 1996 with the introduction of the overhead cam engine in the Mustang GT and SVT Cobra. The GT with its SOHC 2v 4.6L v8 produced 215 horsepower and the SVT Cobra with its DOHC 4v v8 put out a cool 305 horsepower. These first modular engines evolved over 14 years finding their way into various performance models of the Mustang. The final year of the non-Coyote engine found in the Mustang GT was a SOHC 3v V8 producing 315 horsepower and 325 lb/ft. of torque thanks to variable cam timing.
Ford upped their game to match the larger pushrod V8's with the introduction of the now-legendary Coyote engine. They developed two versions of the Coyote engine in 2011, which we explain in greater detail in our Mustang vs F-150 Coyote Engine article.
The Ford Performance mindset with the Coyote engine focused on higher RPM power with the design of the 32v cylinder heads whereas the GM and Chrysler counterparts produce better low-end torque. Because of the dual overhead cam design, the Coyote engine responds very well to supercharged and turbocharged applications!
---
Coyote Engine Specs
| Coyote Motor Specs | Gen 1 Coyote (2011-14 Mustang) | Gen 2 Coyote (2015-17 Mustang) | Gen 3 Coyote (2018+ Mustang) |
| --- | --- | --- | --- |
| Horsepower | 412/420 HP | 435 HP | 460 HP |
| Torque | 390 lb/ft | 400 lb/ft | 420 lb/ft |
| Displacement | 4.951 Liters | 4.951 Liters | 5.035 Liters |
| Compression | 11:1 | 11:1 | 12:01 |
| Bore | 92.2mm | 92.2mm | 93mm |
| Stroke | 92.7mm | 92.7mm | 92.7mm |
---
Why Is It Called A Coyote Engine?
On all of Ford's engine programs, they use code names because they want to keep everything under wraps in case there is a leak from any part of the company. For this specific program, they held a contest among a small group to come up with a name. It was as simple as sending out a mass email to the group for name ideas.
The one they decided to take was from John Norcott, who was one of their V-8 engine planners. He came up with "Coyote" because it originated with A.J. Foyt's race team. Foyt had a 4 valve V8 back in 69' and was the 1st Ford 4 valve ever made. Since Ford's main goal for the Coyote was performance, they liked the idea of it being linked to a high RPM Indy engine.
There was a big debate among the group between naming it either Road Runner, Coyote, and other versions of Coyote but ultimately settled on the Coyote name that we love today. Road Runner was eventually applied to the track-inspired Boss 302 in 2012 and 2013 with its revised 5.0L engine! This version of the Coyote engine would rev past 7,000 RPM with ease and produced 444 horsepower!
All of this new power was thanks to a new, sexy intake manifold stamped with "Boss 302" directly on top with velocity stack styled runners. In addition to the intake manifold, revised cylinder heads undergo 2.5 hours of CNC machining with altered ports and stronger alloy. Increased lift on the camshafts, larger intake valves, and race-spec bearings were also added, getting peak horsepower to come in at 7,500 RPM!
This Road Runner variant of the Coyote engine made the Boss 302 strong competition for BMW's M3 and Ford's own GT500. With 0-60 times coming in at 4.3 seconds, one 0.2 seconds behind the 5.4L Supercharged Shelby! Considered by many to be the best solid axle, street-legal race Mustang to come off a factory showroom floor!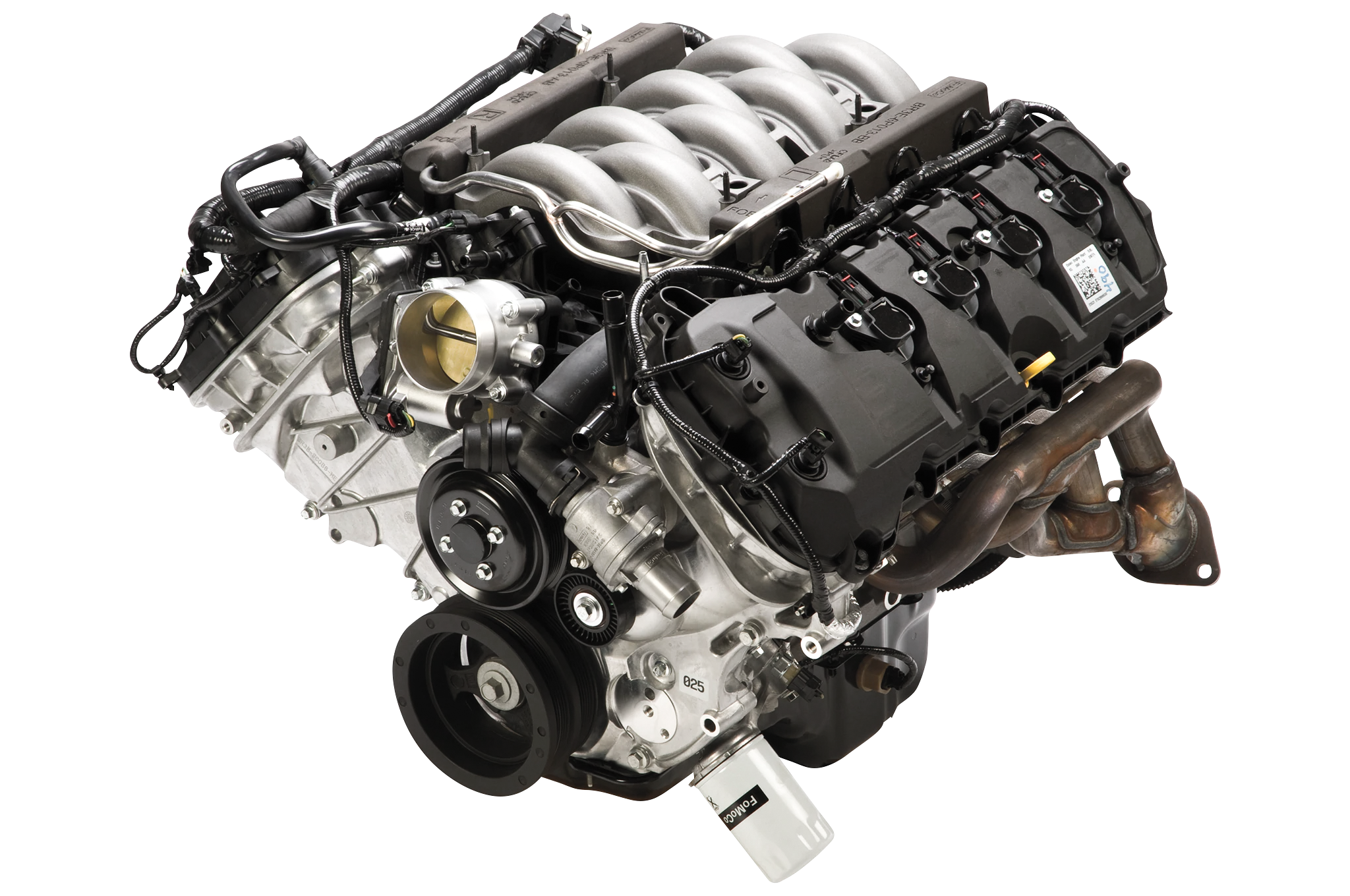 ---
Coyote Engine Features
The Coyote had to stay close to the physical size of the 4.6L and share specifications such as deck height, bore spacing, bell housing bolt pattern, etc. in order for this engine to utilize the existing modular production line tooling. This may have prevented Ford from producing a larger Coyote engine to compete with the 6.2L Chevrolet and the 6.4L Chrysler.
This Coyote engine produced the same amount of power levels as its competitors with the larger engines but with a much smaller displacement. It seems that there may be a replacement for displacement, RPM! Because of this, the aluminum block had to be strengthened and this was done by using webbing to reinforce the casting instead of increasing the thickness of the walls.
It also features the new 4 valve DOHC (double overhead cam) cylinder heads that have shifted the camshafts outboard, a composite intake manifold, and port fuel injection.
Also, the Coyote is Ford's first implementation of its CTA (cam-torque-activated) Ti-VCT (Twin Independent Variable Cam Timing) in a V8 engine. This allows the PCM (powertrain control module) to advance and retard intake and exhaust cam timing that are independent of each other. This provides improved power, reduced emissions, and fuel economy. This is all assembled in Ford's Essex Engine Plant in Windsor, Ontario.
---
What Is The Difference Between A 5.0 And A Coyote?

This can be a confusing question… but it does not have to be! Traditionally, when you hear the phrase "5-Oh", most will think about the 87-93 Mustangs. With the Coyote engine, Ford brought back the 5.0L fender badging made famous by the 87-93 Foxbody! It was a wonderful touch to connect the beloved 80's and early 90's Mustangs with the new technology of Ford's pony car power plant!
While both the old pushrod 302 engine and the Coyote engine share the same displacement, as you are learning from this article, the Coyote is vastly different from its older brother!
---
What Vehicles Have The Coyote Engine?
Unlike the pushrod 5.0L predecessor to the Coyote that was in almost everything Ford offered like the Crown Victoria, F-150 truck, LTD, Lincoln Towncar, Explorer, etc., the modern high revving Coyote was in two Ford Powered vehicles: Mustang & F-150.
These engines, while sharing the same name, had some significant differences for their specific applications. To summarize their differences, camshaft profiles, changes in the intake manifold and other changes had the F-150 variant at 360 hp and 380 lb/ft of torque while the Gen 1 Coyote came in at 412 hp and 390 lb/ft. of torque. Not a terrible difference but notable nonetheless!
---
What Is A Coyote Swap?
The Coyote Motor Swap is a great performance modification for not only Mustang owners, but any engine bay that can be modified to fit Ford's high revving beast! We've seen this engine swapped into BMW's and even Scion FR-S!
Swapping a 5.0 Coyote engine has become one of the most popular engine swaps over the last few years and adds a great amount of horsepower and torque. 400 rwhp is easily seen with the use of long tube headers and a good tune.
What is needed to perform a coyote swap? It all starts with the Coyote engine. Next, you will need the crate engine control packs, Coyote swap headers, exhaust mid-pipe like an x-pipe, tubular k-members, coil-over kits, steering racks, flywheels, T-56 transmission with corresponding bell housing, engine mounts, oil pans, pedal brackets, and other additional accessories that will complete the installation.
For those on a budget, any transmission from 1996 to current will technically "bolt up" to the Coyote engine but it is strongly recommended to upgrade to the aforementioned T-56 6-speed or the TKO600 for manual options. Now for the automatic guys, the 4r70w that is built to withstand the higher horsepower or even the 6r80 from 2015 to current Mustangs will be great options to put behind this amazing engine!
---
Is The Coyote Engine A Good Engine?
Ford's Coyote engine is a real alternative to all of those who perform LS swaps in their cars. This engine is no longer the focus of ridicule like some of the 90's engines found in the Mustang. The Coyote engine with its high revving powerband and desire for boost is a real force to be reckoned with!
Is it a good engine, you know it is!
---
Latest Changes To The Coyote Engine

In 2018 Ford made some changes to the Coyote by adding high-pressure direct injection in conjunction with the port fuel injection, increasing the piston bore diameter from 3.63 to 3.66 in., and the oil pan capacity was increased to 10 quarts with the oil filter. PTWA (Plasma Transferred Wire Arc) cylinder bores as found on the GT350 5.2L were added and the bore size also increased to bring the total displacement from 302 to 307 cu/in.
An all-new, stronger cylinder-head casting, featuring revised ports from the Gen 2 Coyote resulting in flow characteristics approaching the CNC'd ports in the Shelby GT350 5.2L Voodoo Engine.
Additional improvements include specific camshafts, enlarged exhaust valves, and intakes, 7500 RPM redline, and an increased compression ratio of 12:0:1, revisions to the coyote intake yielded higher flow with the same CMCV feature as introduced on Gen 2. After these changes were complete the new 5.0L Coyote is now rated by Ford at 460 hp and 420 lb/tq.
---
The Mustang Coyote engine has been a staple among Mustang enthusiasts for some time now and is still the engine of choice in Ford's newest Mustang GT models.
We at LMR.com have swapped this great engine into Fox Body, Sn95, and New Edge Mustangs! They make wonderful upgrades that will add several smiles per gallon to almost any car.
For more articles like this, keep it here with the real Mustang enthusiasts, LMR.com!
---