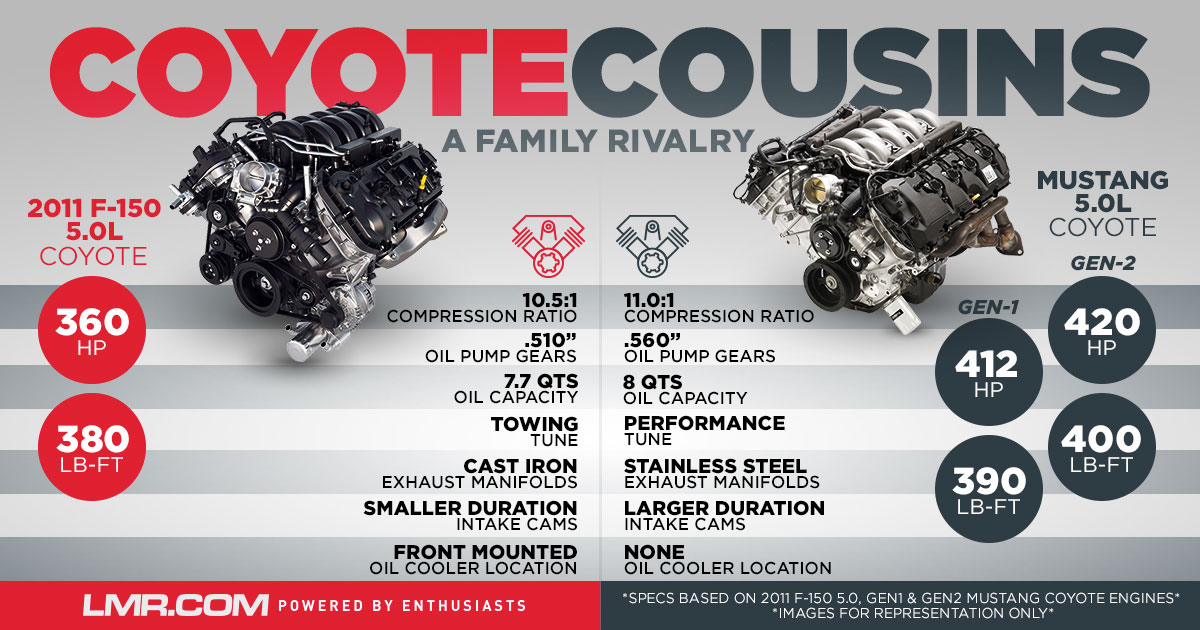 The F150 Coyote Motor
In 2011 Ford debuted the all-new 5.0L in the Ford F150. Replacing the 5.4L and 4.6L V-8 options from the previous years. Even though this motor's compression ratio is lower than the Mustangs, it still made decent power from the factory. This all-new F150 5.0L made an impressive 360 hp and 380 lb-ft of torque. This was achieved using a smaller intake cam for more torque, different valve job on exhaust valve for increased cooling in high loads, exhaust manifolds and obviously the tune.

The Mustang Coyote Motor
The
Mustang Coyote Engine was debuted in 2011
also in the all-new redesigned Mustang. This Mustang specific 5.0L Coyote boasted higher compression, 11.0:1 to be exact. Which is .5 higher than the F150 coyote engine. The Mustang 5.0L Coyote made 412 hp and 390 lb-ft of torque in it's Gen 1 motor. Unlike the F150 Coyote, the 11-12 Mustang included piston cooling jets. However, Ford dropped the cooling jets in 2013 stating "it wasn't needed".

The Differences Between the Two
Although there are many similarities between the two, there are many key differences that are important to look at when swapping a 5.0L Coyote from an F150 or Mustang into your project car.

F150 Coyote Engine
10.5:1 Compression Ratio
Milder Cam Profile for More Torque at Lower RPM's
Cast Iron Exhaust Manifolds
Tuned for Towing
Front Mounted Oil Cooler
Front Cover Moves Alternator Further out to the Side
Mustang Coyote Engine
Stainless Steel Exhaust Manifolds
11.0:1 Compression Ratio
Higher Revving Cam Profile
Tuned for Performance
Bigger Oil Pump Gears
---