WHY SHOULD YOU MAKE THE SWAP?
The Coyote engine has proven itself to be a nice combination of fuel efficiency and reliability while still putting out a lot of power. This great balance has landed this engine as one of the most popular engine swaps. In addition, the Fox Body is a very light vehicle coming in around 3,000 pounds which is much lighter than the Mustangs of today. This in turn will give the Fox that much more power gains. In conclusion this led the Fox Body initially coming with a pushrod engine instead of the modular coyote engine.
GENERATIONS OF THE COYOTE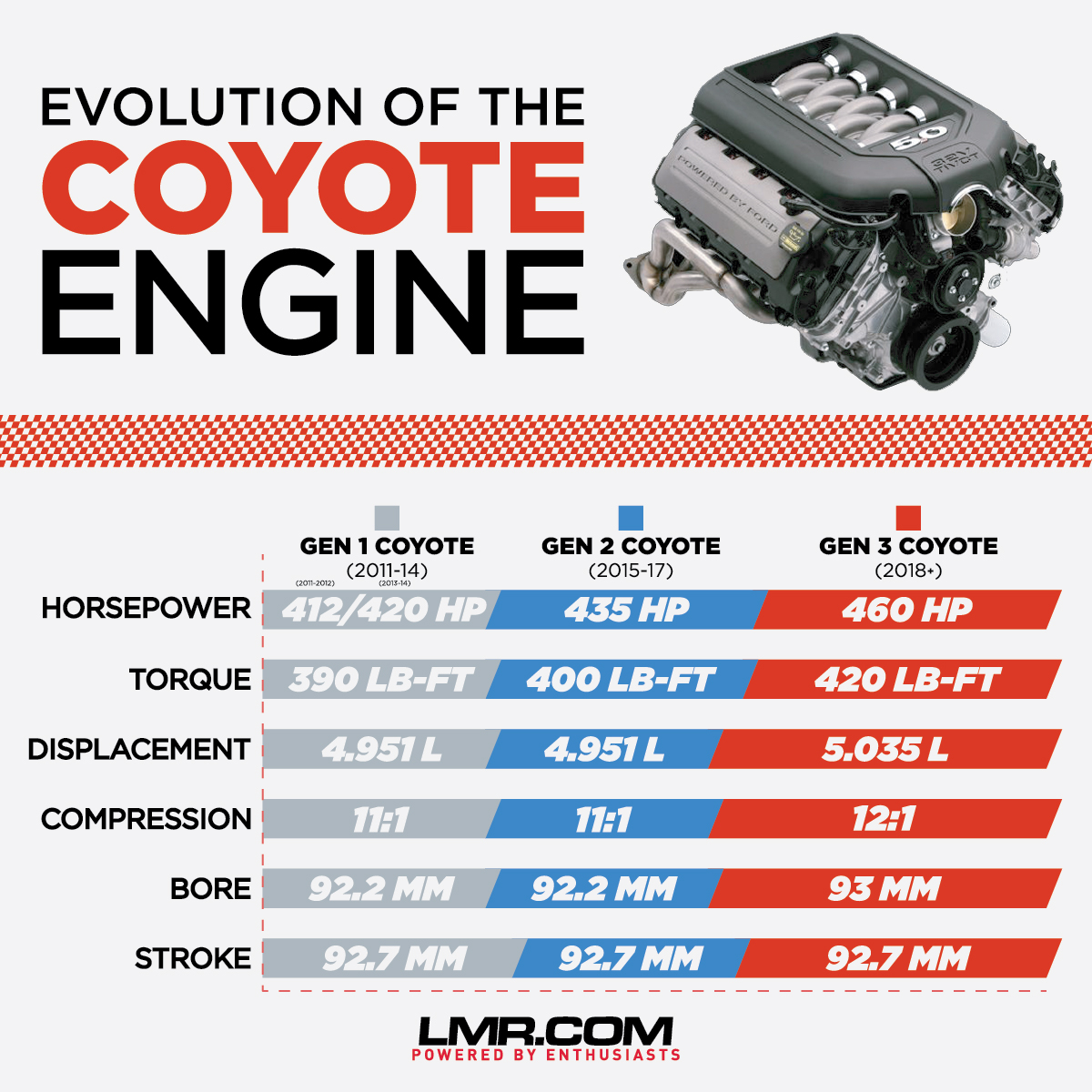 | | Gen 1 Coyote (2011-2014 Mustang) | Gen 2 Coyote (2015-2017 Mustang) | Gen 3 Coyote (2018+ Mustang) |
| --- | --- | --- | --- |
| Horsepower | 412 HP/ 420 HP | 435 HP | 460 HP |
| Torque | 390 lb-ft Torque | 400 lb-ft Torque | 420 lb-ft Torque |
| Displacement | 4.951 Liters | 4.951 Liters | 5.035 Liters |
| Compression | 11:1 | 11:1 | 12:01 |
| Bore | 92.2mm | 92.2mm | 93mm |
| Stroke | 92.7mm | 92.7mm | 92.7mm |
FOX BODY COYOTE SWAP PARTS LIST
LMR.com
NOTE: Please keep in mind this is a general list of coyote swap parts because there are so many ways to perform the swap. Also, check out our product page below to get a more in-depth list of some additional swap parts to give you more variety with your build!
Coyote Swap Blocks:
Coyote Swap Transmissions:
Coyote Swap Kits:
Coyote Swap Driveshafts:
(NOTE: These driveshafts are equipped with the larger 1350 u-joints and also use the larger pinion flange found on the 03-04 Cobra, Explorer, and F-150 8.8 applications. Therefore, if your vehicle still uses the factory car "small flange" you will need to upgrade to the larger heavy duty pinion flange.)
Coyote Swap Flywheel & Clutches:
Coyote Swap Motor Mounts:
Coyote Swap Tubular K Members:
Coyote Swap Brakes:
(NOTE: Hydroboost is required if you wish to retain power brakes)
Coyote Swap Battery Relocation Kit:
Coyote Swap Cooling Systems:
(NOTE: Electric cooling fan(s) are REQUIRED)
Coyote Swap Wiring Harnesses:
Coyote Swap Sway Bar & Brackets:
Coyote Swap Power Steering/Brackets:
Coyote cars had electric power steering, so there's no provision for power steering pumps. The addition of power steering requires custom brackets to add the pump. Therefore, this is the reason why one would choose the SVE-8511D is because of the desire to run power steering and accessories from a 96-10. In addition, we have other options from KRC and Ford racing for adding power steering if so desired.
Coyote Swap Oil System:
A stock Coyote oil pan can be used if an aftermarket K-member is used. This swap pan is required if using the stock k-member. Stock Coyote oil filters and coolers require removal or relocation of the front sway bar. SN95 sway bars can be used on the Fox to help clear alternator and A/C, this requires cutting the Fox sway bar bracket from the frame rails.
Coyote Swap Fuel System:
Coyote Swap A/C:
Coyote Swap Charging System:
Coyote Swap Exhausts:
(NOTE:Coyote Swap Headers Are Required And Expect To Do Some Customization Of Any Cat-Back You Choose To Run)
Coyote Swap Optional Features: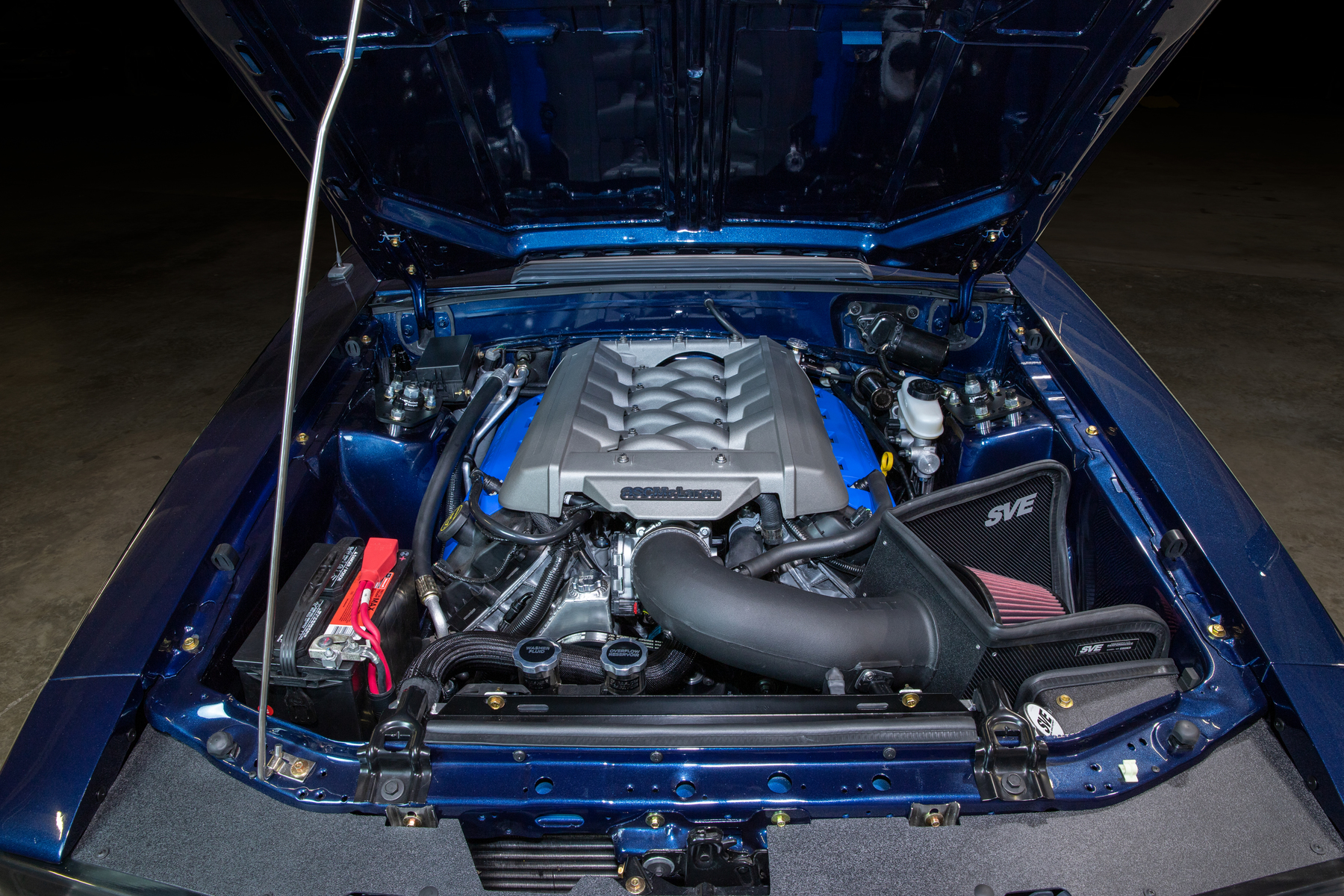 STEP-BY-STEP FOX BODY COYOTE SWAP STEPS
Follow the install articles and videos that we have made in the past titled: COYOTE ENGINE SWAP PROJECT. These videos and articles are a must-watch if you have any inclination of a Coyote swap for either your Fox Body or SN95 Mustang. This video series includes a mass of technical info and install videos to assist with any or all your swap needs.
---
We hope that you enjoyed our detailed article of coyote swapping your Fox Body! As always for anything Fox Body to present-day Mustangs, keep it right here at LMR.com.
---