The Roush Mustang has long been a sought-after Mustang due to its unique styling of appearance and performance packages. Having a Roush definitely separates yourself from the basic Mustang packages so we at LMR have provided this article to list everything about it!
---
Jump To: Roush History | Roush Generations | Roush Variants
---
Roush History
Beginning in 1964, Jack Roush started his automotive career as an engine development engineer for Ford Motor Company. Soon after he discovered that he had a passion for drag racing and formed his own team in 1970 with his partner Wayne Gapp. This team went on to win many different championships in many different leagues such as AHRA, NHRA, and IHRA Pro Stock drag racing over the next 5 years. Jack Roush found Roush Performance Engineering in 1976 by combining engineering with entrepreneurship. This started by him selling designs that he had created for his own team to the wider world of motorsport. His aggressive, solutions-based approach brought such a high demand for his Roush engines and components for drag, hill-climb, and oval track racing.
---
Roush Generations
1st Gen
The first generation started with the Mustang's SN95 model. This V8 GT was available in Stages 1-3 with each stage providing more features ranging from Stage 1's exterior upgrades to Stage 3's full performance package. The first-gen was offered all the way up to 1998.
2nd Gen
This generation got its start in 1999 and lasted 5 years, all the way to 2004 (1999-2004 Mustang years are labeled under the code name "New Edge"). What was different with this Roush generation was that it featured applications for both V8 & V6 models. Featuring a Roush Sports Mustang package for the entry-level model, it provided exterior upgrades, modified exhaust, as well as different interior tweaks. Different Stage 3 packages were added in 2002 that featured even more customization such as the Stage 3 Sport, Rally, and Premium.
3rd Gen
Debuting in 2005, this generation lasted until 2014 and came out with a wide variety of models! The codename for this year range was called "S197" and on top of the different stages that Roush normally offers, this was a time in which they came out with many different special-edition Mustangs that we will discuss farther in the article.
4th Gen
Starting in 2015 with the S550 model, they began with offering an RS model based on the 2015 V6 Mustang. Stage 1 was based on the 2.3L EcoBoost, Stage 2 was based on the 5.0L V8, and a new and improved Stage 3. Uniquely special to the 4th Gen is the R7 Aero Body Package! This featured a fully remodeled Roush fascia with integrated aero-pockets, high-flow lower grille, five-blade upper grille, and a front chin splitter. The newest 4th gen model of the Roush family is the 2020 Roush Stage 3 and comes equipped with the new 750HP Phase 2 Supercharger system and 670 lb-ft of torque.
---
Roush Variants
Jack Roush Edition
First unveiled at the SEMA show, this came equipped with a manual transmission and is said by many to be Roush's most powerful creation to date. This special edition Mustang combined with a basic Mustang GT donor car brings the total up to $87,720. While this is more expensive than the 2020 GT500, it does come with a manual and only 70 are being made so this could be worth it! It has wide variety of performance upgrades even when it is compared to the Shelby GT500. Here are some of the key features: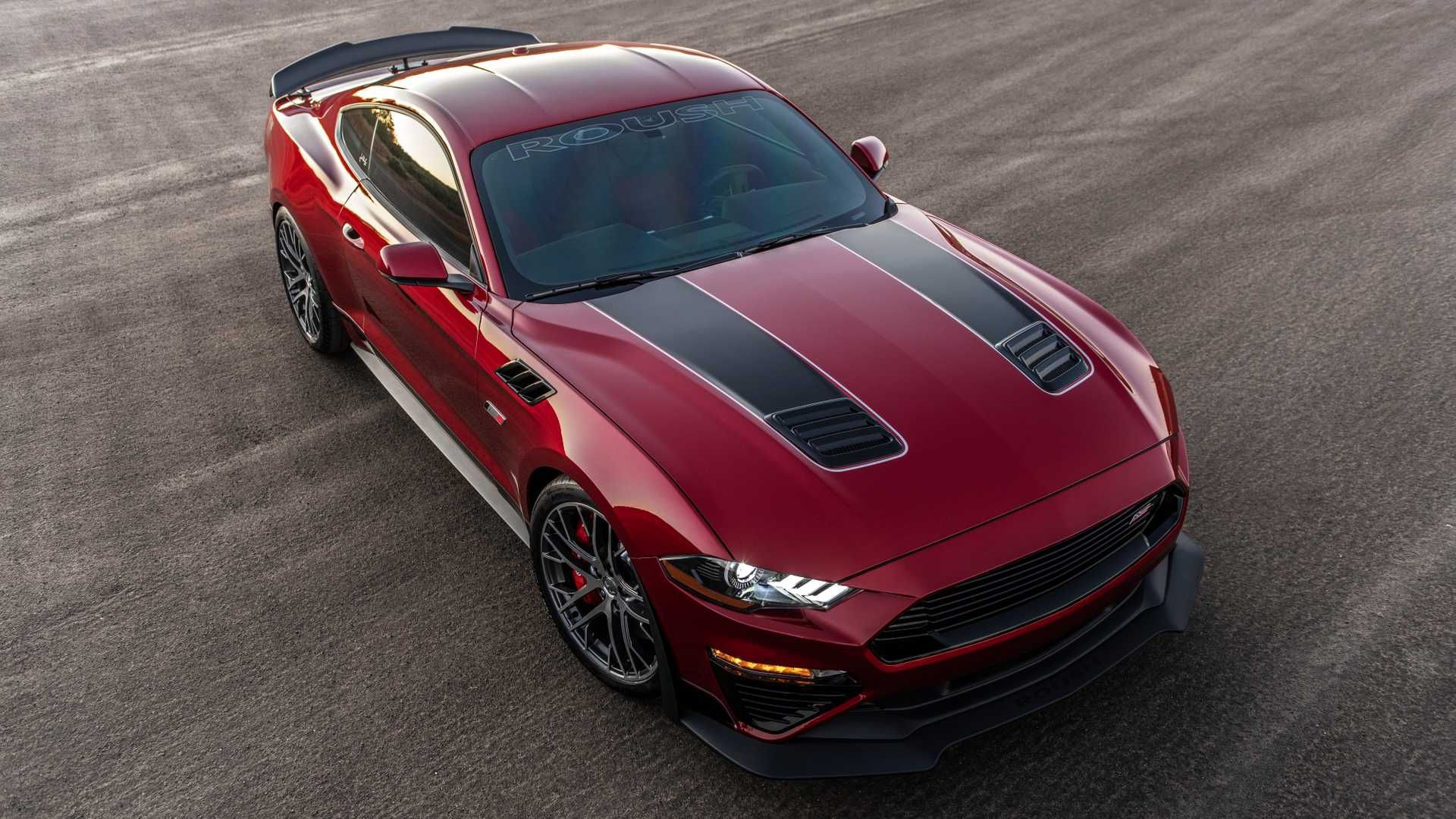 motor1.com
In house designed supercharger on the 5.0-liter V8.
775 HP
670 lb-ft torque
Larger Radiator
Auxiliary oil coolers for the engine, trans, and differential to cool off the additional power that heats up the powertrain.
Custom built air box signed by Jack Roush.
New active exhaust with multiple settings controlled by a knob next to the shifter.
Calibrated stock MagneRide suspension.
Lowered the ride height.
Larger brake rotors.
Six-piston Brembo calipers.
Red and black leather-trimmed performance bucket seats with red stitching with Jack Roush's signature.
Wrapped steering wheel with a red marker at the 12 o'clock position.
Optional Competition Package (additional $11,995) containing:

Roush/Weld racing wheels and track-ready tires.
Special vented hood.
Front fender vents.
Revised front grille and lower intake.
Side skirts.
Active carbon fiber rear spoiler.

---

360R

Having the name of Stage 3 until 2001, in 2002 the name switched to 360R due to it having 360 HP. This was considered the fastest production car in 2002, with a minumum price of around $40,000. With only 141 units made (80-Oxford White w/Blue Stipes | 61-Red w/White Stripes), all were autographed by Jack Roush Sr. and had a supercharged V8 engine. Many modifactions were made to this vehicle such as a short throw shifter, many Roush exterior upgrades, upgraded suspension, disc brakes, and so much more!

mustangmania.com

---

380R

Being an update of the 360R, the supercharged 4.6L V8 now pushes out 379 HP(basically 380 where it got its name). This is closest to a standard GT that has been tweaked with an Eaton Roots blower on a uniquely designed intake manifold. The biggest difference that we have seen between the 360 and 380 is the upgraded engine management system. This results in spinning the tires out at a full 1,000 RPMs lower than it does in the stock motor. With its base price tag of $41,215, this is a very expensive vehicle for the age, but will definitely set you apart from others due to only 62 being made in 2003.

Instragram:aandamustangs

---

440A

This is a 2004 model and the "440" is meant to signify that it has 400 HP and is the 40th anniversary of the Mustang breed. Also, the "40" represents the production volume of only having 40 made. Of the 40 made, more were produced in a convertible than a hardtop because there was 1 single dealership (Brandon Ford) in Central Florida that bought the entire 40 cars and it is a prime area for having the top off. This dealership had been the top-selling Roush dealer for a few years and they wanted to capture the entire market.

themustangsource.com

---

427R

This 2010 Mustang was the first Roush to have a Roushcharger installed which boosts the HP to 435 and 400 lb-ft of torque. This is the first time that ROUSH has been able to offer a supercharged vehicle at the beginning of a new body style. Featuring long air induction tubes that wrapped around the engine for a cleaner look, upgraded intercooler reservoir, upgraded appearance package, and suspension package really set this model apart! A TrakPack option also came limited to only 100 cars priced at $58,245 which included the following features:

mecum.com




Unique front fascia, chin spoiler, and hood scoop.
Adjustable carbon fiber wing (optional).
3-gauge pod for engine oil and coolant temp, boost gauge and shift light.

---

428R

Limited to 200 vehicles, this 2008 model lays down the same 435 HP and 400 lb-ft of torque just like the 427R but had a polished supercharger with stage 3 suspension. It also included a ROUSH billet radiator and intercooler radiator caps, oil cap, and strut tower caps. Also, much like the 427, the 428 included a major overhaul with exterior upgrades as well as suspension work.

exoticmotorcars.com

---

429R

This was the final version in the line of Ford tribute cars and was limited to 100 cars for 09' models only and also had a polished supercharger and stage 3 suspension. Also included was the Roush aerobody kit with a nine-bar high-flow grille and unique 429R touches throughout the car such as the side stripe to the embroidered leather seating.

themustangsource.com

---

Blackjack Mustang

Released from the years 2007-2009, each year this model was limited to only 100 units, and this blacked-out car was a direct vision from Jack Roush himself. Starting in 2007, this Mustang came equipped with 430 HP and 400 lb-ft of torque which is the most in the history of the company at that time. The new Roush wheel hop reduction kit was put into place with this as well to help with low traction conditions. Some of the interior upgrades included charcoal leather with an embroidered Stage 3 BlackJack logo, with custom gauges, a billet aluminum pedal kit, and a black ball short-throw shifter. Ending in 2009, the newest change came with new 18-inch forged black chrome wheels that really finalize the blacked-out look that Roush was looking for.

bringatrailer.com

---

Speedster

Being available on the 2008 Mustang, this is the perfect vehicle to cruise with the top down on a warm sunny day. Limited to just 100 units, this is an all-white convertible with a black top and wheels accented with some orange graphics. This only came available with an automatic five-speed and is rated 300 HP with an option to upgrade to the ROUSHcharger for 4335 HP. Exterior upgrades include the front fascia, hood scoop, rear wing, black leather seats with suede inserts, and a high-flow grille!

---

RTC

Offered in 2009, this visually striking Mustang came equipped with the many different base colors of its time, but is custom painted with a rich black across the hood all the way to the rear decklid and finished off with an accented pinstripe between the two-tone color. Limited to 200 units, each individual serial badge show the unique number in the production run so it really makes it one of a kind. Some other exterior upgrades are the 20-inch Roush wheels, high-flow nine-bar grille, and many more!

allfordmustangs.com

---

P-51A

At the time of its release, this was the highest horsepower Mustang of the company's history this was the first time that the internal engine components had been upgraded by Roush technicians. Rebuilt parts such as a forged steel eight-bolt crankshaft, forged aluminum pistons were just a few upgrades among this long list. The preliminary specs of the engine were rated at 510 HP and 510 lb-ft of torque. Also, the famous Roush aerobody kit was installed as well as the custom interior.

rods-classics.com

---

P-51B

In 2009, this model was created based on the 2009 chassis and was limited to only 51 units. Still having the same HP and torque of the P-51A, the pistons were swapped to a forged aluminum set up, forged steel h-beam connecting rods, and a forged steel crankshaft among other things. This model will be available in the Vapor color as a coupe with only a five-speed manual.

garagememories.com

---

As you've seen above, there have been so many different Roush Mustang creations over the years! It just comes to show why they still continue to flourish because of their unique appearances and upgrades. We at LMR hope you enjoyed our "What Is A Roush Mustang" article and we can't wait for what Roush has in store for the Mustang model in the future.

---