Don't let a broken or stuck power door lock actuator keep you from enjoying your Fox Body Mustang. Replace them with a 5.0Resto Mustang door lock actuator kit or better yet purchase one of the many 5.0Resto Restoration kits to save money and time on your next project. Follow along in this video as Jmac shows you how to install new power door lock actuators in your Pony.
Mustang Door Lock Actuators are problematic to say the least, especially on the Fox Chassis cars. Mustang Door Lock Actuators are typically in one of three conditions.  They operate properly, the key still works in the door, but nothing happens when you hit the unlock button, or the key won't even turn in the Door Lock Cylinder, the Door Lock Knob is frozen in the unlock position & nothing happens when you hit the Power Door Lock Switch. Today we'll be working with my 93 Mustang LX Coupe, code-named Project Red, White, & Puke.  I found myself in Door Lock Actuator situation #3 as I couldn't even lock my doors.  While I can't imagine that anyone would even want to break in to a turd looking like this, it's better to be safe than sorry. 
Tools Needed:
Hammer
Drift Pin
Drill
Drill Bit
Large Rivet Gun
Step 1:
Locate the included shafts and find the "S" shaped shaft. Insert it into the actuator and engage the pin with a hammer. Step 2:
Remove the door panel. Using the hammer and drift, knock out the existing actuator rivet. Step 3:
Grab your drill and drill through the head of the rivet making sure to stop once the head pops loose. DO NOT DRILL ALL THE WAY THROUGH.
Step 4:
Reach into the door and remove the actuator, unplug it, and inspect for damage. Step 5:
Slide the new handle into place and engage the rod from the inside of the door.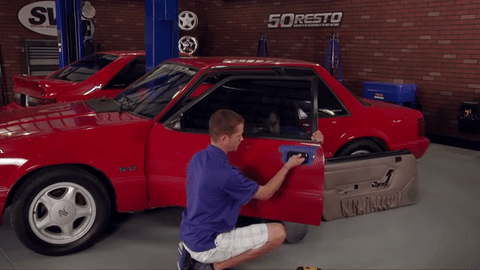 Step 6:
Plug in your new actuator and set into place. Step 7:
Set your new rivet into place and using a large rivet gun, engage the rivet. Step 7:
Test the function of the new actuator and you are all set!
---