So the quick back story on how the instrument clusters came to fruition is pretty simple! Whenever Shannon, the owner of our company for those of you that don't know, fully restored his Uncle Ted's 1985 ASC McLaren Capri; he was wanting a modern, factory-style cluster. In order to accomplish this, we had to lean on Dakota Digital to help us out. Well after weeks of collaboration, we finally had the finished cluster for Ted's car and it was an ABSOLUTE home run!
Now for those of you that have been around for a while know that we genuinely enjoy fixing and modifying Fox Body Mustangs. To us, one of the missing links to these cars was a modern, factory-looking instrument cluster. So, we turned to Dakota Digital yet again and they were able to build us these exclusive 5.0 Resto digital instrument clusters for the 1987 to 1993 Fox Mustangs.
---
Jump To: Details | Purchase Today! | Tech Info | Installation & Review
---
Fox Body Digital Cluster Details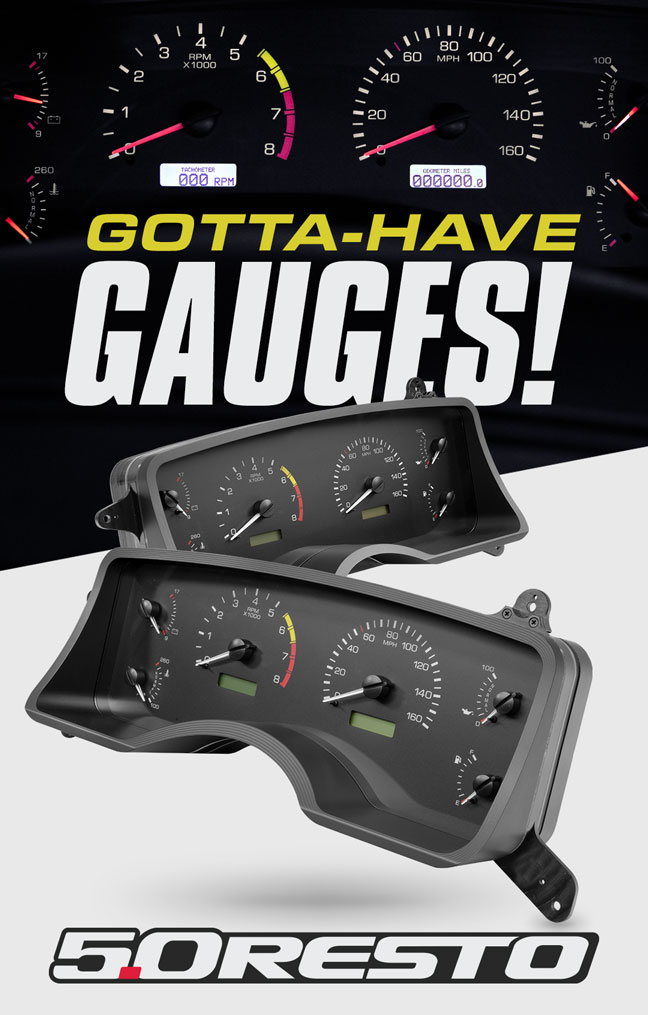 The 5.0 Resto instrument clusters are meticulously built in-house by Dakota Digital and are based on their VHX series of instrument clusters.
This cluster includes (6) analog-gauge sweeps in conjunction with twin LCD message centers which puts a lot of information right in front of you. The gauges include the following features which are all positioned in the same location as your factory cluster:
battery voltage
engine coolant
oil pressure
fuel level
tachometer
speedometer
Now if we really dig deep into the details you'll notice that the RPM caution sweep starts at 5500rpms and then transitions to red at 6500rpms which is very close to the factory instrument cluster, but if you notice, the tach has been bumped to 8000rpms. Taking a closer look at the speedometer gauge you'll see the infamous red tick mark at 55 mph and we also increased this to 160mph.
Not to mention all of the gauge indicator logos, RPM times-a-thousand, and miles-per-hour all share a similar position to that of the factory cluster. The built-in indicators include left and right turn signals, high beam, check engine, parking brake, and cruise control. Each 5.0 Resto instrument cluster is illuminated with white LEDs which does have a dimming feature whenever the parking lights or headlights are turned on and each needle will glow orange whenever the LED backlighting is triggered.
---
← Swipe For More 5.0 Resto Gauge Cluster Images →
---
Fox Body Digital Cluster Tech Info
Now let's talk a little bit about the technical details. You will remove the factory coolant temperature sensor in the lower intake manifold and the oil pressure sensor in the side of the engine block and install the provided senders. This is because of the proprietary calibration settings within the cluster and the control box.
The fuel gauge can be calibrated within the cluster to accept the proper resistance rating of the factory sending unit. All of this is easily understood by reading the instruction manual. The alternator load resistor will be wired into the right-hand side factory cluster connector to ensure that the alternator charges the system. You can program the odometer to your match your stock cluster or you can start from 0 if you're installing a new engine.
The speedometer can be calibrated manually by driving a measured mile or you can purchase Dakota Digital's GPS sender box which operates off of a GPS signal. This GPS sender box is currently available on our site.
What Is Included?
5.0 Resto Instrument Cluster
Control Box
Sender Pack With Pigtails
Switch Assembly
Alternator Load Harness
CAT5 Cable To Connect The Box To The Cluster
Speed Sensor Plug
Detailed Instruction Manual
---
Installation & Review Videos
When installing, we recommend above average mechanical and electrical skills and a really good assortment of tools. You will also need to supply your own 18-gauge wire, butt connectors, or soldering equipment, and other miscellaneous installation hardware.
Now the only fitment note for these gauges is that you will have to slightly modify the dash. This is because of the layout of the electronics inside of the cluster which causes the port on the back to be positioned to the driver side of the dash and doesn't allow enough clearance for the cable. This is very easy and only takes about 5 minutes. Check out our installation video dedicated to the installation steps of this cluster below!
Review Video
Install Video
---
This is has been an awesome project to be apart of and LMR is beyond excited to offer these 5.0 Resto digital instrument clusters for all Fox Body Mustang enthusiasts!
---