The age old question of "What Mustangs were in movies" is one we toss around all the time here at Late Model Restoration. After completing our first Mustang In The Movies infographic, we have gotten tons of suggestions of other popular Stangs that hit the big screen. Here we take a look at some of these.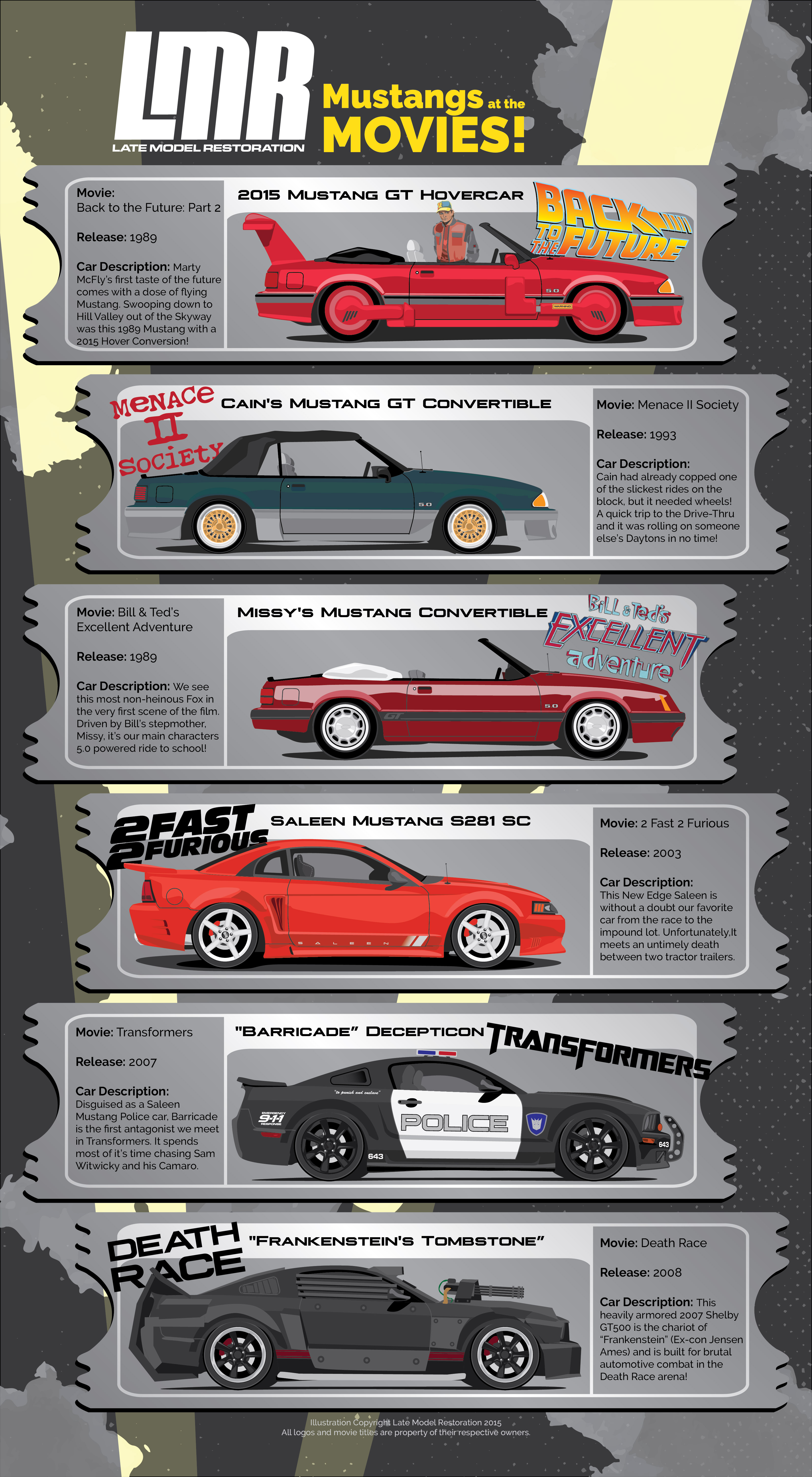 Copy & paste the HTML below to share with your friends!
2015 Mustang GT Hovercar - Back To The Future
In Back To The Future, Mart McFly's first taste of the future comes with a dose of a flying Mustang. Swooping down to Hill Valley out of the Skyway was this 1989 Mustang with a 2015 hover conversion!
Fox Body Convertible - Menace II Society
Cain already had one of the slickest rides on the block, but the addition of the Golf Daytons made this car a 90's icon we will never forget.
Fox Body Convertible - Bill & Ted's Excellent Adventure
We see a beautiful convertible Fox in the very first scene of the film. Driven by Bill's stepmother, Missy, it's our main characters 5.0 powered ride to school!
Saleen Mustang S281 SC - 2 Fast 2 Furious
This New Edge Saleen is without a doubt our favorite car from the race to the impound lot scene. Unfortunately, it meets an untimely death between two tractor trailers.
Black S197 "Barricade" Decepticon - Transformers
Disguised as a Saleen Mustang police car, Barricade is the first antagonist we meet in transformers. It spends most of it's time chasing Sam Witwicky and his Camaro.
2007 Shelby GT500 "Frankenstein's Tombstone" - Death Race
This heavily armored 2007 Shelby GT500 is the chariot of "Frankenstein" and is built for brutal automotive combat in the Death Race arena.
---