Coming from a post on mustang6g.com, it was mentioned that paint suppliers have now started to receive color data for Ford models in 2021, most namely the 2021 Ford Mustang! A prominent source where this information is coming from is found on Automotive Touch Up. This article will cover the new and discontinued color options for the 2021 model year that will improve your pony car's curb appeal!
---
Paint System That Is Used
This 2021 Mustang Model consists of a two-step paint system. Step one consists of the basecoat (car's actual color) and step two includes the clear coat which will protect the base color and provides a nice shine to keep your vehicle looking brand new!
Exterior paint color is often the first thing that is noticed on any new car! Whether the Mustang has the performance package option, a V8 engine, or is a Shelby GT500, selecting your favorite color cannot be ignored!
New & Discontinued Colors
In recent years, Ford has chosen some very loud and unique colors for their top muscle car from the blue-green hues found on the later Fox Body Mustangs to the louder colors like Competition Orange that made its way to the S550. With the addition of new colors, unfortunately, some fan-favorite colors must be removed.
New 2021 Ford Mustang Colors
Fighter Jet Gray
Yellow Peel
Lucid Red Pearl
Antimatter Blue Metallic
Absolute Black
Carbonized Gray Metallic
Discontinued 2020 Ford Mustang Colors
Magnetic
Grabber Lime
Kona Blue
Rapid Red
Shadow Black
New Colors For The 2021 Mustang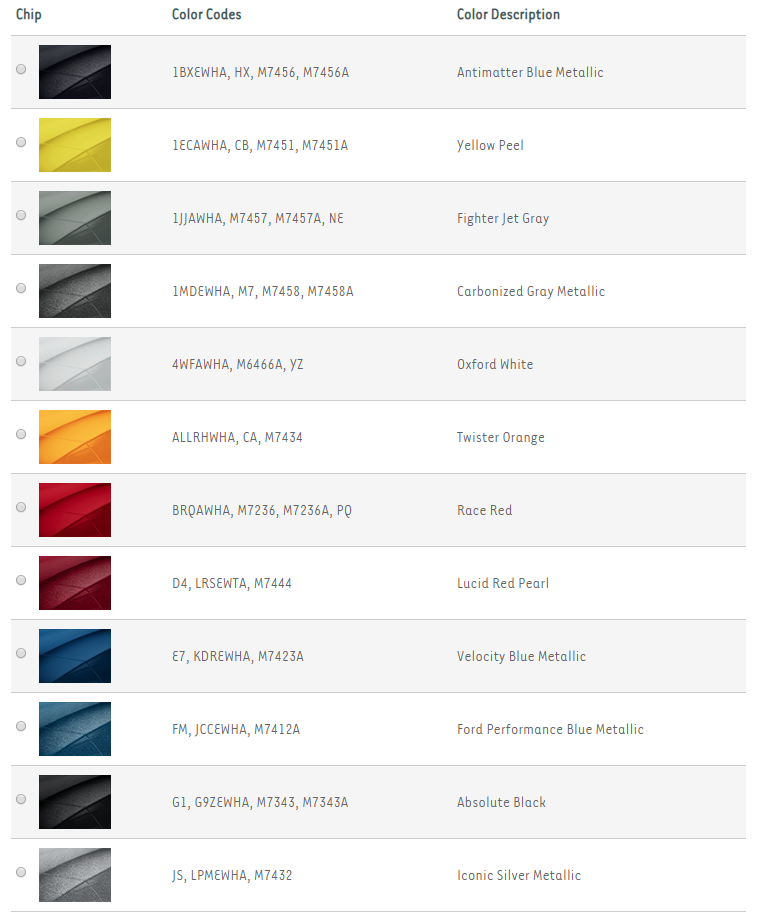 | Color Codes | Color Names |
| --- | --- |
| HX | Antimatter Blue Metallic |
| CB | Yellow Peel |
| NE | Fighter Jet Gray |
| M7 | Carbonized Gray Metallic |
| YZ | Oxford White |
| CA | Twister Orange |
| PQ | Race Red |
| D4 | Lucid Red Pearl |
| E7 | Velocity Blue Metallic |
| FM | Ford Performance Blue Metallic |
| G1 | Absolute Black |
| JS | Iconic Silver Metallic |
Not having some colors like Grabber Blue, Grabber Lime, or Competition Orange may get under the skin of some, the 2021 Ford Mustang color options are still vibrant, loud, and creative enough for today's Mustang enthusiast!
A very popular color will be Fighter Jet Grey! This option definitely adds an aggressive appearance to the longest-running Pony car! One could always pick up a classic Race Red Mustang and call it a day but that we know it is not for everyone.
---
At the end of the day, we at LMR are extremely excited about all of the changes to the colors on the 2021 Mustang and we will continue to make updates on any new information as it unfolds!
As always keep us in mind for your Ford Mustang purchases with the Real Mustang Enthusiasts at LMR.com
---