We at LMR have compiled our list of the Top Mustang Colors. Also, please remember that these colors are our opinion and the top selections in our list are in no particular order.
---
Grabber Blue | 1969-72, 2010-14, 2017
Beginning our list is the Grabber Blue. This is one of the most iconic Mustang colors ever made and has sparked much attention from Mustang enthusiasts for many decades, even though some claim the color is too close to powder blue or petty blue. This color originated by accident due to the Petty brothers (Richard and Maurice) mixing a dark blue and white paint together when running out of paint when painting a car. The result was a complete accident and led to many different year models of Mustang using this iconic color.

Pinterest
---
Grabber Green | 1969-71
Next in the grabber family is the Grabber Green. This green Mustang shade got the grabber name due to it being very similar to turquoise which gives it a very bright look which "grabs" the attention of anyone it comes in contact with. Being featured on the 1969-71 Mustang models, it brought a much needed bright hue to contrast with the many darker and duller colors of the Mustangs of its time.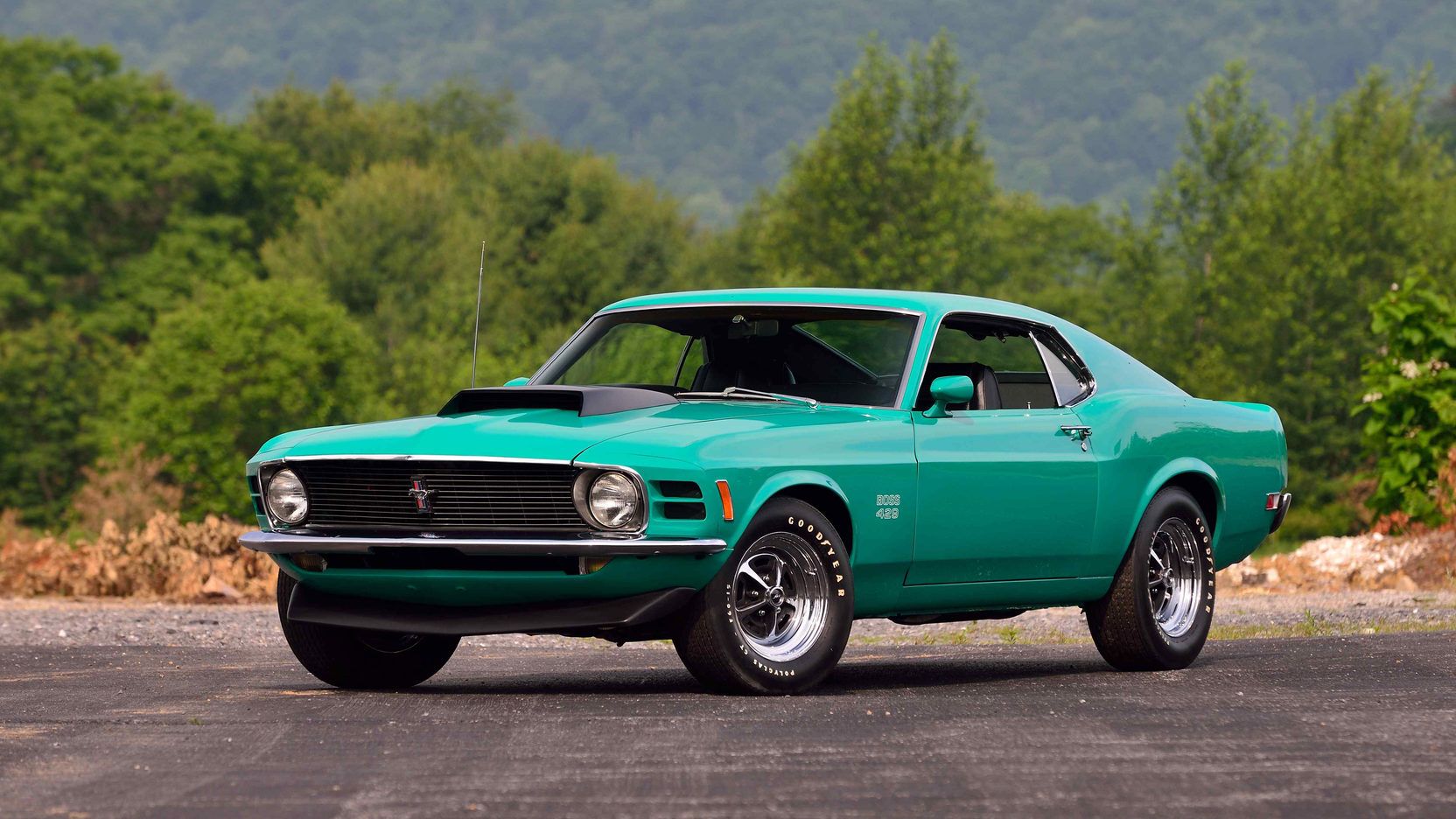 Mecum
---
Grabber Orange | 1969-70, 2007-09
The Grabber Orange color came about in 1969 and carried over into 1970. This color was also brought back in 2007-09 for the S197 model as well. This creamy orange color added a popular addition to the "grabber" color lineup of Grabber Blue and Green at the time. Grabber Orange helped pave the way for future Mustang's paint codes that really stood out from the crowd!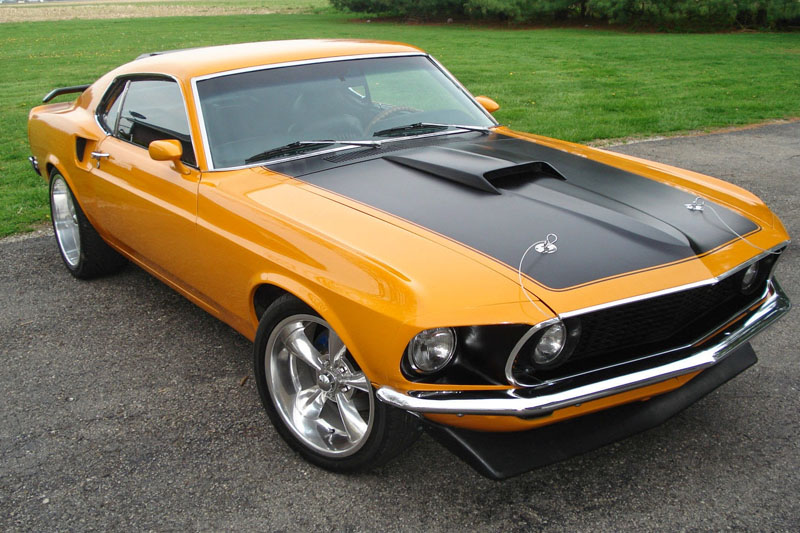 American-Classic Muscle Cars
---
Antimatter Blue | 2021
This shade of Ford's blue color was last offered in 2021, and everything that is being said about this new color is that it looks almost black with blue metallics embedded deep into the color. Not much has been revealed about the characteristics of Antimatter Blue Metallic, but it is definitely one of the more desirable blue colors!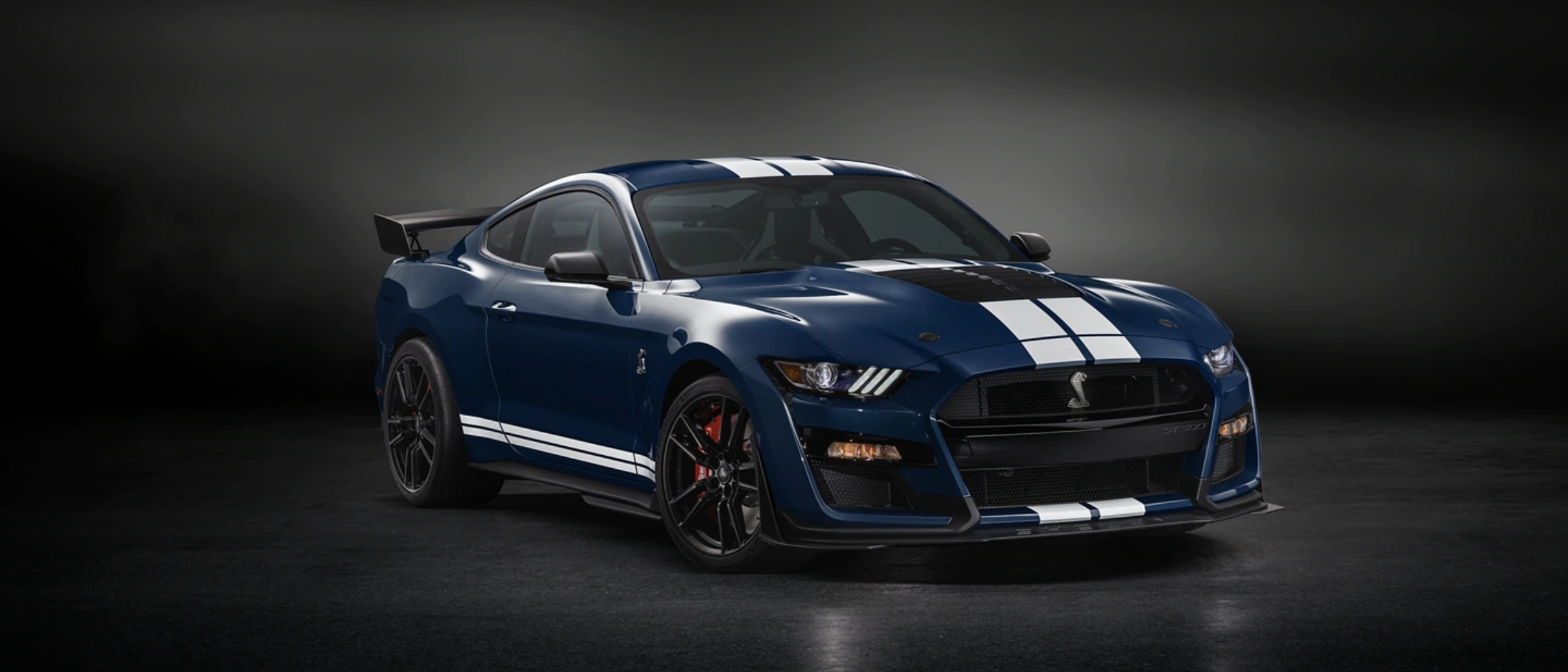 ---
Mineral Grey | 2001-03: 03 Cobra Only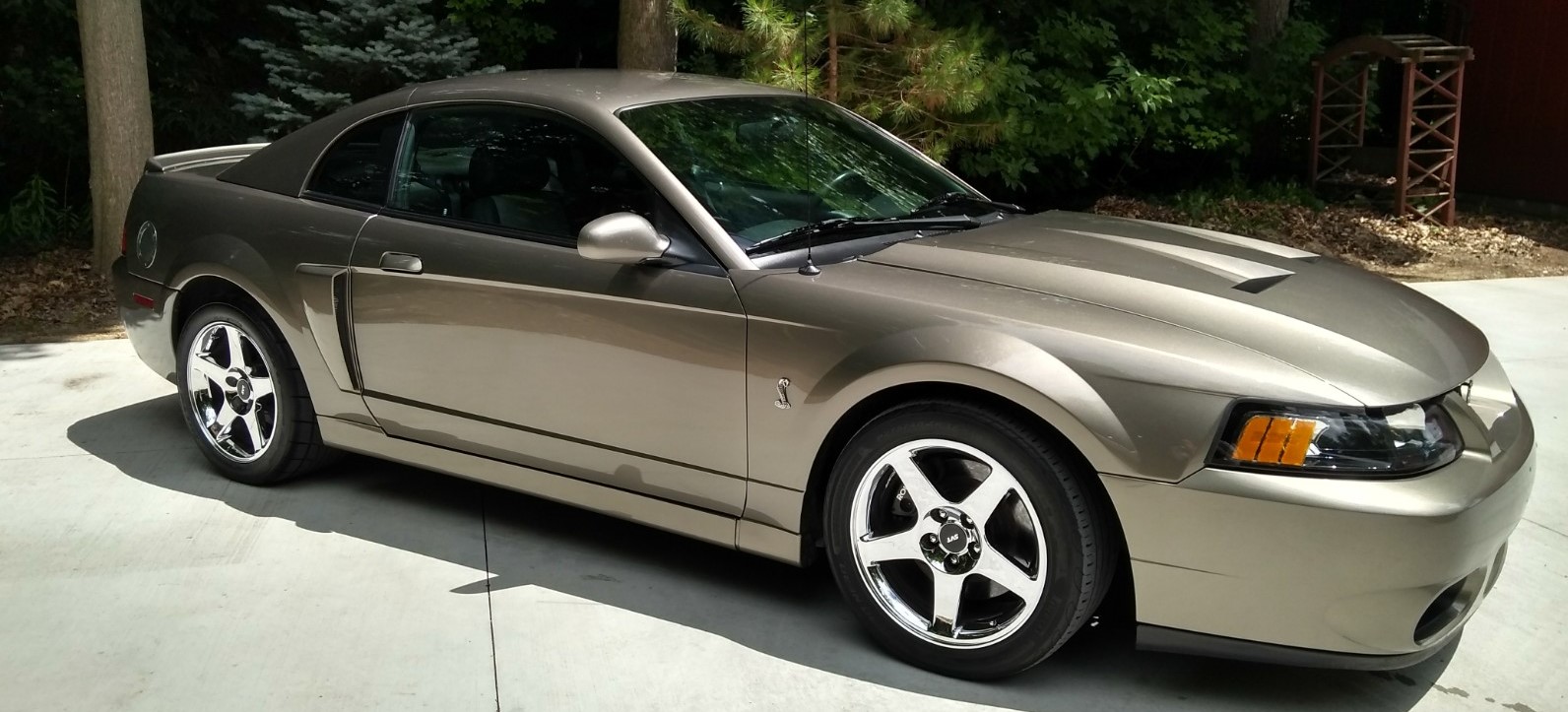 svtperformance.com
Mineral Grey is another unique color that Ford put on the Mustang. A limited run of only three years, with the final year (2003) being an SVT Cobra-only option, this color is similar to Dark Shadow Grey with more earthy brown tones, and it is a slightly lighter shade in comparison. Definitely a favorite color by many!
---
Grabber Yellow | 1969-71, 1975-81
Grabber Yellow, also known as "Bright Yellow," was an iconic color that was made most popular on the Boss 351. This color lasted until 1971 and was replaced with the name "Grabber Yellow". This color was first used on the Shelby Mustang in 1969-70, and after that was a standard color on the Mustangs in 1971.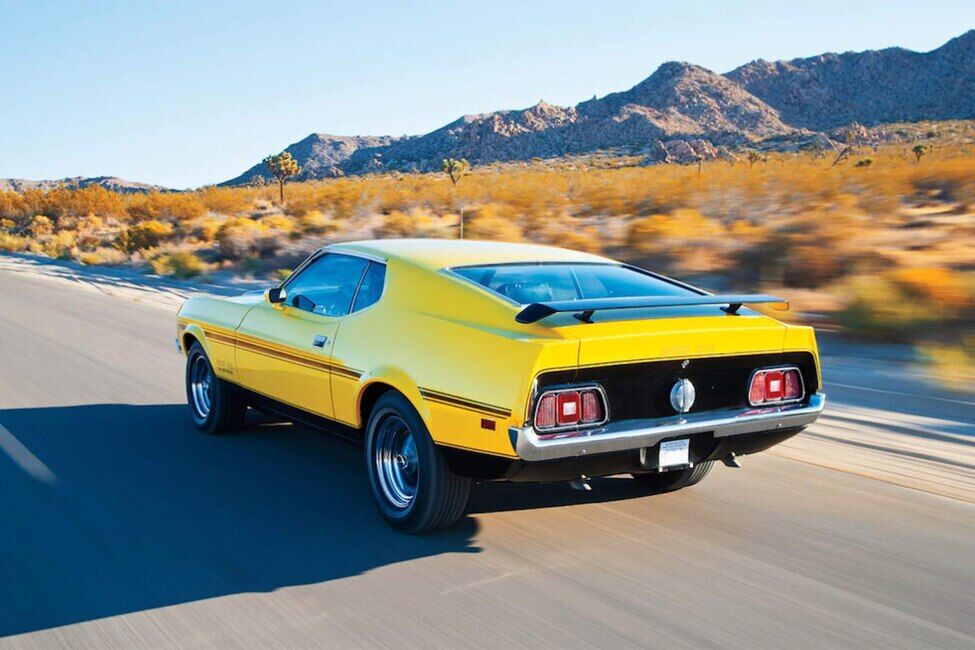 Mustang and Fords
---
Grabber Lime | 1971, 2020
Rounding up our Grabber colors, Grabber Lime was only offered for one year in 1971, and it took many decades for this iconic shade to make its appearance in 2020! We believe it took so long for the resurgence of this color due to the many green shades offered in the '70s. While 2020 brought the same name, it definitely brought a new look with it being less flat like it was in 1971 and instead of being more modern with dynamic pigments.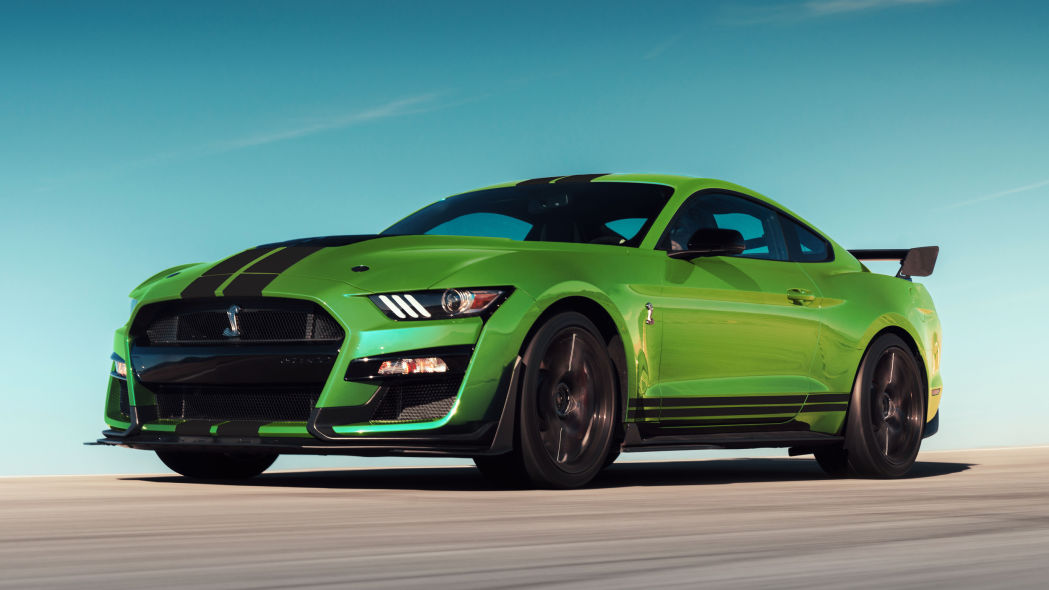 Ford
---
Performance Red | 1993, 1999-01
Getting its start in 1993, Performance Red (previously known as Vibrant Red) was one of the shades offered on the 1993 SVT Cobra. It was then brought back in 1999-01 for 3 years on the New Edge models. Most notably, this was the only color that was available on the iconic 2000 SVT Cobra R! There were only 300 Cobra R's ever built, and it featured a 5.4L V8 putting down 395 HP!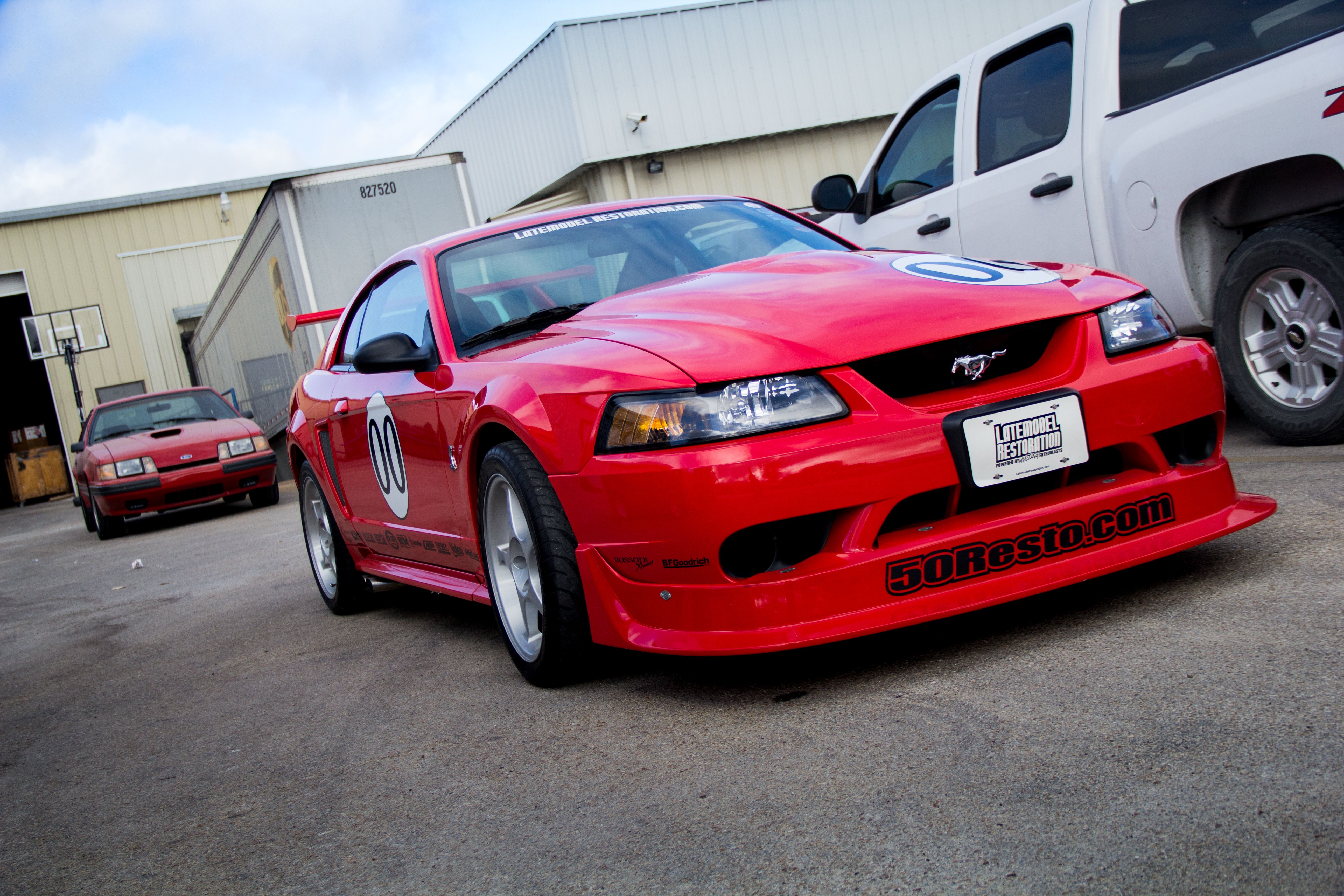 ---
Mystic & Mystichrome | 1996 Cobra & 2004 Cobra

fordauthority.com
The First-Ever Factory Color-Changing Paint. Period! Ford did these cars correctly when they introduced a paint that would flip to different colors depending on the viewing angle. Mystic and Mystichrome were colors only found on the SVT Cobra, Mystic in 1996, and Mystichrome in 2004.
The 1996 SVT variant could flip colors between purple and green with hints of amber/gold, orange, and a few shades in between, depending on the type of light reflecting off the BASF-developed paint. Interestingly enough, the $20 bill that was released around the same time the Mystic color was released had a newly painted strip featuring the same color!
"When we developed this mystic color for Ford, we knew it would be groundbreaking and give us an edge," said Paul Czornij, technical manager of the Color Excellence Department at BASF. "It is interesting that this color-shifting effect showed up in both the automotive industry and at the U.S. Department of Printing."
In 2004, slight changes were made that included ChromaFlair pigments being added to the basecoat to help produce shifting shades from a bright topaz green to cobalt blue, royal purple, and finally a deep onyx black.
---
Highland Green | 1968, 2001, 2008-09
Highland Green is arguably by many to be the most iconic green color on the Mustang. This color featured a very dark shade of green that gave it a classic look that stands the test of time. This color first got its start in 1968 and was featured in the movie "Bullitt". Thus began the legacy of the Mustang Bullitt which spanned appearances of this Mustang in both 2001 and 2008-09!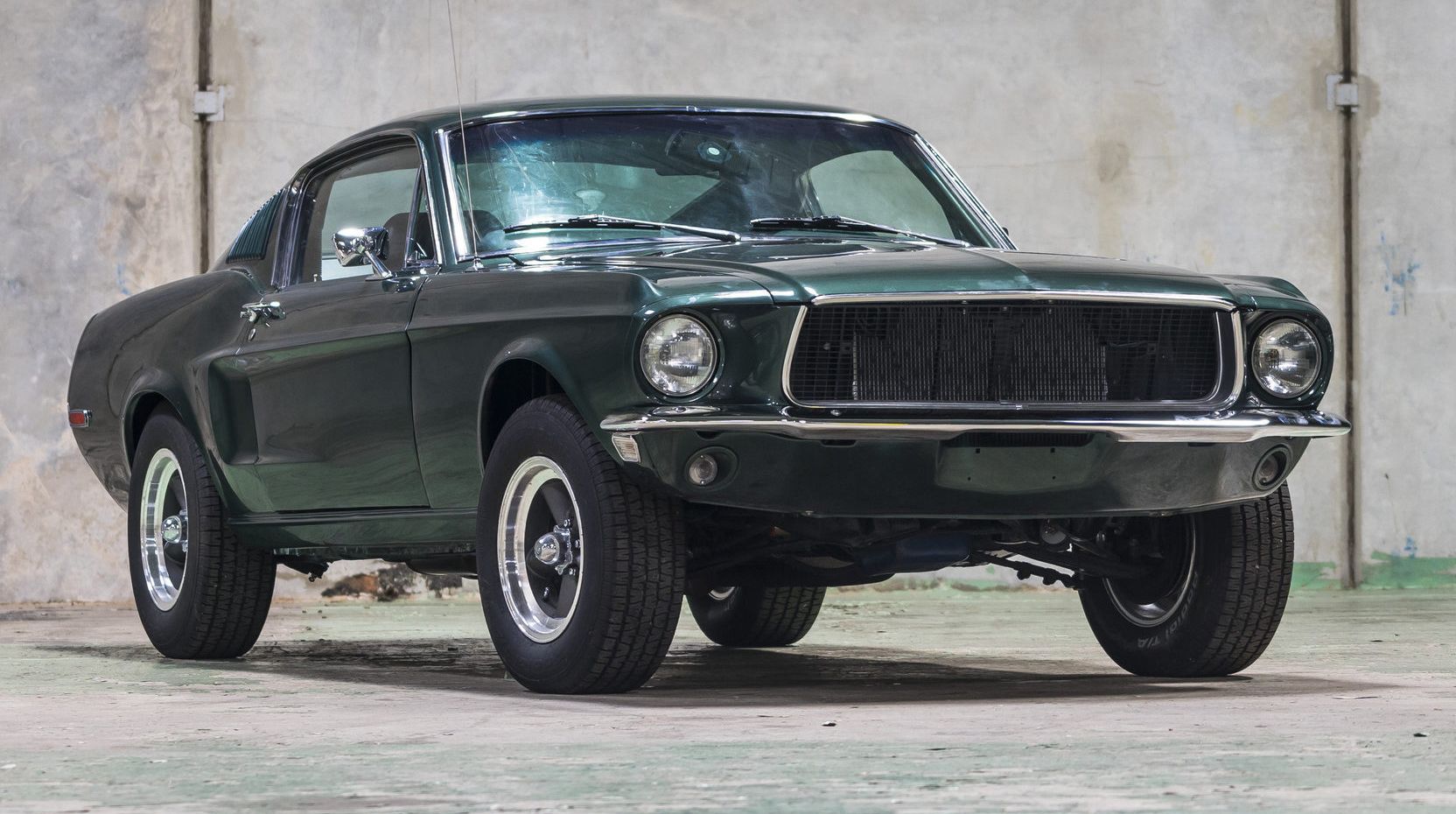 Silodrome
---
Competition Orange | 2004, 2012, 2015-16
Originally a Boss 302 color, Comp Orange saw its return in 2003-04 and then again in 2015-16. The bright orange is a must for any Mustang owner that is looking to make a statement with their car and was made most famous for the Boss, Mach, and Cobra models.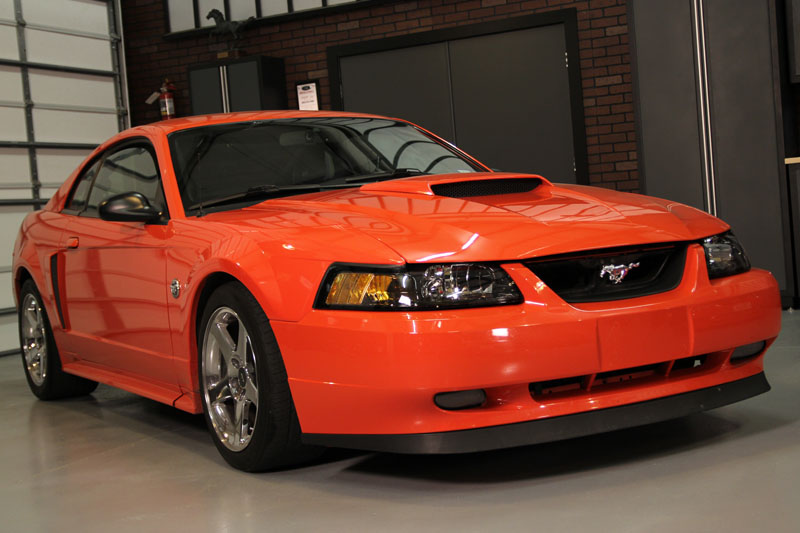 ---
Mystic | 1996 Cobra / Mystichrome | 2004 Cobra
The Mystic and Mystichrome Cobra from both 1996 and 2004 are considered by many to be the most unique paint job of any Mustang! This color-shifting paint in 1996 only cost $815 at the time, but in 2004 the Mystichrome Appearance package went up to $3,650! Having only 1,999 Mystic and 1,010 Mystichrome Cobras being produced, if you can get your hands on one of these vehicles, you could have a legitimate piece of automotive history.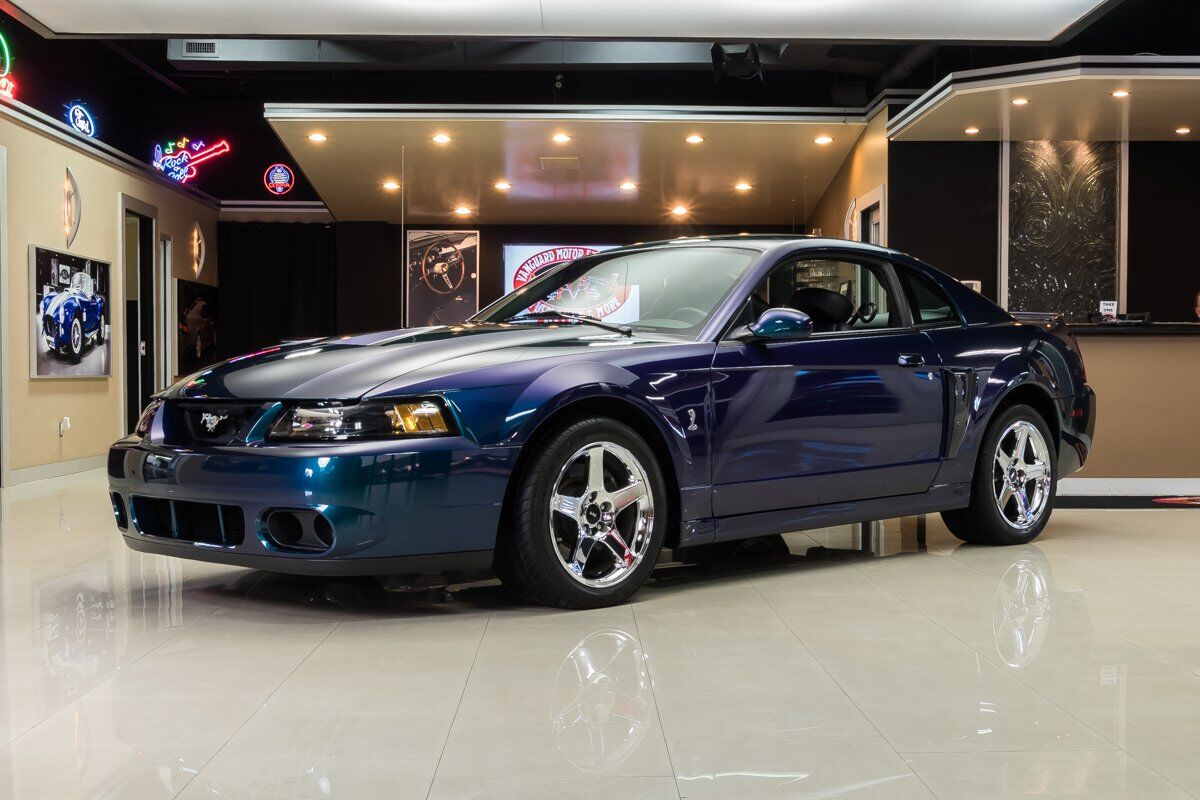 Vanguard Motor Sales
---
Calypso (Bright Green) | 1991-1993

mustangandfords.com
OK, I know many Fox Body Mustang owners love their turquoise-colored pony, but this color is one of the bigger controversial colors, so you either hate it or love it. However, the rarity of this color should be respected. This is especially if you find 1 of the 6 Mustang Saleens made in Calypso.
---
Extreme Rainbow | 1997, 1999, 2005, 2007 Saleen's ONLY
Often forgotten due to the popularity of the Mystic and Mystichrome Cobras is the Extreme Rainbow shade on select Saleen Mustangs. This shade consists of small flakes of aluminum and chrome to separate itself from the Mystic colors. The Extreme Rainbow paint is very similar to the Mystic style but has a different name because it is only available on Saleen models from 1997, 1999, 2005, and 2007. The Extreme Rainbow color is estimated to be $10,000+ due to the expensive process needed and the use of multiple coats.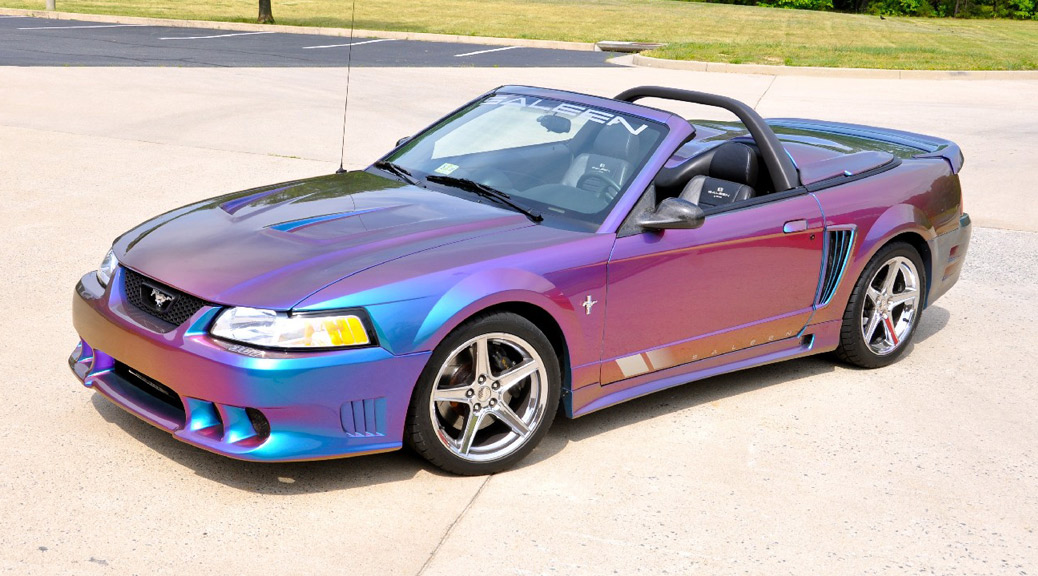 Saleen Owners and Enthusiasts Club
---
Azure Blue | 2003-04
Getting its fame from the 2003-04 Mustang Mach 1, Azure Blue was only available for these 2 years which makes it a highly sought-after vehicle. This has become so popular that enthusiasts of this color are painting their Mustangs to match! This unique color will continue to be a staple blue color in the Mustang community.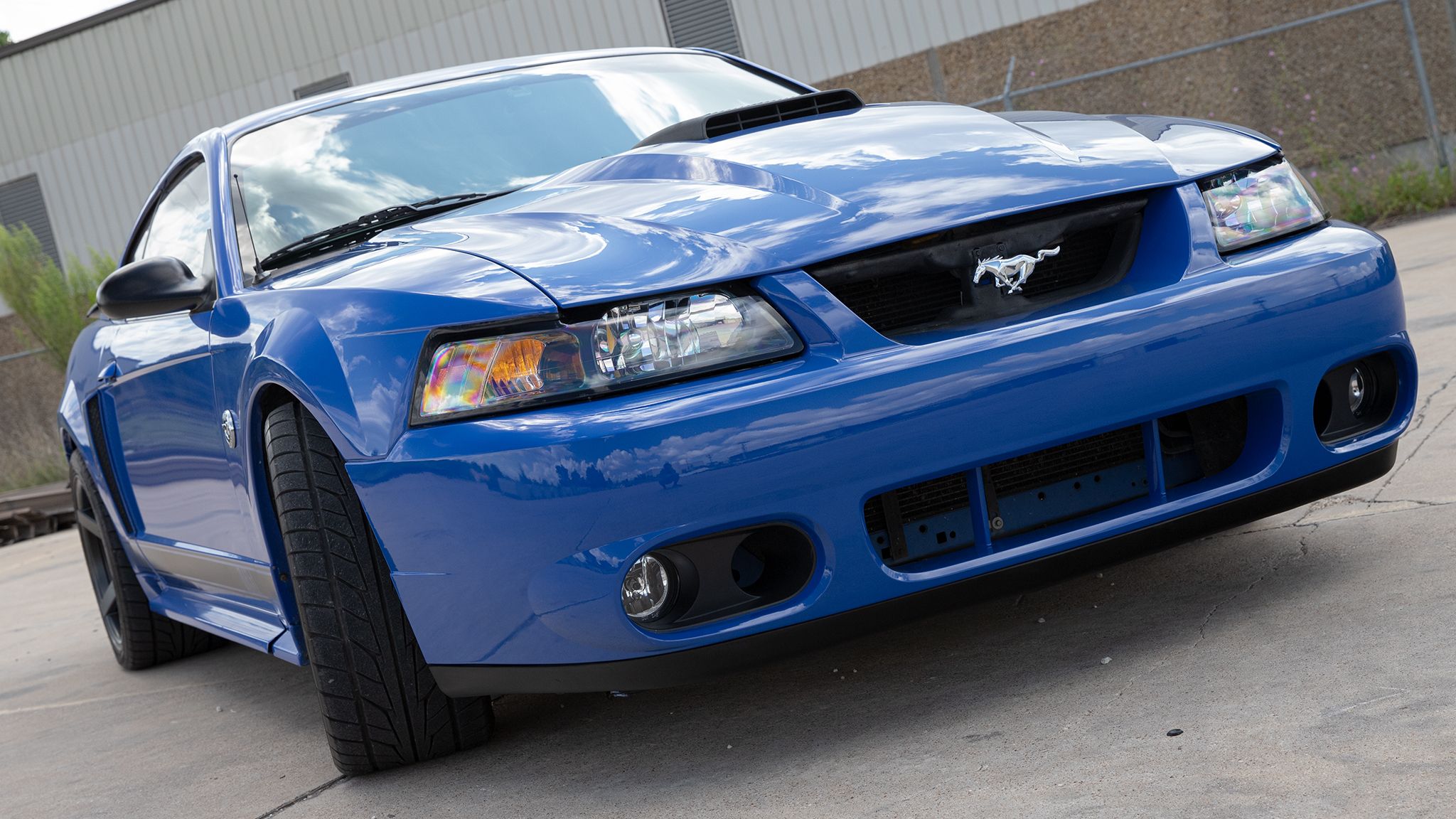 ---
Gotta Have It Green | 2013-14
The S197 Mustang lasted 9 years, from 2005-14, and in its final 2 years (2013-2014), it wanted to shake things up by celebrating this generation with the "Gotta Have It Green" color. This tri-coat, highlighter-styled paint was an extra cost option, but many took advantage of it due to having very few options of green in the S197 generation.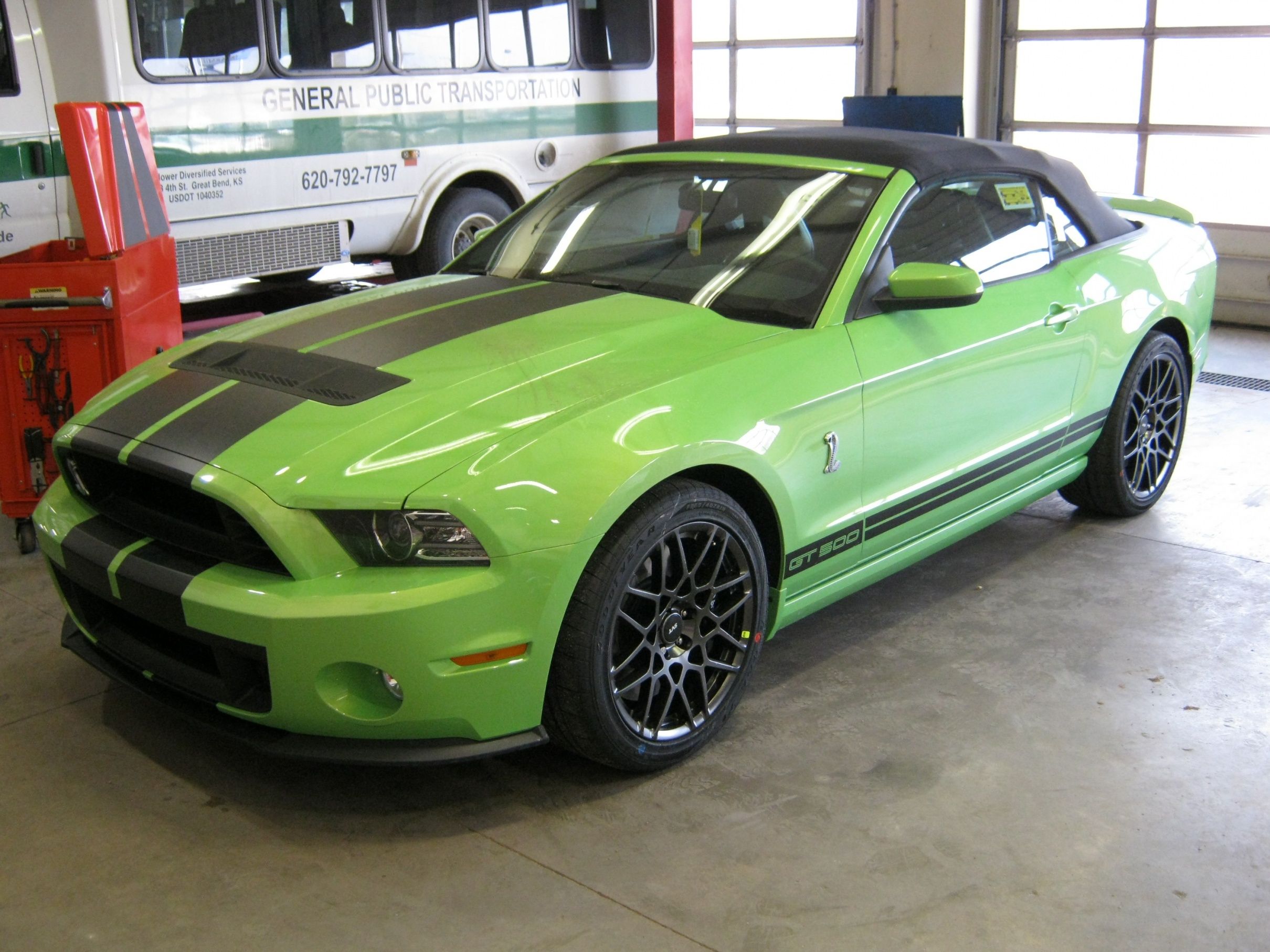 SVT Performance
---
Black | 1975-15
The original "Black" shade lasted a very long time with the Mustang models starting from 1975 and lasting all the way to 2015! This original shade lasted a long time because it stood the test of time by constantly being one of the top colors that customers purchased yearly! While the 2016-present Mustangs did have a black shade of paint, they were uniquely named by Ford. No matter which generation Mustang you had, black has always been at the top of the list regarding looks and appeal.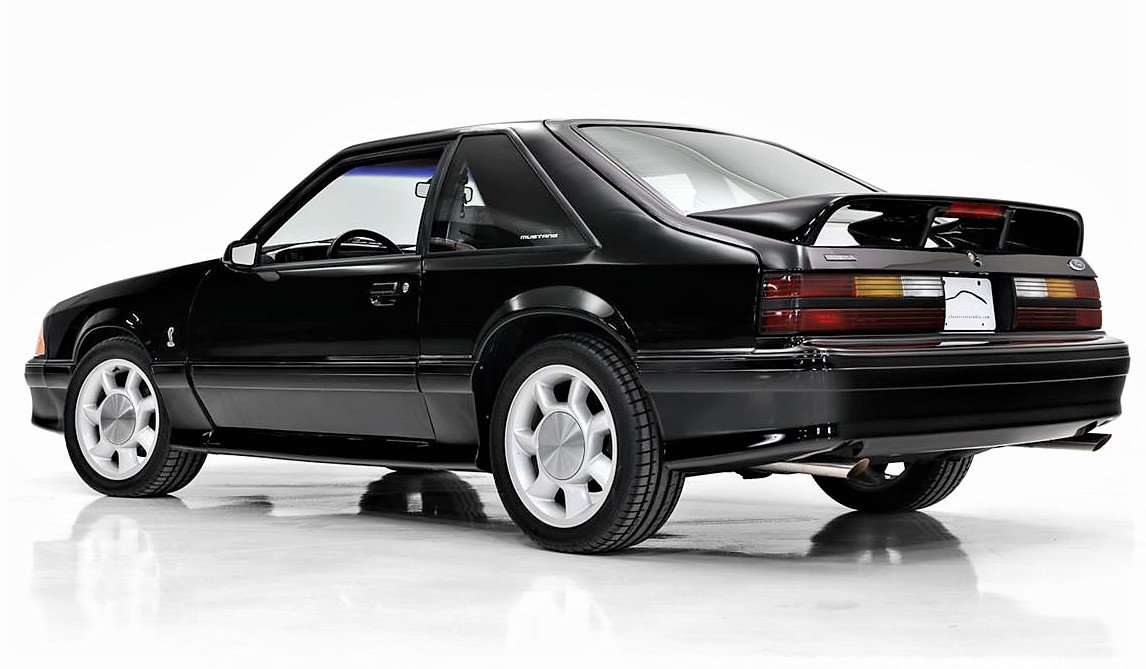 Classic Cars Journal
---
Sonic Blue | 2003-05

Sonic Blue is such a popular color, so it was difficult to keep it off of this list. Every time I think about this color, the aggressive appearance of the 03 SVT Cobra is the first car I think of! With only two years of production on the New Edge Mustang, Sonic Blue is the perfect example of Ford Blue on their flagship car!
---
Reef Blue | 1993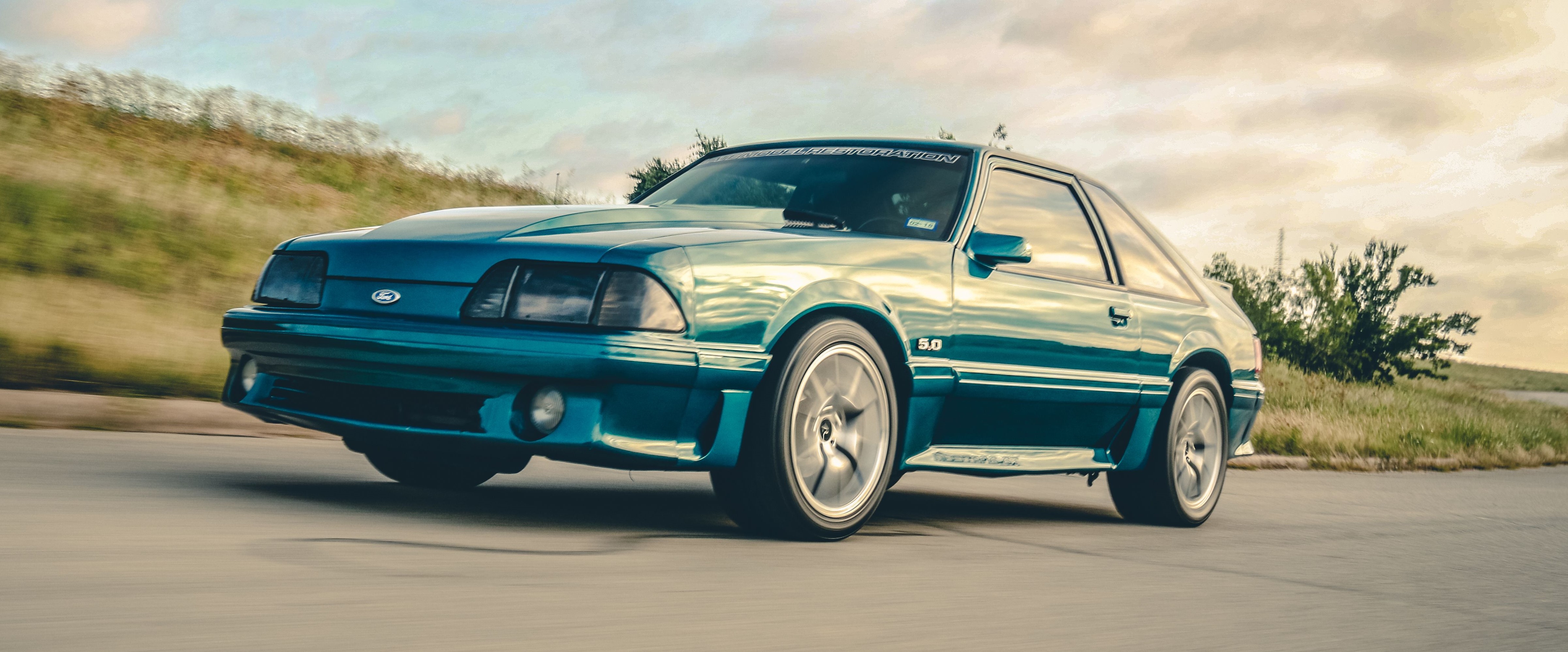 If you wanted this color, 1993 is your only option. Reef Blue is a beautiful combination of blues and green colors that stands out from other similar colors. Pair this blue color with the silver ground effects on a two-tone GT; that is one beautiful Fox! If you have not seen it, check out our employee-owned, 430 RWHP, Supercharged GT sporting Reef Blue!
---
We at LMR hope your enjoyed reading some of our favorite Mustang colors! As always keep all of your Mustang needs right here at LMR!
---