Weight is power. Simple automobile physics proves that removing weight is as beneficial as adding horsepower. The standard is something like 100 pounds equals a 10th in the quarter or about 10 horsepower. That number is even higher when the weight being removed is from a moving part like a driveshaft or clutch or unsprung weight, such as wheels or suspension components.
Since I purchased my 2011 Mustang GT, I've been paying close attention to the modifications I've made and kept track of their impact on my car's weight. The new 2011 Mustang 5.0 may have a weight advantage over the new Camaro, Challenger, and GT500, but, weighing in at about 3600 pounds from the factory, the GT is still no flyweight.
My current list of modifications has been advantageous to my 5.0 waistline so far. The Flowmaster hushpower axleback dropped 20 pounds off of the stang's tail. My rear drag wheels and Mickey Thompson slicks saved 40 pounds of precious unsprung weight when they replaced my factory Brembo package 19's. I recently installed 17x4.5" front drag wheels and saved a whopping 46 pounds unsprung. Our RAM dual-disc clutch saved another 5 pounds.
That's a total of 111 pounds in drag trim so far, of which 86 pounds is unsprung, and 5 pounds is rotational weight.
I know there are many ways to drop weight off this car. Some are drastic, such as removing interior parts or convenience and safety equipment, and some are easier. This is a brand-new car that I intend to enjoy on the street, so removing convenience and safety equipment is not an option for me. I will stick with practical weight-saving pieces that don't affect driveability and comfort.
One way to shed unnecessary pounds from your S197 Mustang is with an aluminum driveshaft. Most S197 owners know that Ford installed a curiously truck-like, 2-piece drive shaft under the 2005-2010 Mustangs. The 2011 Mustang is no different. The two-piece steel contraption and center bearing weigh in at a staggering 40 pounds.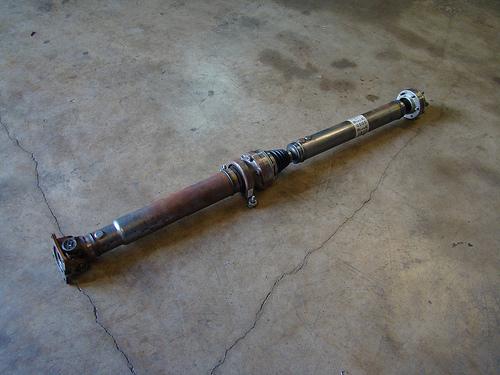 We offer a heavy-duty one-piece aluminum driveshaft to replace the factory's portly 2-piece unit. The replacement comes complete and ready to install and tips the scales at a 20 pounds. See the installation instructions here
After the installation of our one-piece shaft and SVE Drag Wheel front runners, we returned to the track to measure the results. The cool fall air at our local track, combined with our additional weight-saving measures, resulted in a new best time of 11.51 at 117.24 - that's over 2 tenths and 2 miles per hour quicker and faster than my previous best pass. My 60' time was 1.53, and my 1/8th mile was 7.35 at 96.46.
I have only experienced one caveat to the installation of the aluminum driveshaft. Since the installation, I've picked up some violent wheel spin on street tires, accompanied by wheel hop that will send you crying your way to the dentist. This is new to my car but not uncommon amongst S197 Mustangs. I'm guessing that dropping 20 pounds off the driveline transfers more power to the wheels and amplifies traction troubles. To combat this, some suspension tuning is in order. Stay tuned for more on this.
One-piece aluminum driveshafts are available for all 2005-2011 GT and Shelby GT500 Mustangs. Our one-piece shafts retail for a lofty $749.99, but if you're chasing the performance dragon, an aluminum driveshaft for your S197 is surely a worthwhile investment. Click the link below to see our full line of aluminum driveshafts!
---