Benefits
Ford Performance Quality
Track Inspired Appearance
Clears 6-piston Brembo Brakes
Factory Equipped On 2021 Mach 1 Handling Package
Features
Cast Aluminum Construction
Ford Performance Center Caps
Multi-Layered Split Spoke Design
Dark Tarnished Painted Aluminum Finish
What's in the Box
(2) 19x10.5 Front Wheels
(2) 19x11 Rear Wheels
(4) TPMS Sensors
(1) Activation Tool
Mustang Ford Performance Mach 1 Handling Pack Wheel Kit 19x10.5/11
Add Mach 1 styling to your S550 with this Mach 1 Handling Pack wheel kit from Ford Performance! These wheels were factory equipment on the 2021 Mustang Mach 1 edition with the Handling Package option. Constructed from durable cast aluminum, these wheels clear the large Performance Package 6-piston Brembo brakes. The split-spoke, multi-layered design features a deep concave to add depth and a track-focused appearance to the wheels. Finished in what Ford calls their dark tarnished painted aluminum, this color scheme gives the wheels a subtle look without hiding the details. Ford Performance includes two 19x10.5 front wheels with a 24mm offset and two 19x11 rear wheels with 52.5mm offset for a wide, aggressive stance. Provided with these wheels are Ford Performance center caps as well as a TPMS sensor kit and activation tool kit. Give your S550 Mustang track-inspired styling with these Ford Performance Mach 1 Handling Pack wheels!
SVE MHP1 Fitment Vs Ford Performance M1007KMACH1H
With the release of the SVE MHP1 and Ford Performance M1007KMACH1H, there have been many questions regarding the fitment of each wheel. The M-1007K-MACH1H kit was originally designed for use on vehicles equipped with the Mach 1 Handling Package & fender flares. Use on other vehicles may result in tire-to-body/chassis clearance issues. Our SVE MHP1 wheel was designed for non-Mach 1 Handling Package Mustangs from 2005-2024 with the correct offset to ensure the wheel has the proper fitment and clearance. While the SVE MHP1 wheels will physically fit on a Mach 1 with Handling Package, they are 0.5" narrower in the front and will not protrude past the fender as seen on the original Handling Package wheels.

This photo shows a comparison of running the M1007KMACH1H vs an SVE Mach MHP1 wheel on a 2021 GT/CS.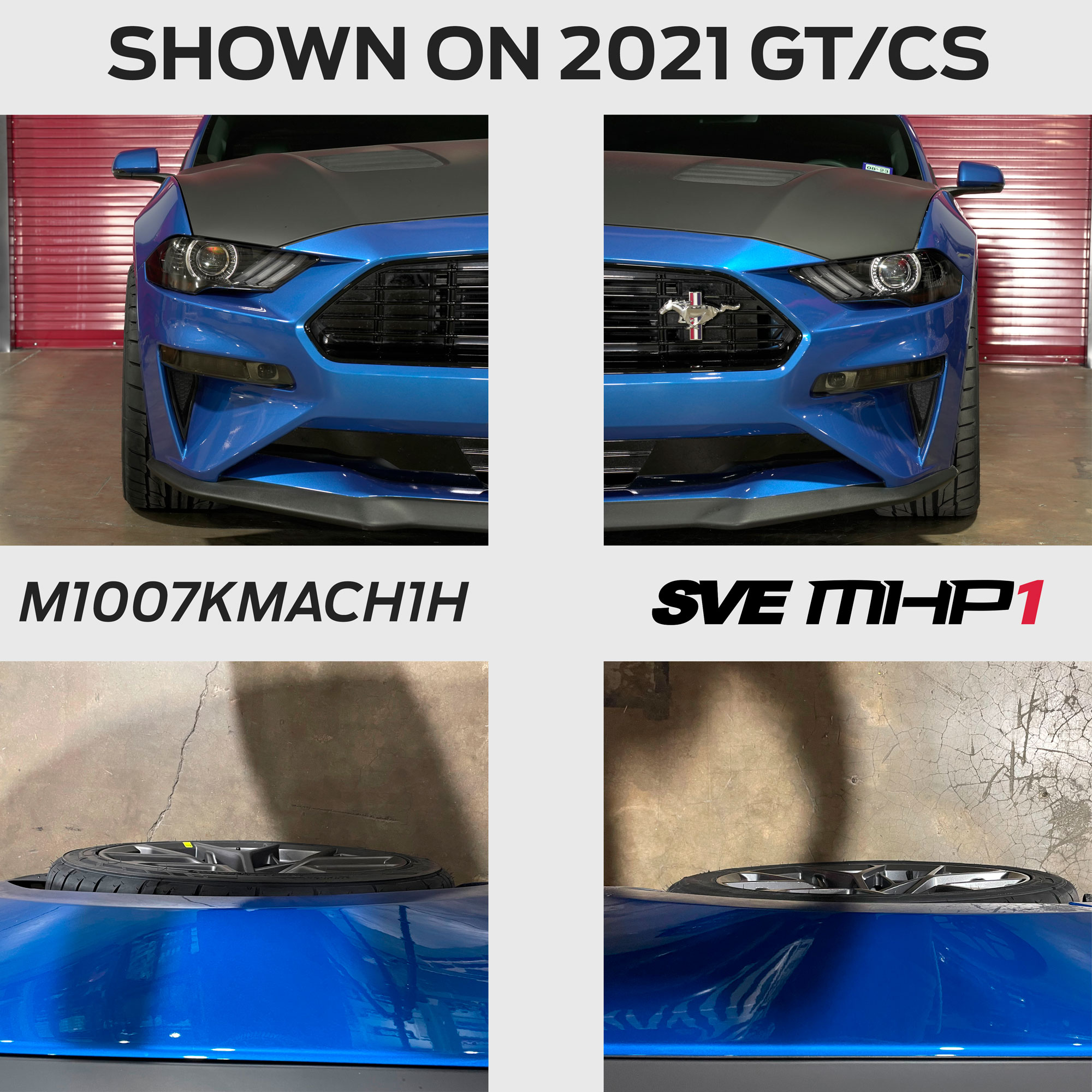 Ford Performance Racing Parts "Packs" and Component Parts Limited Warranty - Click Here
Ford Performance Racing Parts - NO WARRANTY - Click Here
Ford Performance Racing Parts Crate Engine Limited Warranty - Click Here