What Is An Oil Catch Can?
Blow-by is a natural occurrence that happens in every internal combustion engine. Small amounts of oil push past the piston rings and eventually get recirculated through the combustion chamber into the positive crankcase ventilation system or PCV. Oil mist (vapor) is passed through this PCV valve and winds up being condensed back into a liquid inside of the intake tract. This can cause pesky oil and carbon deposits reaching the intake manifold, throttle body, and even superchargers.
A "catch can" or oil separator can help to eliminate these problems by capturing the excess oil before it reaches vital engine components like intake valves or even in your air intake! When these vapors get pulled out of the crankcase by engine vacuum and condense back into a liquid, problems can come up. This can range from anything such as excess carbon buildup on your valves to an oily mess in your intake system or even reduce your fuel economy!
The oil catch can purpose is to take this vapor and separate it back into air and oil before it goes back on the engine. These essentially are a storage canister that holds this oil before it causes issues and allows the air to pass back through the PCV system.
Prevention is key. Installing one of these is always a good practice on any engine.
---
Oil Catch Can Benefits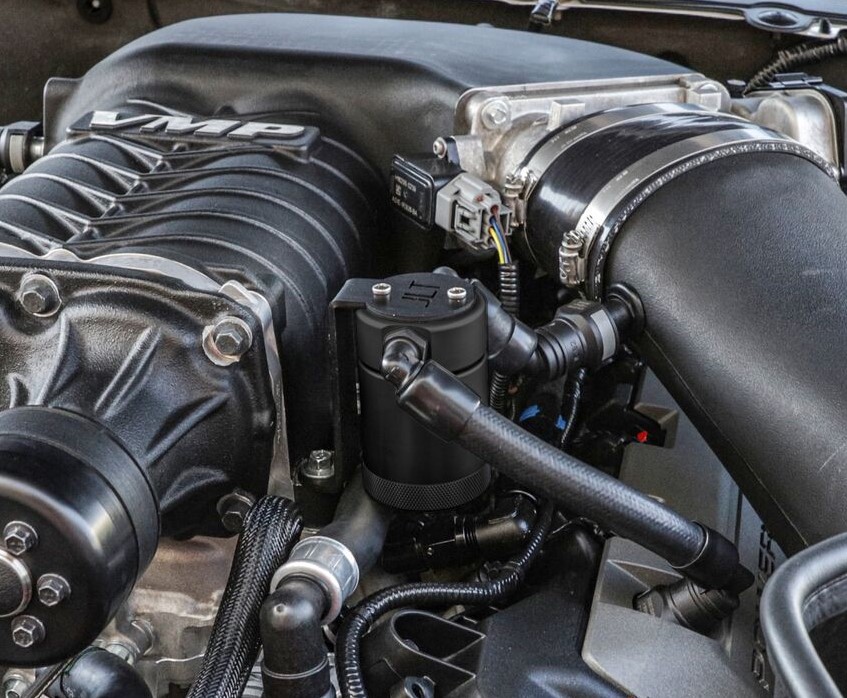 Forced induction engines can really benefit tremendously from these catch cans. Roots-style supercharges use a pair of rotors that compress air to make boost. The tolerances between these rotors are normally very tight. When this blow-by does not get caught, carbon build-up can happen on these rotors and can be problematic. Also, this can help prevent oil build-up within the intercoolers as well.
If we look at any Roots style supercharged Ford vehicle like the Cobra's or the Lightning, the heat exchanger under the supercharger is common to have this buildup. If this buildup happens, power loss is very common due to the lack of air-flow. Mustang catch cans are a very cost-effective way to ensure you do not run into these problems. Even the Ecoboost Mustangs can benefit from the use of these catch cans.
Oil build-up in the intercooler of these is very common as well. This normally results in pooling and can be a mess anytime you remove this from the car. This oil and also affect the performance of the intercooler as well. This oil coats the inside and essentially robs the intercooler of its main purpose.
---
Mustang Oil Catch Cans
LMR.com offers all of the major brands for pretty much every Mustang application. Industry leaders such as JLT, UPR, and Ford Performance just to name a few. Not all catch can's will be made the same. You cannot just take an old coffee can and add a couple of pieces of rubber hose on each end and expect to have the same benefits. Internal baffling and filters are added internally to these to make sure that all of the oil vapors condense properly back into a liquid and get trapped and help in place. You can think of these as an insurance policy for your ride.
---
In conclusion, running a catch can on your Mustang is a cost-effective way to help you maintain your vehicle. I hope this article has helped you with your install, as always, make sure to check out LMR.com for all things 1979-present Mustang and Lightning.
---