Today we are going to be taking a closer look at Ford Performance's 7.3L Godzilla crate engine. This is going to be more of a chat session about the engine and overall specifications. We'll get some really nice up-close shots of the engine and then close it out with a few opinions on the potential future for the Godzilla.
---
History
Ford stopped V-8 pushrod production in the late 90s and transitioned all of their V-8 applications to the modular, overhead cam engines. Although, Ford has continued to build V-8 pushrod crate engines for its Ford Performance product line. Here we are several years later and Ford decides to throw a pushrod powerhouse in their 2020 Super Duty! Who would have thought Ford even knew what a pushrod engine still was... just kidding! All jokes aside, like many Ford engines, this 7.3L big-block was code-named Godzilla for all the right reasons. Godzilla is the successor to the retired 6.2L single over-head cam V-8 that was used in the F-250s as well as the first-gen Ford Raptor.
---
Internal Engine Specs
Cast iron block
Aluminum cylinder heads w/ two valves per cylinder
Forged steel crankshaft
Cast aluminum pistons
Bore: 4.2205 in.
Stroke: 3.9764 in.
Displacement: 7.3L / 445 cu-in.
Intake valve diameter: 2.170 in.
Exhaust valve diameter: 1.674 in.
Both valves are constructed from steel and the exhaust valves are sodium-filled to help with heat dissipation
Compression ratio: 10.5:1
Firing order: 1-5-4-8-6-3-7-2
Port fuel injection
Engine weight: 580 lbs w/ the flexplate and harness, but no accessory drive
As the engine sits in long block form; it measures 30 in length from front to back; 28-1/2 in wide, and 33 in tall.
430 HP at 5,500 rpm
475 lb/ft of torque at 4,000 rpm
In comparison, the retired 6.2L was rated at 411 HP and 434 lb/ft. of torque so the Godzilla does have a lot more oomph in the torque department.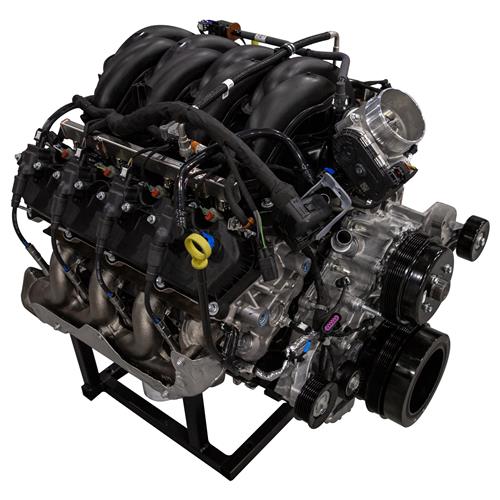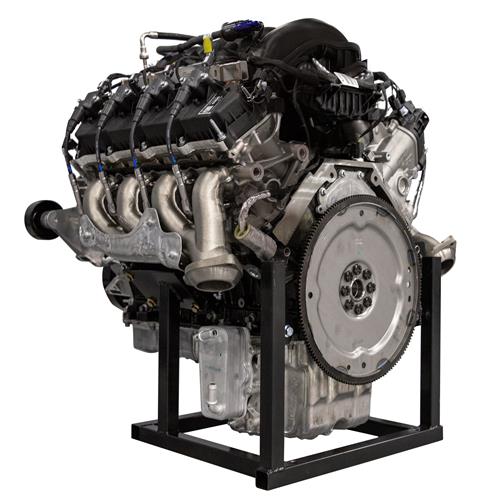 Engine Includes
Production F-250 intake manifold and 80 mm throttle body
Left and right exhaust manifolds
8-quart oil pan
Ignition coils and wires
Production flex plate
Engine wiring harness
Godzilla specific storage cradle
Factory lift brackets
Unique Engine Characteristics
The oil cooler is integrated into the oil pan
Variable oil pump which modulates oil pressure
The bell housing spacing is the same as the Coyote or late-model modular engines (4.6L 2V, 3V & 5.4L)
8-bolt flywheel pattern which is the same as the Coyote or 8-bolt modular engines
Godzilla has a "0" or neutral balance and one interesting item is that the harmonic balancer is not keyed with the crankshaft.
Engine mount hole locations are different than the Coyote
---
Looking Ahead
After speaking with a few of Ford Performance representatives, Mike and Steve didn't give any hard dates for release, but the Ford Performance team is working on a FEAD kit and control pack to support the Godzilla crate engine.
The front-engine accessory drive kit will consist of a power steering pump, alternator, alternator bracket, alternator hardware kit, an idler pulley for the alternator bracket, an a/c compressor, a belt tensioner for the alternator, water pump, and power steering pump, and two belts; one for the a/c compressor and one for the other engine accessories.
There wasn't a ton of information given about the control pack, but we can all probably assume that it will be very similar to the Coyote control pack.
---
Closing Thoughts
In closing, personally, we think the Godzilla engine is going to reserve its own space or corner in the aftermarket and its overall popularity. Like any new platform or engine or technology for that matter, it takes a little while for stuff to build up a following. I mean think of the Coyote, you really didn't see a lot of Coyote Swaps until about 3 to 4 years after its debut in the 2011 Mustang GT. Thinking rationally about it, the engine had to develop a following and the aftermarket had to support it with swap components. So only time will tell if the aftermarket jumps on the Godzilla train and produces upgrade and swap parts. At this time, there have already been confirmations from aftermarket companies on supporting the Godzilla engine.
Other than the obvious of a Godzilla in a Fox Body or any other Mustang for that matter; we could see this engine making its way into the early and late-model Broncos, older F-100s and F-150s, big body Lincolns. We think the First-Gen Lightnings would be a great recipient of this engine and maybe even a Second-Gen Lightning if you really wanted to stir the pot, and of course the Fox Body. The beauty of this engine, you could put it in just about anything you want if it'll fit, and regardless of the aftermarket support; in stock trim, it's a powerful, reliable engine.
---
Until next time, for all things 1979 to present Mustang and SVT Lightning; keep it right here with the real enthusiasts, LMR.com!
---