Over the years, Fox Body interiors have become worn out, torn, and faded. With Late Model Restoration's wide selection of replacement interior parts, you can easily get the inside of your Fox looking brand new. Choosing the right color can be difficult, but with our Fox Body Interior color code guide, you can easily get the correct color.
---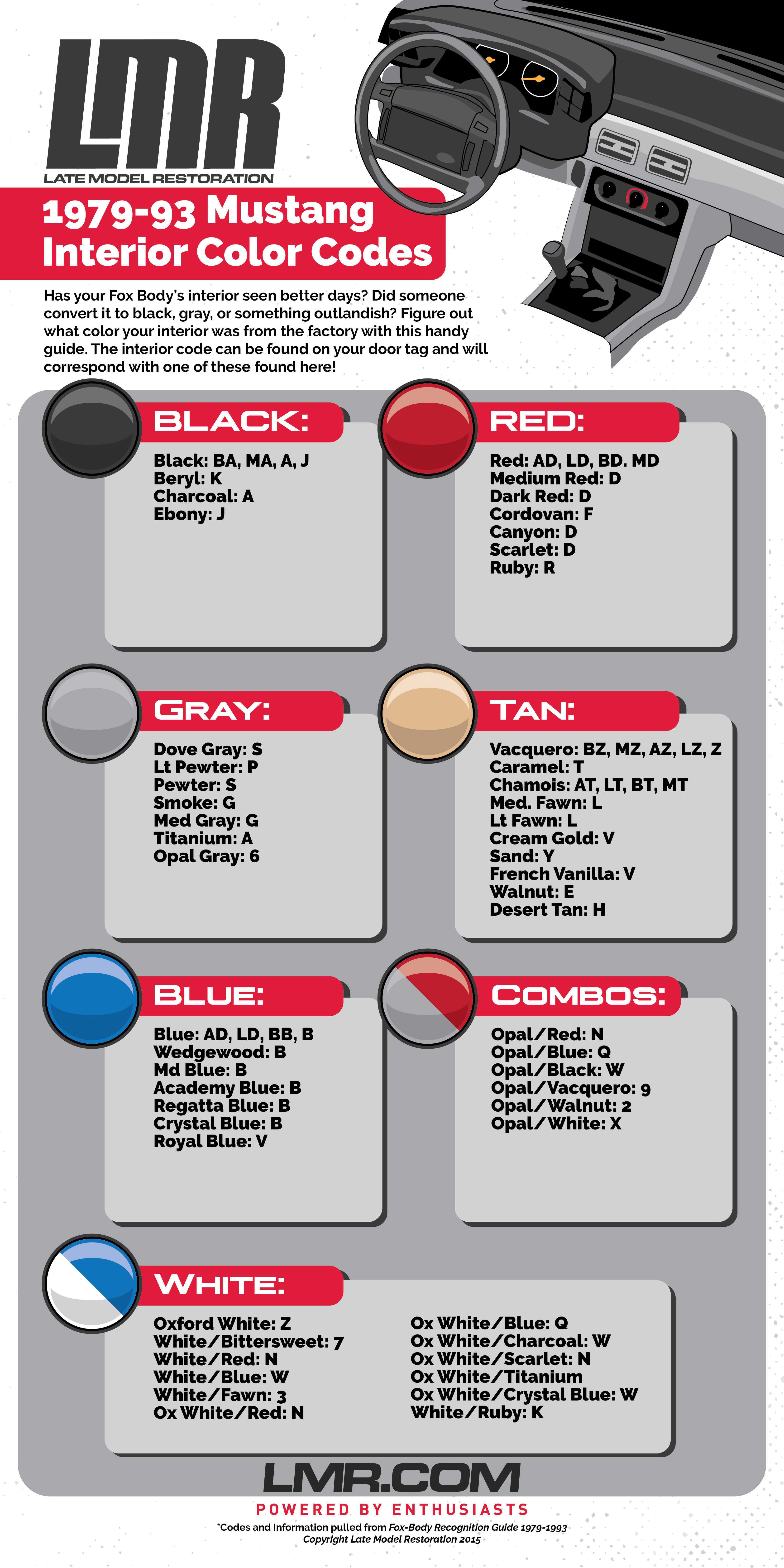 *Disclaimer: Because of the numerous possible combinations of Fox Body Mustang models, styles, colors, and options, the colors from this article may not match your vehicle exactly; however, they will match as closely as possible. Please be aware that LMR is not responsible for any color matching issues that you may have with your vehicle.*
Copy & paste the HTML below to share with your friends!
---
Fox Body Interior Colors By Year
1979 Mustang Interior Colors High Back Bucket Seat Colors

Blue - AB, LD
Blue - BB
Red - AD, LD
Red - BD, MD
Black - BA, MA
Chamois - AT, LT
Chamois - BT, MT
Vacquero - AZ, LZ
Vacquero - BT, MT
White/Red - AN, LN
White/Blue - AQ, LQ
White/Black - AW, LW
White/Chamois - A2, L2
White/Vacquero - A9, L9

Low Back Bucket Seat Colors

Blue - CB
Blue - DB, FB
Blue - EB
Red - CD
Red - DD, FD
Red - ED
Chamois - CT
Chamois - DT, FT
Chamois - ET
Vacquero - C2
Vacquero - DZ, FZ
Vacquero - EZ
White/Red - CN
White/Red - EN
White/Blue - CQ
White Blue - EQ
White/Black - CW
White/Black - EW
White/Chamois - C2
White/Chamois - E2
White/Vacquero - C9
White/Vacquero - E9
Black - CA
Black - DA, FA
Black - EA

1980 Mustang Interior Colors

Black - A
Wedgewood Blue - B
Medium Red - D
Caramel - T
Vacquero - Z
White/Red - N
White/Blue - Q
White/Black - W
White/Carmel - 2
White/Vacquero - 9

1981 Mustang Interior Colors

Black - A
Medium Red - D
Dark Red - D
Cordovan - F
Beryl - K
Med. Fawn - L
Light Pewter - P
Med. Pine - R
Dove Grey - S
Caramel - T
Light Fawn - U
Cream Gold - V
Sand - Y
Vacquero - Z
Pewter - S
White/Bittersweet - 7
White/Red - N
White/Blue - Q
White/Black - W
White/Fawn - 3

1982 Mustang Interior Colors

Black - A
Wedgewood Blue - B
Medium Red - D
French Vanilla - V
Vacquero - Z
Opal/Red - N
Opal/Blue - Q
Opal/Black - W
Opal/Vacquero - 9

1983 Mustang Interior Colors

Black/Charcoal - A
Medium Blue - B
Medium Red - D
Walnut - E
Opal/Red - N
Opal/Blue - Q
Opal/Black - W
Opal/Walnut - 2

1984 Mustang Interior Colors

Charcoal - A
Academy Blue - B
Canyon Red - D
Desert Tan - H
Oxford White/Red - N
Oxford White/Blue - Q
Oxford White/Black - W

1985 Mustang Interior Colors

Charcoal - A
Regatta Blue - B
Canyon Red - D
Sand Beige - Y
Oxford White/Red - N
Oxford White/Blue - Q
Oxford White/Charcoal - W

1986 Mustang Interior Colors

Charcoal - A
Regatta Blue - B
Canyon Red - D
Sand Beige - Y
Oxford White/Red - N
Oxford White/Blue - Q
Oxford White/Charcoal - W

1987 Mustang Interior Colors

Blue - B
Scarlet - D
Smoke - G
Sand Beige - Y
Oxford White/Scarlet - N
Oxford White/Blue - Q
Oxford White/Smoke - U

1988 Mustang Interior Colors

Blue - B
Scarlet - D
Smoke - G
Sand Beige - Y
Oxford White/Scarlet - N
Oxford White/Blue - Q
Oxford White/Smoke - U

1989 Mustang Interior Colors

Regatta Blue - B
Scarlet Red - D
Medium Gray - G
Sand Beige - Y
Oxford White/Scarlet Red - N
Oxford White/Regatta Blue - Q
Oxford White/Med. Gray - U

1990 Mustang Interior Colors

Crystal Blue - B
Titamium - A
Ebony - J
Scarlet - D
Oxford White/Titanium - L
Oxford White - Z
Oxford White/Scarlet - N
Oxford White/Crystal Blue - W

1991 Mustang Interior Colors

Crystal Blue - B
Titamium - A
Ebony - J
Scarlet - D
Oxford White/Titanium - L
Oxford White/Scarlet - N

1992 Mustang Interior Colors

Black - J
Crystal Blue - B
Titanium - A
Scarlet - D
Oxford White/Titanium - L
Oxford White/Scarlet - N

1993 Mustang Interior Colors

Opal Gray - 6
Black - J
Ruby Red - R
Royal Blue - V
White/Ruby Red - R
White/Opal Gray - X

---