MUSTANG FREE MODS
Whether you are in between larger purchases or just wanting something to do to your Mustang right now, we have put together a list of mods you can do to your Mustang for free. PLEASE NOTE: Some of these free mods can require more than just your basic tools so we recommend reading through before starting your removal or installation.
LOWERING YOUR WIPER ARMS (1994-04)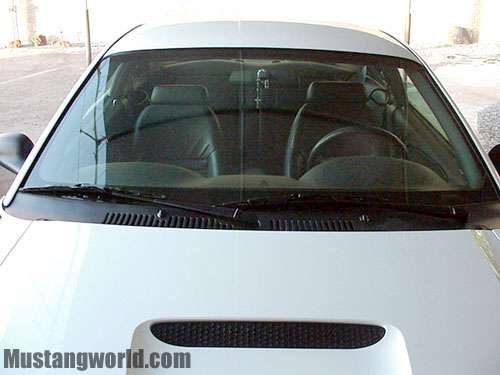 http://www.mustangworld.com
Often times, Sn95 owners get bothered by their pesky windshield wipers blocking some of the views at the bottom of their windshield. We have provided some quick and easy steps to help get your wipers into a new position. Please keep in mind that this will affect the "sweep area" of the wipers, but moving them down a notch will not be detrimental. When finishing up this mod, turn on your wipers with washer fluid squirted onto your windshield to ensure the sweep area is still up to your standard.
First, sit inside the Mustang to get a good feel of the stock wiper location.
To begin removing the wiper arm, pull the little latch out and fold the wiper arm back and pull it off. Make sure that the tab is out completely or the wiper arm won't come off.
To reinstall, simply slide them back on and push the little tab back into the arm and lower the arm. The key is getting the arms low enough, but only low enough to barely touch the plastic cowl area.
We recommend testing the wipers to make sure it covers the desired wiping area and you're all done!
MOVING YOUR STOCK WING BACK (1999-00)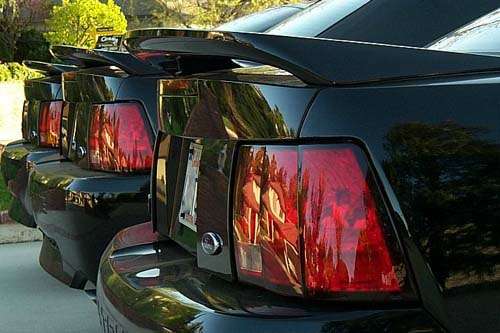 mustangworld.com
The factory spoilers on the 99-00 Mustangs always seemed a little out of place. Moving your spoiler back a little can give a whole new look to your New Edge! All that you will need for this is a socket to remove and replace the spoiler as well as a drill and the desired bits.
Start with opening the trunk and unbolting the spoiler. There are 4 bolts total and make sure that you hold the spoiler in place so it doesn't drop and damage your trunk.
The number of holes that you need to drill will determine how far back you are wanting to move the spoiler. If you are wanting to drill the least amount of holes as possible, we recommend reusing the uppermost hole and only 2 holes on each side will need to be drilled.
Please make note of the "tab" on the spoiler that you'll need to drill a big enough hole.
Use a marking device to mark where your holes will be drilled. Also please be extremely careful as to not mess up the trunk deck as well as making sure that you don't move the spoiler too far back to risk the spoiler not covering up the uppermost hole on the trunk deck.
Once the holes are drilled, simply bolt up the spoiler to the new holes. Also using silicone on the old holes is recommended since they are no longer used.
WEIGHT REDUCTION (79-04)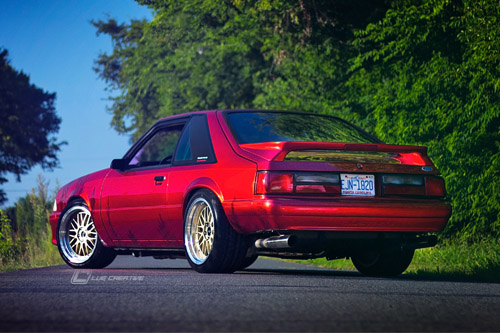 LMR's Top 13 Fox Body Mods Article
Many enthusiasts are constantly looking for ways to reduce weight on their Mustang for better performance so we have listed a few weight reduction articles to get you started:
Fox Body Weight Reduction
SN95 Weight Reduction
HEC INSTRUMENT CLUSTER DIAGNOSTICS (99-04)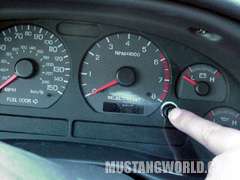 mustangworld.com
Many New Edge owners don't know that Ford decided to include a feature where you can not only test your instrument cluster, speedo sensors, and oil pressure but also get a real-time digital readout of your speed, tach and much more! Follow this article on mustangworld.com for a full breakdown on every step!
REMOVE COYOTE ENGINE COVER
The engine cover found on the Coyote 5.0 engines was a great addition by Ford, but some like the look of the intake manifold even more. Also, when adding mods to your engine, you may to need to know how to remove this cover. This is a quick and easy mod that can add a great new look to your engine bay.

LMR Coyote Engine Cover Removal
Open the hood and remove the harness clips from the strut tower brace stud that is located on the passenger side.
If equipped, loosen and remove the (4) 15mm strut tower brace retaining nuts and remove the strut tower brace from the car.
Use a small flathead screwdriver to remove the (2) plastic access covers from the cover.
Loosen and remove the (2) 10mm retaining nuts securing the engine cover to the intake manifold studs.
Lift up on the back of the cover to completely remove from the intake manifold and you're all done!
CLEANING THROTTLE BODY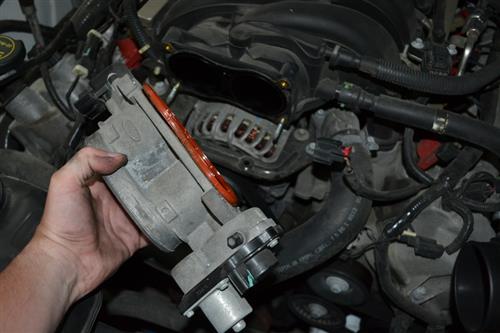 Installing 05-10 Mustang Throttle Body
Cleaning your throttle body is a great way to keep up with your Mustang's maintenance and if it's extremely dirty, you may feel a little increase in power that was previously robbed. We highly recommend cleaning your throttle body with a high-quality brake clean. If you need assistance in how to remove your Mustang's throttle body, check out our LMR YouTube Channel
REMOVING FOX BODY AIR SILENCER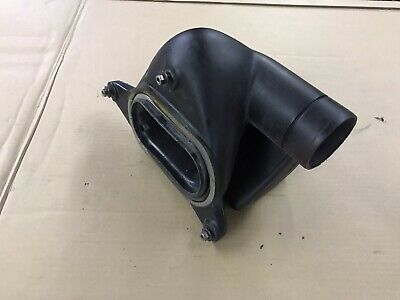 allfordmustangs.com
Removing the air silencer on a Fox Body Mustang is an age-old "mod" that many Fox owners do to try to get a little free power. While we have personally not dynoed a car before and after, there have been many people who claim to feel a difference. There are (3) nuts that hold the silencer to the fender. Remove those nuts and the silencer will fall into the fender well. Then it can be removed through the opening that is between the inner fender and fender.
REMOVING 1996-04 AIR SILENCER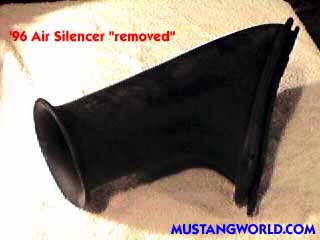 mustangworld.com
Much like the Fox Body owners, SN95 owners have also claimed to feel a difference when removing their air silencer. This is located on the passenger side of the engine compartment and is a rubber molded piece that extends off the plastic air filter housing. Here are the steps!
Unlatch the air filter assembly. (2 latches on the 3.8L V6 and only 1 on the 4.6L SOHC)
Unscrew the single bolt with a socket and wrench that holds the air filter in place.
Remove the entire plastic air filter assembly. This is held in place with 2 large rubber grommets. On the 3.8L a plastic tab is located at the bottom of the assembly that is holding it to the MAS Air. On the 4.6L the metal latch is attached and comes out when you remove the air filter assembly.
Separate the rubber intake silencer from the plastic air filter housing by pulling it loose.
Reassemble the air filter cover.
You're all done! We recommend keeping the air silencer handy in case you want to reinstall.
REMOVING COYOTE SOUND TUBE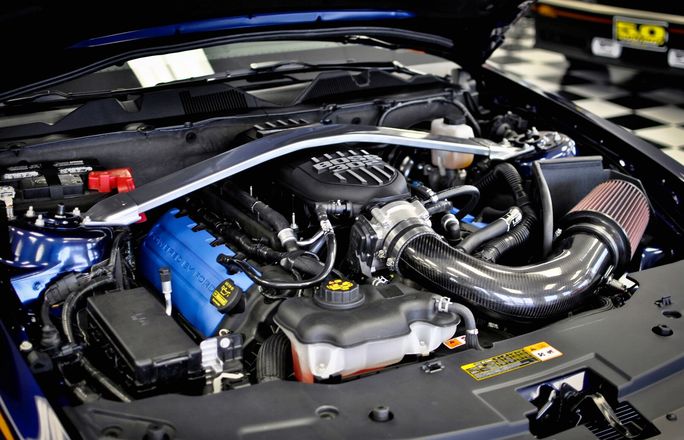 What Is A Coyote Engine?
With the introduction of the Coyote motor, many things changed when comparing it to it's 4.6 younger brother. One thing that ended up crossing over was Ford's use of a sound tube on the intake tube. Just as you would expect, Coyote owners choose to delete this as it tidies up the engine bay. Some have chosen to leave it completely off but we would suggest capping it off with a sound tube delete kit
These steps are explained in our 2011-14 GT Intake Manifold Removal
CHECK/ADJUST TIMING ON FOX BODY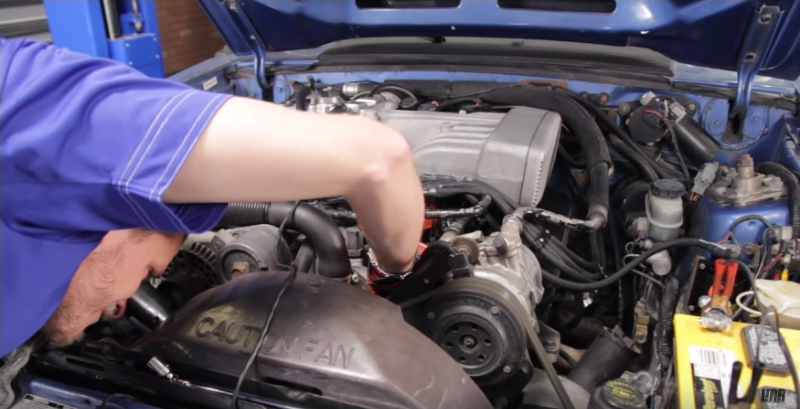 LMR Ignition Timing Video
Over the years, Fox Body's can develop timing issues and we recommend checking and advancing the timing if needed. This could help you get back lost horsepower! Make sure you have a timing light and a specialty distributor wrench or ¼" ratchet, long extension, swivel joint, and a ½" socket. You will start by performing the following:
Start by removing the spout connector then lightly loosen the distributor hold-down bolt just to where you can twist the distributor with a little bit of force.
Hook up your timing light to the number one spark plug wire and start the car.
When checking the timing we opted to go for twelve degrees initially and then after some driving, we will bump it up by two-degree increments until we get some detonation and then bump it down.
Once you get your timing at the desired point, lock down the distributor hold down, kill the engine, plug your spout connector back in, start the car back up, and then verify that the computer is actually advancing the timing.
Once this has been verified, you're good to take a it for a ride! If needing help with replacing your distributer, check out our article!
Sources
http://www.mustangworld.com/ourpics/fcar/ctips.htm
http://www.mustangworld.com/ourpics/fcar/wiper1.htm
http://www.mustangworld.com/ourpics/fcar/wingmod1.htm
http://www.mustangworld.com/ourpics/fcar/dtcodes.htm
https://www.allfordmustangs.com/forums/5-0l-tech/595-air-silencer.html
http://www.mustangworld.com/ourpics/fcar/intke.htm
DISCLAIMER
Due to factors beyond the control of LMR.com, we cannot guarantee against the improper use or unauthorized modifications of this information. LMR.com assumes no liability for property damage or injury incurred as a result of any of the information contained in this article. Use this information at your own risk. LMR.com recommends safe practices when working on vehicles and or with tools seen or implied in this article. Due to factors beyond the control of LMR.com, no information contained in this article shall create any expressed or implied warranty or guarantee of any particular result. Any injury, damage, or loss that may result from improper use of these tools, equipment, or from the information contained in this article is the sole responsibility of the user and not LMR.com.
---