Itching to shave off several tenths in the quarter-mile with your 1994-04 Mustang? Then you may want to consider one of the most cost-effective modifications you can do to your Mustang, weight reduction. It has been estimated that for every 100 pounds you can remove from the car, it can run one-tenth of a second faster at the drag strip. From removing the spare tire to scraping the sound deadening off of the floor pans, every ounce counts!
FACTORY MUSTANG WEIGHTS BY YEAR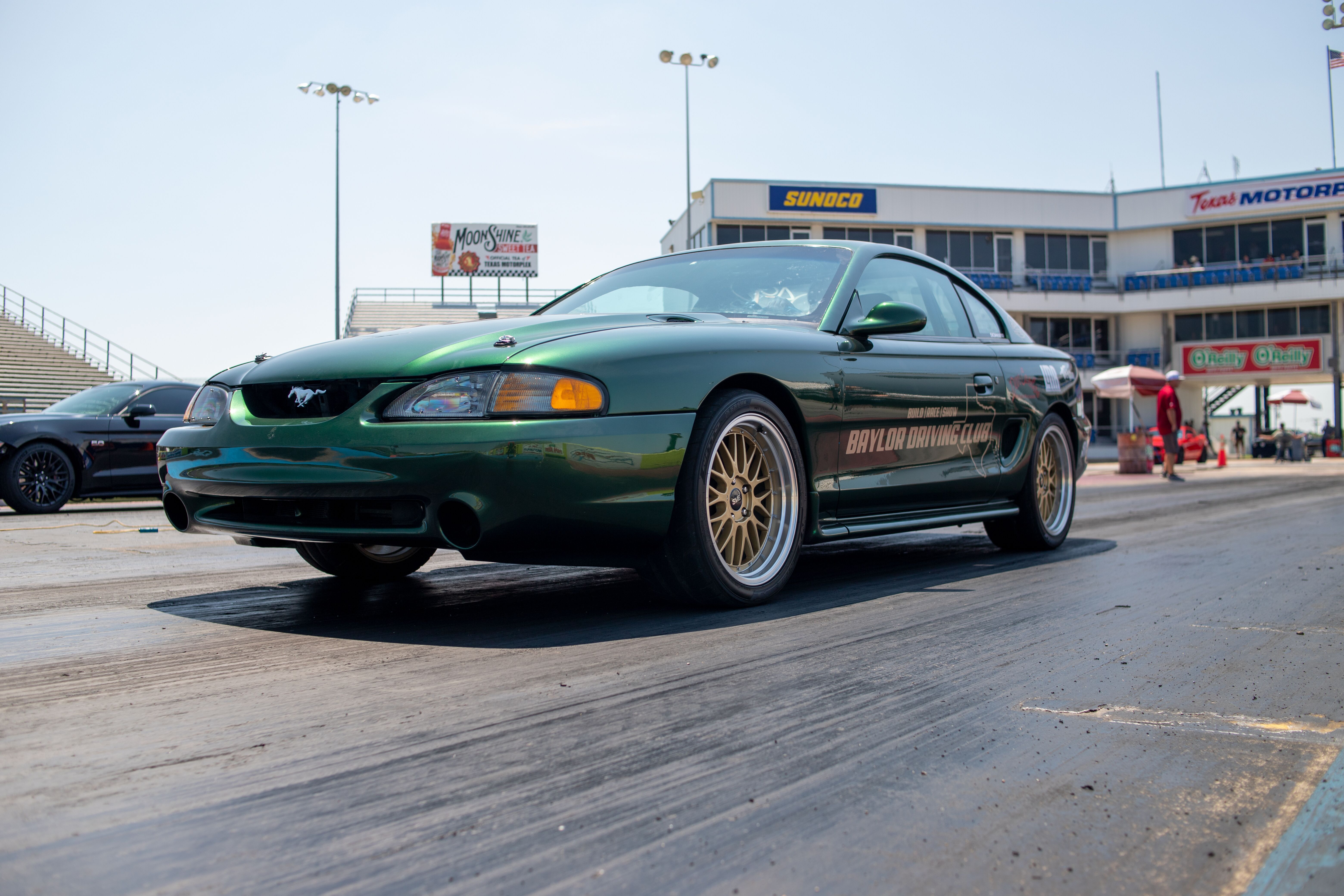 Below, you will find the specific curb weights of each model of the Mustang from 1994-04. Generally speaking, convertibles tend to weigh more than the coupes due to additional parts such as the convertible top motor, quarter window motor assemblies, hydraulic cylinders, etc. If you are looking to purchase one of these cars to start a race car project, the coupes are the best option since they are the lightest configuration and have the most structural rigidity. In our table below feel free to click on any of the year models to explore your specific year.
| YEAR | WEIGHT RANGE (lbs) |
| --- | --- |
| 1994 Mustang | 3,065 - 3,524 |
| 1995 Mustang | 3,065 - 3,524 |
| 1996 Mustang | 3,077 - 3,524 |
| 1997 Mustang | 3,077 - 3,524 |
| 1998 Mustang | 3,065 - 3,524 |
| 1999 Mustang | 3,069 - 3,580 |
| 2000 Mustang | 3,069 - 3,600 |
| 2001 Mustang | 3,069 - 3,560 |
| 2002 Mustang | 3,069 - 3,400 |
| 2003 Mustang | 3,066 - 3,780 |
| 2004 Mustang | 3,066 - 3,780 |
STOCK SN95/NEW EDGE MUSTANG PART WEIGHTS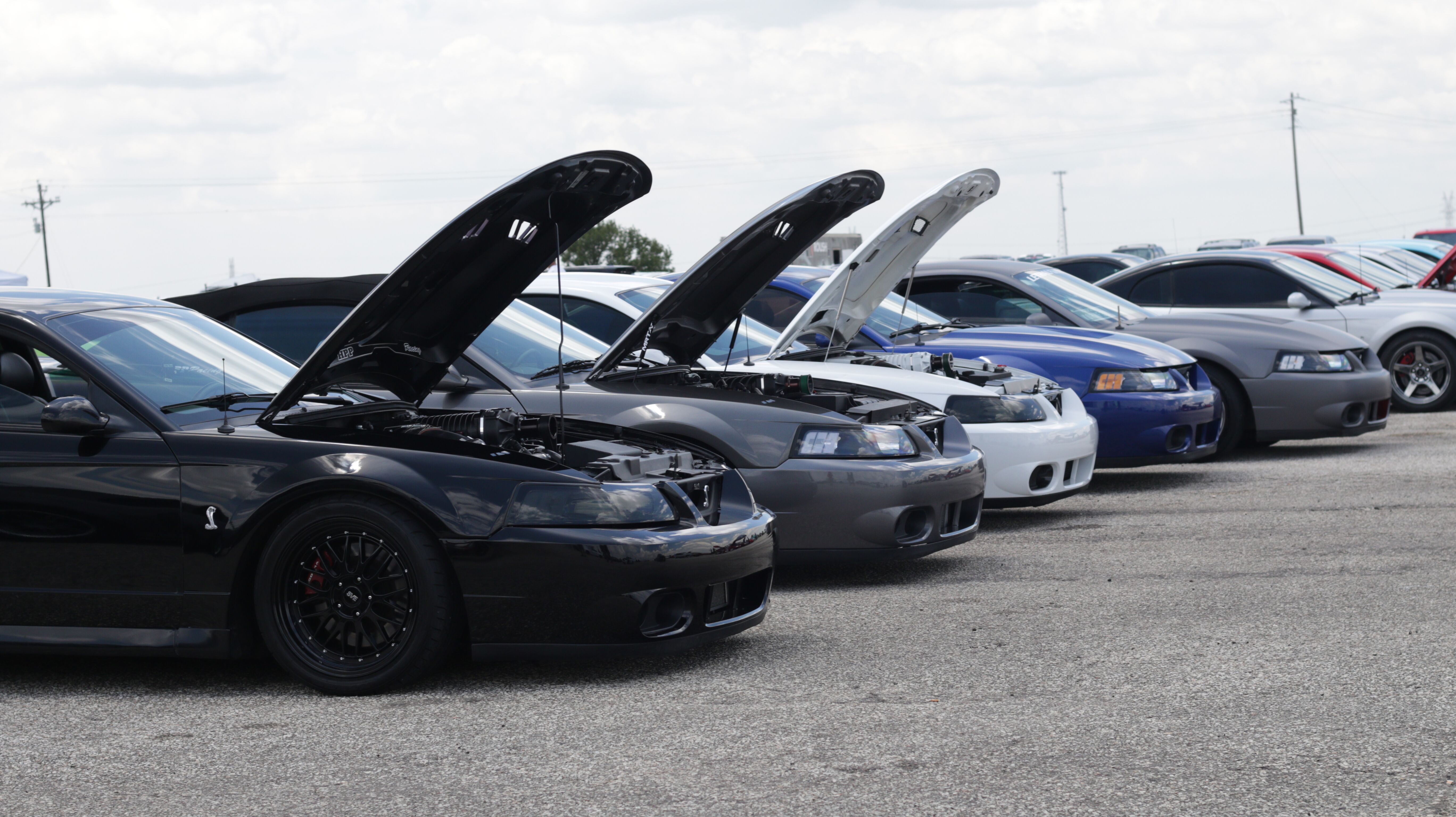 As with any race car, the weight of the factory parts can add up very quickly. Below is a detailed chart of the weight for the most common parts removed for the sole purpose of weight savings on the 1994-04 Mustangs. By doing so, you can eliminate unnecessary features that may no longer serve a purpose in your project car. By the way, did we mention these modifications are FREE?!
NOTE: These weights may differ based on the options your car came with from the factory. Also removing some of these items may prevent your vehicle from passing state inspection, alter the handling characteristics, and increase the level of NVH "noise vibration harshness
FREE WEIGHT REDUCTION
FACTORY PART
WEIGHT (lbs)
ENGINE BAY
Strut Tower Brace
10
Windshield Washer Tank
2
A/C Compressor
20
A/C Condenser
8
A/C Canister, Lines, & Brackets
15
Stock H-Pipe (4 Catalytic Converters)
45
Power Steering Pump, Lines, Reservoir
16
SUSPENSION
Front Sway Bar & Endlinks
17
Rear Sway Bar
9
Quad Shocks
8
Black Box Under Differential
5

EXTERIOR
Stock Bullitt Wheels (17x8)
28
Front Bumper Support & Foam
18
Rear Spoiler
7
Wiper Arms & Blades
2
Fog Lights & Brackets
6
INTERIOR
Door Panels
10
Radio
5
Mach 460 Door Speakers
6
Amp Rack
16
Amps
5 (together)
Rear Seat Back & Base
35
Rear Headrest Panel
5
Rear Seat Belts
6
Driver Power Seat
55
Passenger Manual Seat
40
Passenger Air Bag
9
Driver Side Air Bag
3
Center Console
7
Carpet
14
Sound Deadening (under carpet)
25
Heater Core / A/C Box
20
Spare Tire
20
Jack and Handle
7
Rear Felt Trunk Liners & Spare Tire Carpet
15
HOODS
Hoods are an overlooked part as the factory hoods can be boat anchors. By upgrading to an aftermarket fiberglass hood, you can enjoy a fresh new look and see weight savings of 20 lbs or more!
1994-98 Hood Parts
1999-04 Hoods Parts
SUSPENSION/CHASSIS
If you are looking to shave off some excess weight off the front and rear of your Mustang you may consider upgrading to a Tubular K-Member & A-arms, Tubular Upper & Lower Control Arms, and Tubular Bumper Supports. Not only are these parts great for weight savings, but they also increase chassis rigidity, correct suspension geometry, and free up much-needed space underneath the car. This ultimately makes the car easier to work on and launch better at the track!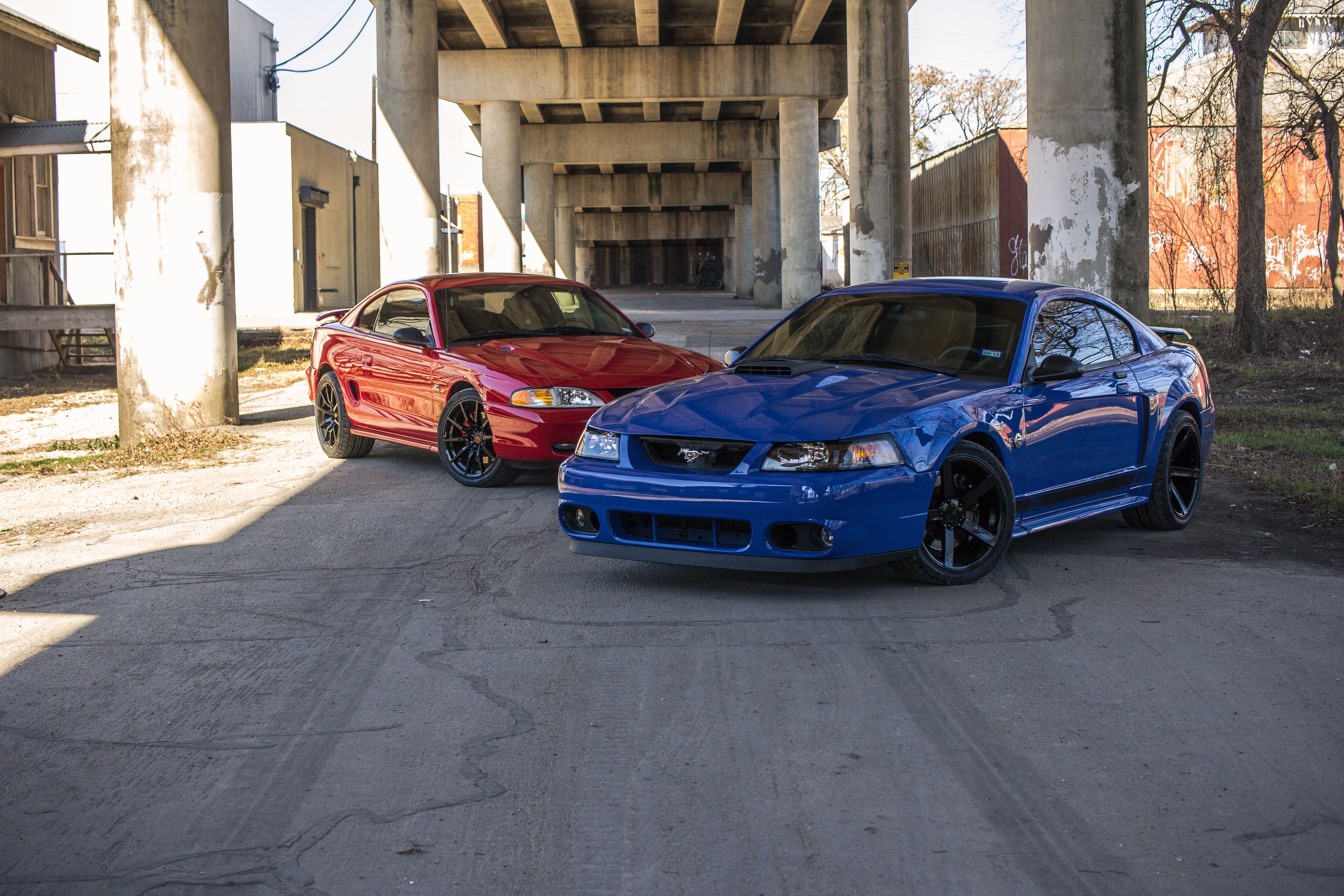 1994-04 Mustang Coil-Over Kits
1994-04 Mustang Rear Control Arm Components
1994-04 Tubular Bumper Support
AFTERMARKET RACE SEATS
Depending on the brand/make of the seat, you can put your Mustang on a serious diet! From personal experience, some options can weigh as little as 12 lbs! If you are looking for something more stylish and comfortable, but still want to retain the racing feel, look no further than our friends over at Corbeau! They even offer a variety of seats and harness bars that allow you to mount racing harnesses into your Mustang!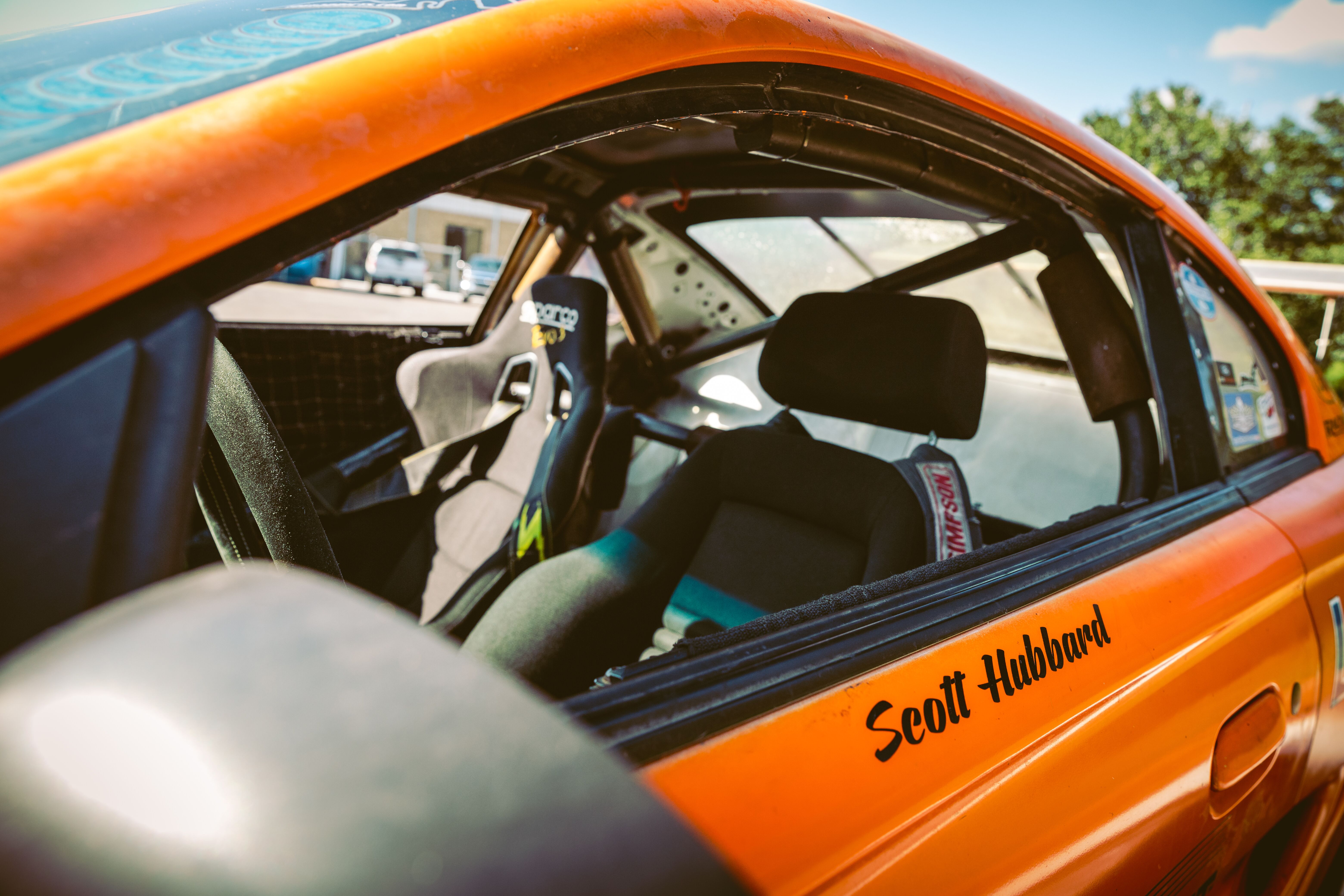 1994-04 Mustang Racing Seats
DRIVETRAIN
If you are not removing weight from the car, you can always improve the efficiency of your drivetrain! By upgrading to a lightweight flywheel and driveshaft, you are decreasing the rotational mass that the engine has to turn, thus resulting in better throttle response and overall improved acceleration from a dead stop.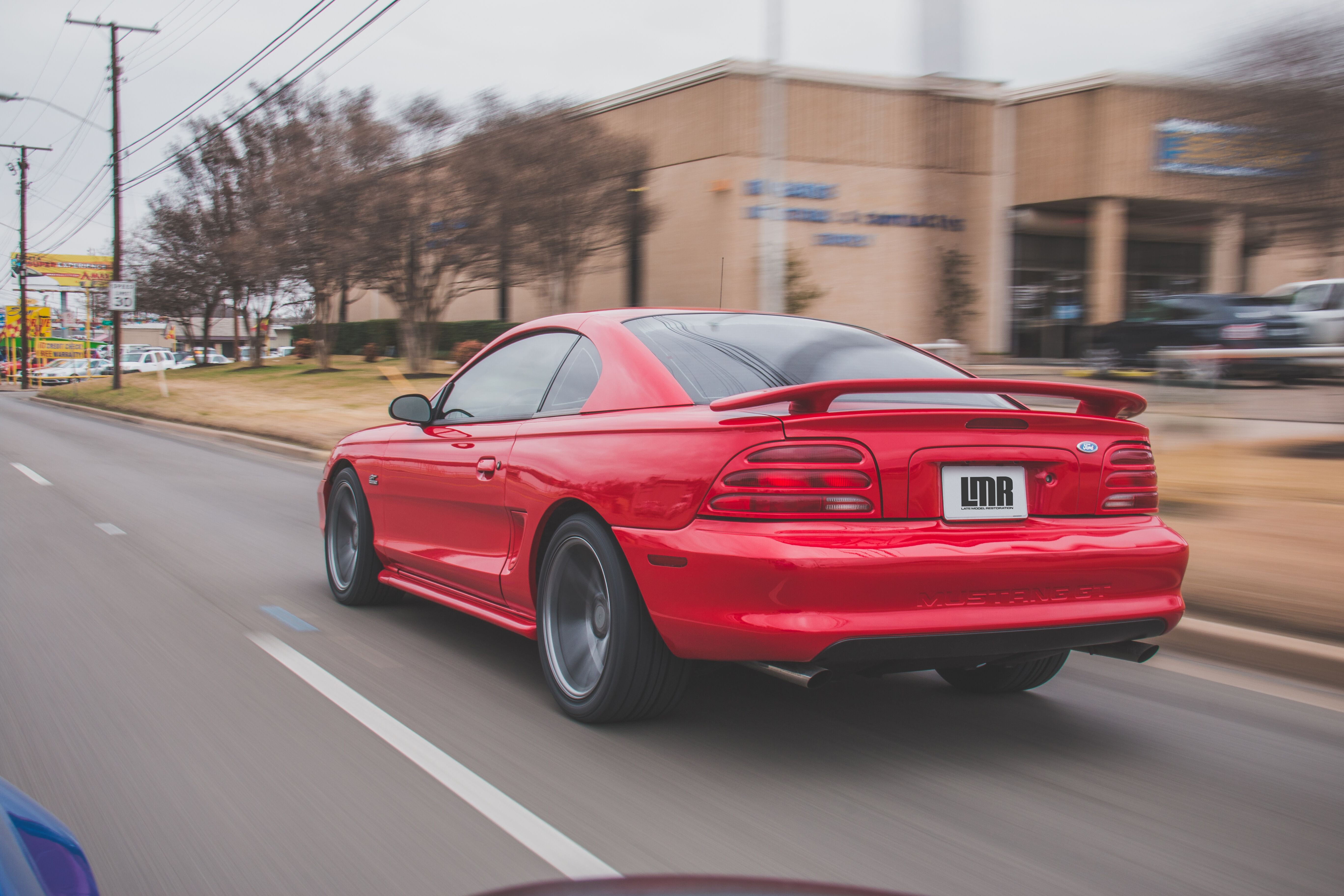 1994-04 Mustang Driveshaft Components
1994-04 Mustang Flywheels
STEERING/BRAKES
In drag racing, every ounce counts. If you are serious about dropping weight, you may want to look into a manual steering and manual brake conversion. By doing so, you are eliminating all of the extra lines, pump, reservoir, hydroboost, etc.
1994-04 Mustang Steering Components
1994-04 Mustang Brakes
AFTERMARKET WEIGHT REDUCTION PARTS
| AFTERMARKET LIGHTWEIGHT PARTS | WEIGHT (lbs) |
| --- | --- |
| Fiberglass Hood | 20 |
| Tubular K Member | Up To 34 lbs |
| Tubular A Arms | Up To 17 lbs |
| Tubular Bumper Support | 4 |
| Aftermarket Aluminum Race Seat | 12 |
| Aluminum Cylinder Heads | Up To 50 lbs |
| Lightweight Race Wheels (ex: Weld Pro Stars) | 11 lbs each (front runners) & 14 lbs each (rears) |
| Aluminum Driveshaft | Up To 4 lbs |
| Lightweight Flywheel | 12 |
| Manual Steering Rack Conversion | Up To 15 lbs |
| Lightweight Race Brakes | 30-32 lbs (front) & 10-15 (rear) |
ADDITIONAL AFTERMARKET ITEMS
1994-04 Mustang Weld Pro Star Drag Wheels
1994-04 Mustang SVE Drag Wheels
1994-04 Mustang Weld RT-S S71 Wheels
1994-04 Mustang Cylinder Head Accessories
1994-04 Mustang Radiators & Heat Exchangers
1994-04 Mustang H-Pipes & X-Pipes
---
Here at Late Model Restoration, we want to help you achieve your weight loss goals with your Mustang. We hope that the information in this article will open your eyes at all of the potential the 1994-04 Mustangs have. If you need help with your project or racecar, please feel free to contact us! For all of your 1979 to Present Mustang needs, keep it right here with the real Mustang enthusiasts, LMR.com.
---