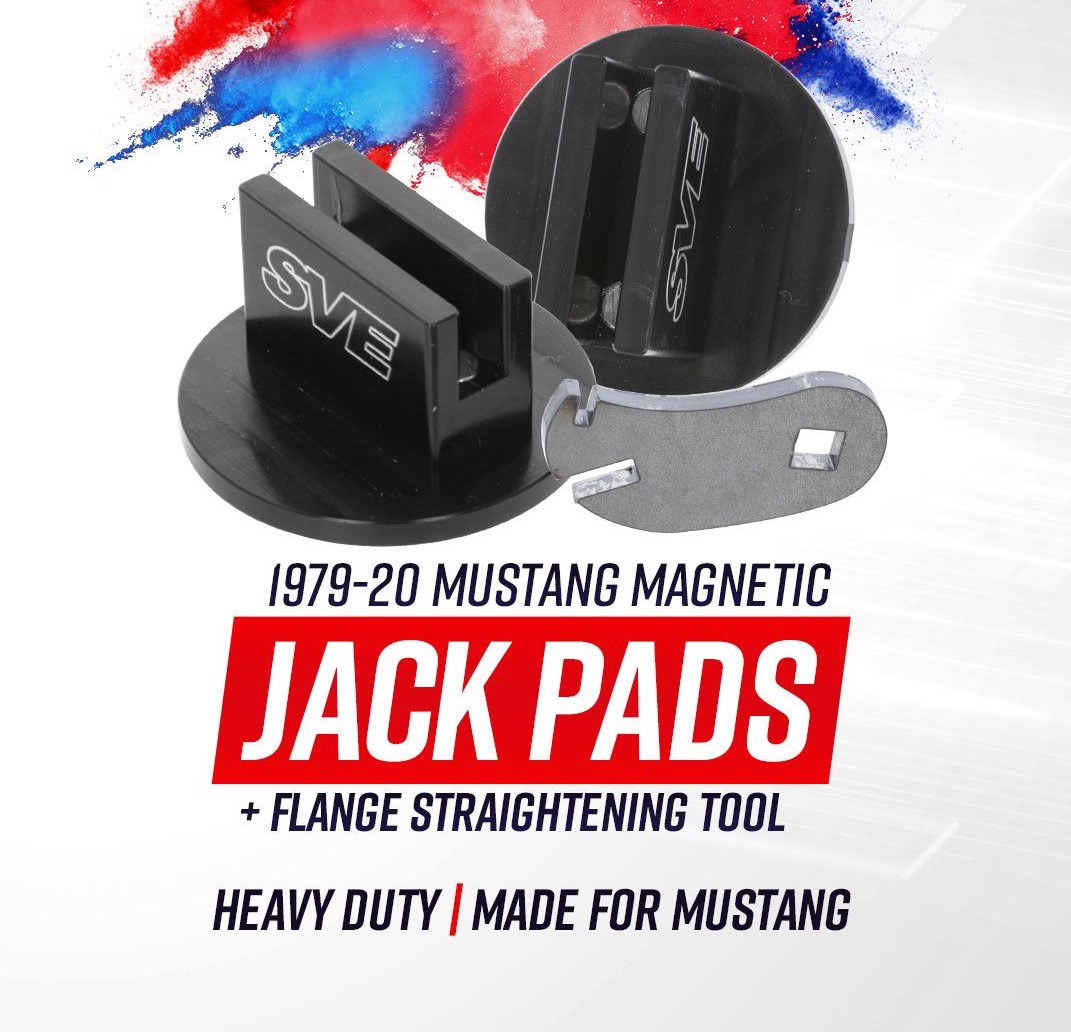 To us at LMR, one of the most annoying things about any late model Mustang or any vehicle for that matter is jacked up (no pun intended) pinch welds from improper use of a jack. To be honest, we have personally lost count on how many pinch welds we have fixed here in the shop. Now there are a lot of instances where we need a quick solution to lift a vehicle; whether it is to take a look at another component on the car, service a flat tire, or whenever we're at the track and we need to swap all four wheels; so we developed a premium jack pad for these situations.
Benefits & Features
SVE's pinch weld jack pads are machined right here in Texas from high-quality 6061 billet aluminum. To add some pleasant aesthetics, they're anodized black and incorporate engraved SVE logos on both sides. Unlike other offerings, our jack pads do not have a nylon insert. We have found that this material wears prematurely. We currently assemble these in-house and use super strong neodymium magnets so that the jack pad easily attaches to your pinch weld. These jack pads will provide a safe jacking point and will not damage the pinch weld. They can be used with floor jacks or lift arms that incorporate a flat saddle or surface to insure the jack pad is nice and flat.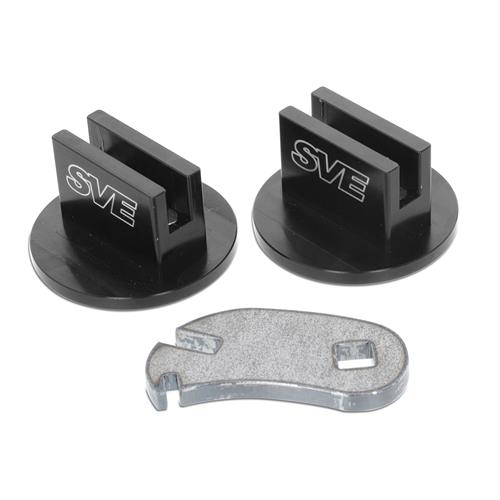 Proper Jacking Points
It's imperative that you are near Ford's recommended jacking points. It's okay to position the jack pad right in front or right behind the factory provision. We do not recommend placing this jack pad in the center of the pinch weld and lifting one side of the vehicle off the ground. Especially Fox and SN cars as their pinch welds aren't as strong as the S197 and S550 cars. The opening between the side gussets is 8mm so our jack pads will accommodate 1979 to present Mustang pinch welds as well as most modern pinch welds on other vehicles. Now because of the additional bracing on all convertible models, we don't recommend these jack pads for convertibles.


What's Included?
Included in the kit are two SVE jack pads and a flange tool. This flange tool accepts a three-eighths drive socket wrench and is used to straighten damaged pinch welds. Once the pinch weld is straightened, simply position the jack pad into place and the magnets will do the work for you. Place the jack under the pad and lift the vehicle. Whenever the jack pads have been used a few times, you will start to see signs of normal wear and tear. After all, this is metal to metal contact, so it's completely normal for this type of application.
Quick Product Notes
Now just to clear the air, some pinch welds may be beyond repair for the flange tool. If they are, use this opportunity and reach out to a trustworthy local body shop so that they can properly repair your pinch welds.
Also note, because of different side exhaust configurations, exterior side splitters, and any other modifications at or near the pinch weld for that matter; there may something that could hinder the use of our SVE jack pads.
Of course, be sure and remove the jacking pads whenever you are finished as these are not designed to be left on the car.
---
We at LMR couldn't be more of an advocate for problem-solving solutions such as this. Sometimes such a simple solution such as our SVE jack pads protect any future pinch welds from occurring for easier use of lifting your vehicle.
---