Saleen HISTORY
Starting in 1983, the Saleen brand was established by Steve Saleen who was a former professional Formula Atlantic race car driver. The First Ford Mustang Saleen was produced in 1984 with only having 3 cars on the first production run. Saleen's main focus was improving on chassis, suspension, and braking upgrades which deemed Carroll Shelby calling it making "a racehorse out of a mule."
Over the years so many Saleen Mustangs took home racing wins such as the 24 Hours of Mosport 3 years in a row from 1986-88', the SCCA Escort Endurance Championship Driver, Team, and Manufacturer titles for the series, and in 1993 they placed 3rd and 5th in the SCCA World Challenge championship.
---
DIFFERENT Saleen YEAR MODELS
FOX BODY SALEEN Mustang | 1979-93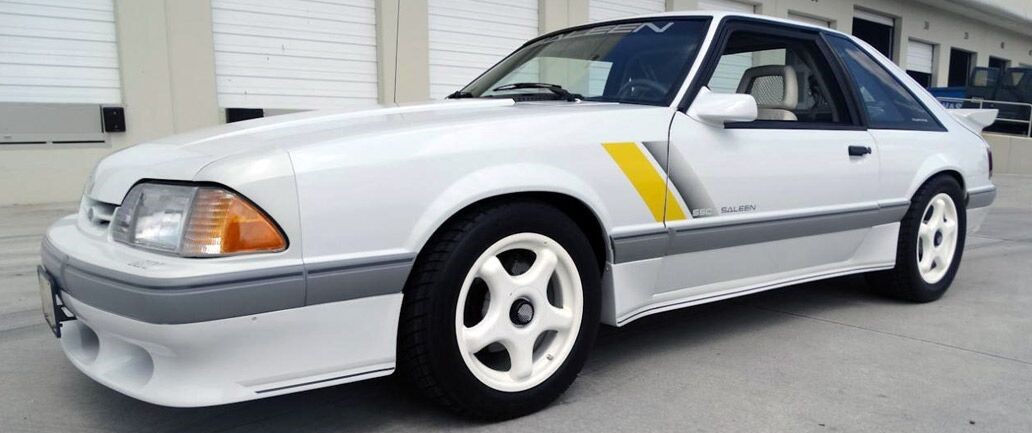 Having only 3 cars on the first production run in 1984, they included a white hatch, copper glow hatch, and black hatch. Just over 200 were produced in 1986 with increases of production to 700 by 1988 and 900 by 1989. Some notable Fox Body Saleens were the Saleen SC and SSC.
The SSC actually came before the SC and this started in 1989 as an attempt to release a car with an extensive drivetrain and engine mods. This had to be done by working very closely with the EPA which resulted in 161 production hatches with a $36,500 price tag.
The SC was only released from the years 1990-93' which makes it a very sought-after vehicle. Having only 13 being produced in 1990, 10 in 1991, none in 1992, and finally only 5 in 1993; each year offers a few performance differences that are sure to find exactly what enthusiasts are looking for.
---
SN95 SALEEN Mustang | 1994-04

This SN95 Mustang body style Saleen first started by being converted from standard V6 and V8 GTs. The S-351 models were produced by taking out the stock V6 and V8 engines and putting in their own Saleen 351ci V8s. The S-281 4.6L models came about in 1996 as an option for customers not wanting to upgrade to the larger S-351 5.8L V8. Some notable SN95 Saleens are the SA15 and SA20.
For the company's 15th anniversary, the SA15 came about in 1998 and they all came with superchargers and yellow paint with black stripes and white accents. The SA20 New Edge Saleen was released in 2003 and they were all white convertibles. This was in celebration of 2 decades of Saleen's collaboration with Ford. Only ten of these vehicles were released and those willing to pay the high premium for this model also got a free trip to Saleen's 7th annual car show with a chance to meet Steve Saleen himself.
---
S197 SALEEN Mustang | 2005-14

roadandtrack.com
Starting with the new body style in 2005, you could get 3 different conversion models; the base S-281, S-281 S/C supercharged version, and the S-281 E "extreme" model. The first two options could be purchased in a coupe or convertible, but the extreme version only came in a coupe.
In 2008, the Saleen came out with 5 different engine options as well as the 25th-anniversary model. This model was the SA-25 Sterling Edition and was stated that this high-performance vehicle played an integral role in what was known as "the reawakening of the company". This reawakening was all due to the S197 Mustang models.
Another key Mustang with this year range was the SMS 25A. This marked the first time that Saleen designed and built a Mustang from the ground up instead of using Ford's initial design. Lastly, the SMS 302 was an idea from Steve Saleen himself and the design took a base 2011 Mustang GT and added many modifications including increased HP, torque, specific Saleen-style exterior components, improved suspension, and a full interior makeover. All this made the starting price of this Mustang at $54,990.
---
SALEEN S550 MUSTANG | 2015-20

saleen.com
The most iconic changes to the current model Mustang are the White, Yellow, and Black Label options. Each year comes with these options and they each have something to give. The White Label is naturally aspirated, Yellow Label is supercharged, and the Black Label has the twin-screw supercharger.
For 2019, this Black Label version is the 780hp 35th-year commemorative edition with a limited quantity of 10. Finishing out the list with the 2020 Saleen Mustang has really taken the 2019 version to the next level. This is by improving the 2020 Ford Saleen Black Label version to 800hp and 630 lb-ft of torque!
---
Conclusion
Saleen continues to be one of the main third-party manufacturers for modified high-performance Mustangs. These limited-edition vehicles will continue to be highly sought-after collections for years and years to come.
Below LMR offers a wide variety of Saleen parts for your exterior such as our SVE X281 Grille, Saleen Style Spoilers & Side Skirts, as well as Saleen style full body kits. Also, check out our 1979-04 SVE Saleen SC and 1994-04 SVE Saleen Style wheel offerings!
---