Common Fox Body Mustang Problems & Solutions
Whether you are looking to purchase a 1979-1993 Mustang or already have a Fox Body Mustang, some common issues might arise during ownership. Like any car on the market, parts can wear out and become an issue over time. We will address some top issues you might find with your Fox Mustang with common solutions and tech guides to help you correct the issues!
---
Leaking Heater Cores
Heater cores are essential to keeping you comfortable in the colder months and helping defrost your front windshield on moist cold days. Unfortunately, over time, your heater core may develop a leak in the core. With the heater core being mounted on your Mustang's interior, a leak means engine coolant can start leaking inside your Mustang onto the carpet. Replacing the heater core is a daunting task as it will require the removal of your interior dash to access the HVAC box in which the heater core is housed. Use our tech guide and link to parts for more information to get your heater core fixed!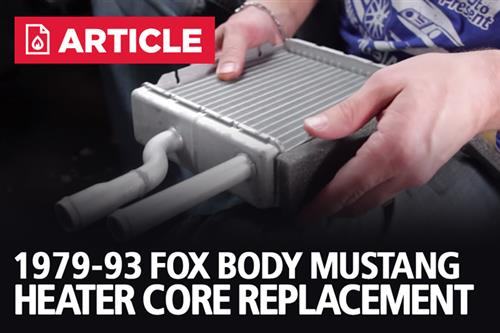 ---
No Cup Holders - (87-93)
With the world spending more time in their cars, there was a flaw from Ford when they created the Mustang. There is a lack of cup holders in the Fox Body Mustang. Designers at Ford might have thought that most people in a Mustang would be driving their Mustang with a bit of spirit and would not have a drink in their car; we love to have our beverage for long drives and cruises. Late Model Restoration was the first to the market with a non-universal solution for adding a cup holder to the 1987-93 Mustang. Other vendors soon followed suit, and now there are multiple options for OE-style cup holders in your 1987-93 Mustang!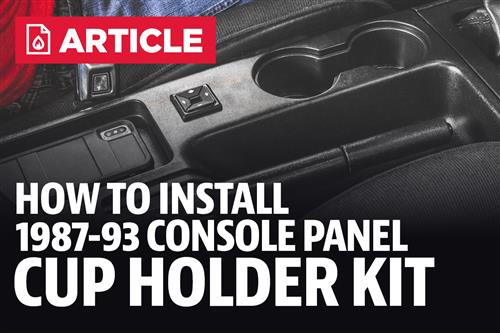 ---
Headlight Fading & Leaking
Headlights on cars are subject to a multitude of wear from road debris, UV rays from the sun, harsh cleaners, and heat from incandescent bulbs. These can wear down headlights and seals, causing them to leak or get a hazy finish, reducing light output. This is more prevalent in the 1987-93 Mustangs with the aero front bumper and headlights. Composite headlights with plastic lenses were in their infancy in the North American market, replacing the hearty glass-sealed beams of the 1979-86 4-eyed Mustangs. Thankfully LMR.com has replacement headlights for all 1979-93 Mustangs and technical guides to help you get your headlights replaced!
---
Broken Ash Tray Doors - (87-93)
The interior of the 1987-93 Mustang was a large leap forward for Ford to create a more luxurious cabin. While the 1979-86 Mustang interior is still great, the new interior pushed Ford to create an upgraded interior. While the interior of the 87-93 Mustang is an upgrade, it can have some downfalls. One item that will inevitably fail is the ashtray door hinge. Over time, the arm will break and cause the door to flop open or closed. LMR.com has multiple fixes, including hinge repairs, hinge parts, and replacement ashtray doors.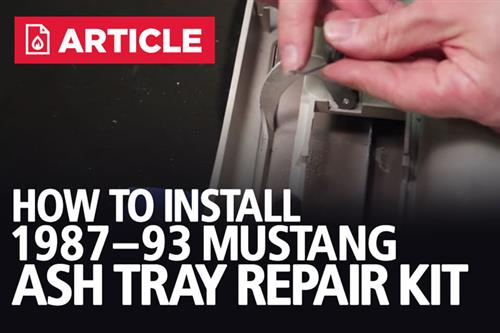 ---
Broken Window Motors
Broken window motors can put a damper on driving your Mustang. Inoperable windows prevent airflow on those nice days and make ordering at drive-thrus much more difficult. Window motors get plenty of use over their lifetime and can wear out. LMR.com has complete window regulator motors, bushings, guides, and more! Use our in-depth installation guides to help you complete your DIY installation!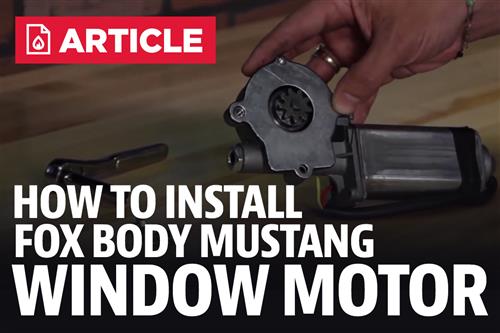 ---
Exterior Broken Door Handles
Nothing worse than going to open the door on your 1979-1993 Mustang and the door handle breaking. This is an extremely common issue as the OEM door handles are made from hard plastic that can become brittle over time. Many aftermarket solutions offer a metal version of the door handle to prevent a broken handle, but they tend to vary slightly from the OEM handle. Because of this variance, most restored Mustangs may opt for a set of OEM door handles. Either way, LMR.com has you covered with the correct parts and DIY tech guides!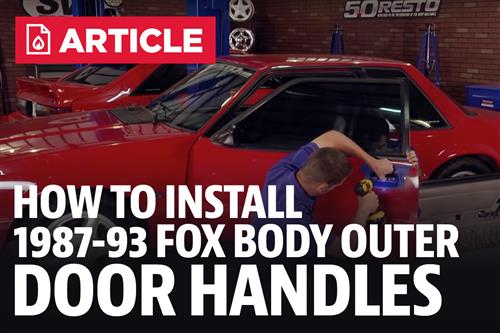 ---
Sagging Doors
With the door being one of the most used items on your Mustang, it is no wonder it will show signs of wear over the years. One of the main issues you might notice is the door becoming saggy or loose. This is caused by the door pins and hinges wearing and allowing excess movement. This excess movement causes accelerated wear on the door striker, weatherstrip, and door latch. It can also cause the weatherstripping not to function properly, causing leaking at the door to the body or top to window weatherstripping. Get your door back on track with all your parts from Late Model Restoration!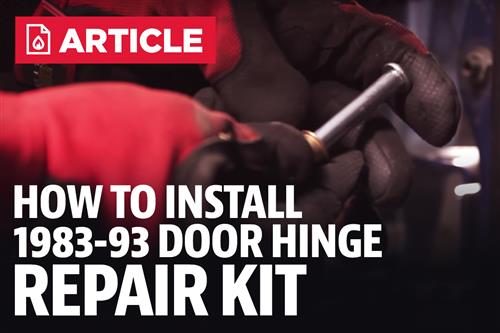 ---
4 Lug Wheel Selections
The Fox Body Mustang came with 4 lug wheels from Ford on almost all of the variants of Mustangs. Over the years, OEM wheels have become oxidized and damaged, with no way to replace the whole wheel. Thankful LMR's in-house brand 5.0 Resto has developed OEM-style replacement wheels to keep your Mustang looking like it rolled out of the assembly line from Ford! Shop these wheels are below!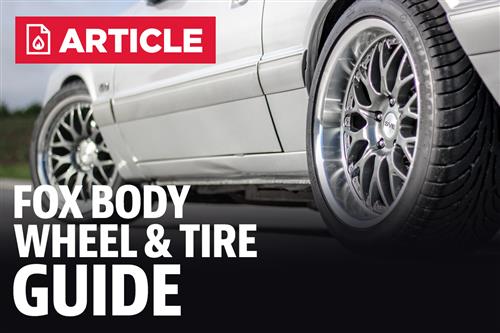 ---
Horn Not Working
Depending on the year Mustang you drive, there can be different reasons why your horn may stop working. A fix can be as simple as a horn relay or replacement of the horn assembly in the front fender. One of the most common issues on the 1987-89 Mustangs was having a worn horn button pad. When these wear out, the horn will either become inactive or will not deactivate. Replacement of this bad horn pad is a quick and easy way to get your horn back operating in your Fox Mustang.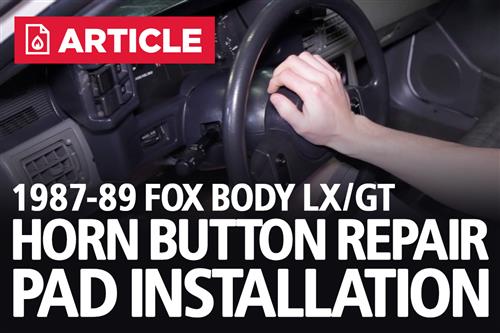 ---
Broken Seat Tracks & Wobbly Seats
Seat tracking in your Mustang has a hard life. They continuously are exposed to forces from braking, acceleration, and cornering, causing movements and stress on the tracks. These small movements over time can cause the locking mechanism to become loose or inoperable, which will not allow the safe operation of your Mustang. Also, the sheet metal that the seat tracks are attached to can become stress fatigued or rusted, causing the seat tracks to not safely secure to the floorboard. LMR.com has all the replacement seat track parts plus the DIY tech information to mount your seat to your Mustang securely.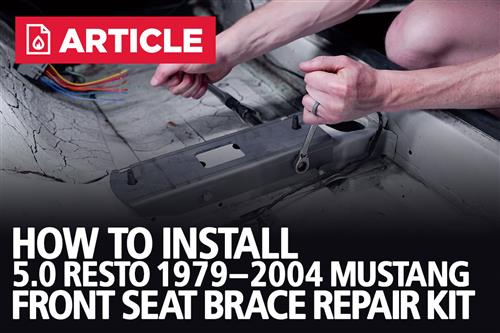 ---
Fox Restoration Guides & Additional Tech
Late Model Restoration is dedicated to preserving the Fox Mustang and helping enthusiasts keep their Fox Body Mustangs on the road. Here at LMR.com, we have a wealth of knowledge in our tech guides with the correct parts in stock! Visit our dedicated Fox Body tech guides for help with all your Fox Body do-it-yourself projects!

---