Over the years, Ford has had variously turbocharged and supercharged Mustangs hit the road. Some with exceptional power levels and some more economy-minded. Most of these Ford Mustangs with forced induction systems have become or will become collector items in the future. One thing is for sure, Ford is no stranger to boosting their pony car and leaving the competition in the dust!
---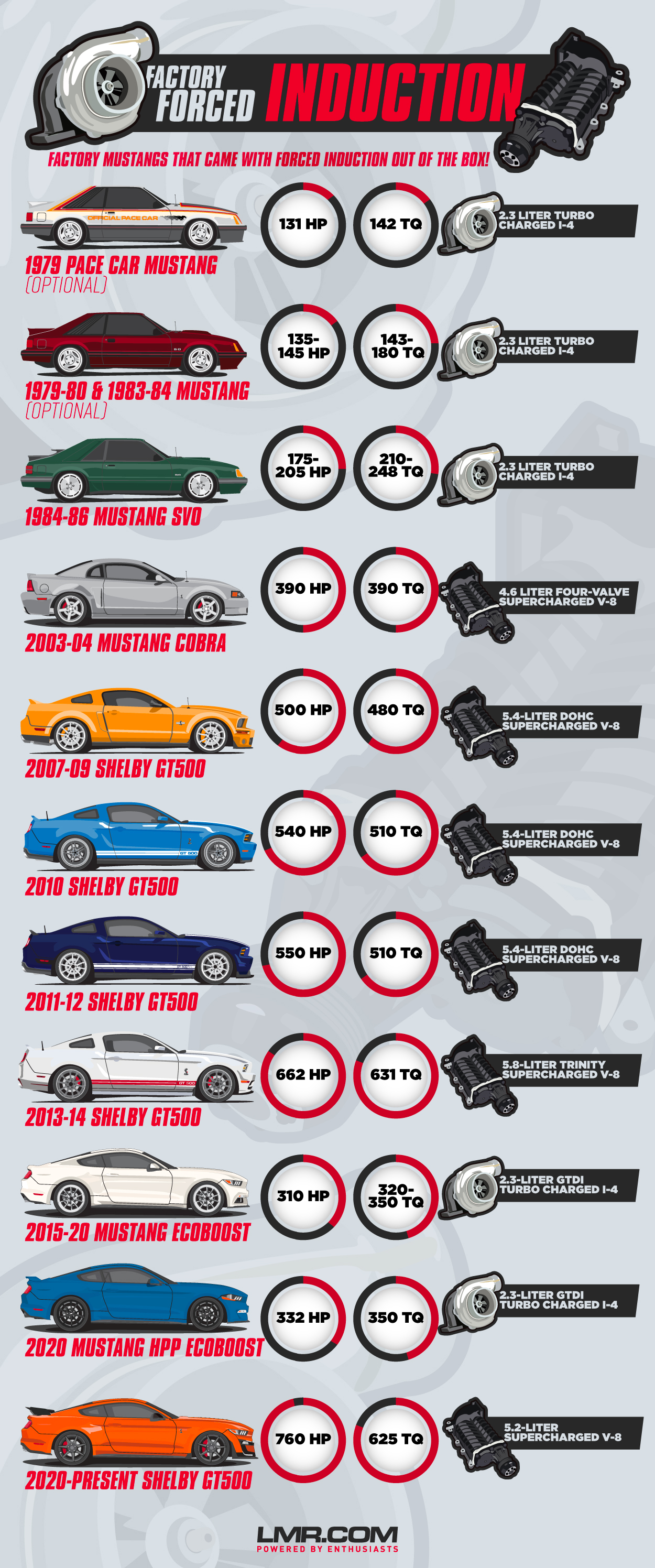 ---
Factory Forced Induction Mustang Breakdown
1979 Pace Car Mustang | 131 HP & 142 Torque

The 1979 Ford Mustang Pace Car replica was offered with two engine options, the 5.0L 302ci v8 producing 140 hp and 250 lb/ft. of torque and the 2.3L Turbo 4-cyl pumping on a less than fire breathing 131 hp and 142 tq. It was only available as a Hatchback with standard trim levels. All Pace Cars were equipped with a 3.45:1 rear end gear without a trac-loc differential. The 2.3L Turbo was also only available with a 4-speed manual transmission.
By today's standards of power, 131 hp and 142 lb/ft. of torque is quite low! Even the V8 variant will not break any records. Regardless, these cars are highly sought after for collectors! It is worth noting that the Turbo 2.3L cars have a "W" as the 5th digit of the VIN versus an "F" for the V8 option.
---
1979-80 & 1983-84 Mustang | 135-145 HP & 143-180 Torque

Ford Carried over the Non-Intercooled 2.3L Turbo 4-cylinder engine as an option for the 1979, 80, 83, & 84 model Mustangs. For 1980, the little engine produced 135 hp and 143 lb/ft. of torque so this was by no means a "performance option". A slight boost in power came with the 84 model years with the cars now producing 145 hp and a decent jump in torque to 180.
---
1984-86 SVO Mustang | 175-205 HP & 210-248 Torque

SVO stands for Special Vehicle Operations. Ford began to tap into the performance side of the factory forced induction Mustangs with the introduction of the SVO in 1984. With 14 points of boost, the measly 2.3L 4-cylinder was now getting into GT territory with 175 hp and 210 lb/ft. of torque!
With the increased boost came increased heat so Ford installed a top-mount intercooler to lower the incoming air. Electronic knock sensors were also installed to control both boost and spark timing. 1985 models shared the same power.
1985.5 sported even more power at a cool 205 hp and 248 tq thanks to intake manifold revisions, a new impeller for the T-3 turbo from AiResearch, 35-lb. fuel injectors, updates to the EEC-IV computer, and a new dual exhaust! Turbo lag was reduced as well. 1986 saw a 5 hp reduction to 200.
---
2003-04 SVT Cobra | 390 HP & 390 Torque

A car well before it's time, the 2003-04 SVT Cobra is known as one of the best Ford Mustang ever made! The Terminator was such a well-built machine that it is often joked about sending the Chevrolet Camaro packing from 2003-2009! With its T56 6-speed manual transmission, independent rear suspension, and Eaton supercharged 32v 4.6L V8, this thoroughbred stallion pumped out an underrated 390 hp and an equal 390 lb/ft. of torque. With dyno numbers hovering from 360-375 horsepower at the wheels, the factory number was closer to 425.
Almost 20 years later, the final SVT Cobra on the Fox Chassis still commands big money and is highly desired by being the most powerful of the factory forced induction Mustangs… for now!
---
2007-09 Shelby GT500 | 500 HP & 480 Torque

The long-awaited return of the Shelby Mustang roared back on the scene in 2007 with the GT500 sporting a large increase in power from the previously boosted pony! 500 horsepower and 480 lb/ft. of torque was produced from the DOHC 5.4L 32v v8! The only downfall of this muscular pony was its weight. Tipping the scales at over 3,800 lbs., the 2007-09 GT500 had strong power numbers but may have been hindered by its heft.
---
2010 Shelby GT500 | 540 HP & 510 Torque

Enter the 2010 GT500! Ford increased the power by 40 ponies, the torque by 30, and shorted the rear end gear ratio from 3.31:1 in the 2007-09 models to 3.55:1. They also gave the 2010 Shelby a taller 6th gear in the Tremec TR6060 transmission to increase fuel mileage to 22 on the highway. Not bad for 540 hp!
---
2011-12 Shelby GT500 | 550 HP & 510 Torque

A much-needed diet was added to the flagship Shelby GT500 in 2011 thanks to the new Aluminum-block 5.4L V8! 102 lbs. were tossed in the garbage with this new engine! Not only that, but Ford and SVT bumped the horsepower to 550 and a larger, two-row intercooler was installed to increase cooling capacity by 40% compared to the smaller, single-row on the previous GT500's.
While the 510 lb/ft. of torque remained the same, it was achieved 250 rpm lower, at 4,250 rpm, improving the overall driving experience. Other than that, the drivetrain was virtually unchanged from 11-12.
Something not to be overlooked for 2011-12 was the introduction of SVT's Performance Package. 3.73:1 rear end gear, stiffer shock valving, spring rate increases by 20.5% upfront and 9.5% outback, a lowered ride height by 0.4 for the front and 0.3 for the rear, Goodyear Eagle F1 Supercar tires with 19" wheels up from and 20" in the rear to name some of the changes. This car keeps getting better as the years pass by!
---
2013-14 Shelby GT500 | 662 HP & 631 Torque

So much can be written about this factory-freak! 0-60 in 3.5 seconds. The quarter-mile passes in 11.8 seconds. 200 mph top speed… we are just getting started! This 662 hp monster now sported the 5.8L Trinity 32v V8 with 631 lb/ft. of torque topped with a 2.3L Eaton Supercharger! Compression was raised from 8.4 to 9.0 and the SVT powerhouse pumped out boost levels of 14 pounds of boost compared to the 9 points of boost on its older brothers.
15" Large Brembo front brakes and 13.8" rear brakes were installed to stop the strongest, to date, Mustang ever to come off the assembly line! The heat exchanger was upgraded to a three-row design because of the fire breathing 662 hp! Ford improved the GT500 in such a way that most on the road could not come close to touching it! You would almost need 1,000 hp to catch it! All jokes aside, what more could you ask for?
---
2015-20 Ecoboost Mustang | 310 HP & 320-350 Torque

With teaser videos of Ford pulling the front driver side wheel off the ground, the 2015 Mustang Ecoboost with its 2.3L turbo was dubbed the "Ecobeast" by Mustang enthusiasts! In the Performance Pack trim, the return of the 2.3L turbo Mustang had unique 19" wheels, Mustang GT 14" 4-piston front brakes, a 3.55:1 limited-slip rear, a larger radiator, and a larger anti-roll bar!
With its power levels of 310 hp and 320 lb/ft. of torque, this 3663 lb. Mustang passed the quarter-mile in 13.9 seconds at just under 100 mph. Before the Mustang GT had the mighty Coyote engine, track times like those belonging to the V8 cars. 2018 Ecoboost cars increased torque to 350 lb/ft. and with the introduction of the 10-speed auto, 5.0 seconds 0-60 was achieved and a quarter-mile time of 13.5 seconds was possible!
---
2020 HPP Ecoboost Mustang | 332 HP & 350 Torque

HPP, Standing for High-Performance Package, increased the horsepower numbers to 332, proving the 2.3L turbo 4-cylinder Mustang as a force to be reckoned with! The heart of this new HPP Mustang is pulled directly from the underappreciated Focus RS, although slightly detuned. Ford stated that this RS-derived power center offers a broader power curve, increasing the overall seat of the pants feel! 0-60 times are now claimed to be under 5 seconds with quarter-mile times deep into the low 13's. Very impressive!
---
2020-Present Shelby GT500 | 760 HP & 625 Torque

Of all of the peculiar things to come out of 2020, the all-new GT500 has to be one of the rare highlights! With its high horsepower 5.2L Predator V8, 2.65L roots-style blower with 12 pounds of boost producing a ridiculous 760 hp and 625 lb/ft. of torque, the GT500 is capable of high 10 second quarter-mile times in totally stock trim! To stop this powerful pony, Ford installed obnoxiously large 16.5", 6-piston Brembo brakes up front and a 14.6", 4-piston Brembo's outback!
In order to clear those superb brakes, 20x11' wheels on each corner were installed with Michelin Pilot Sport 4S tires. The Carbon Fiber Track Pack is upgraded to 20x11.5 wheels in the rear with sticky Michelin Pilot Sport Cup 2 tires to keep this apex predator planted to the ground!
---
For more top Mustang content, keep it here with the Real Mustang Enthusiasts, LMR.com!
---