Alright, we're just going to go ahead and say it… there is SO much to talk about when it comes to Ford's almighty small block. However, to keep this article from getting too long-winded and boring you to death, we're going to cover some of the higher-level changes throughout the 1979 to 1995 era.
For those of you that are thinking, "that the 302 came way before 1979"... trust us, we know that. Since we specialize in 1979 to present Mustang restoration and performance parts, we're going to talk about the history of the push rod 302 from 1979 to 1995.
---
Ford 302 Engine History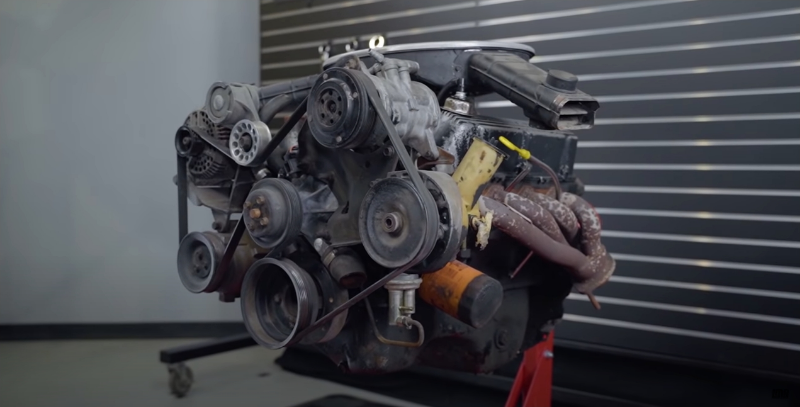 The Ford small-block V8 design work originally began in 1960. A guy by the name George Stirrat (stee-rot) headed up the engineering group which was code-named "The Canadian X Project". The first engine debuted in the form of a 221 cubic-inch small block that was offered in the Ford Fairlane. It was equipped with a standard two-barrel carburetor and was rated at 145 horsepower at 4400 RPMs and 216 lb-ft of torque at 2200 RPMs. In 1963, the engine was over-bored to 260. Then in 1964, that engine was also overboard to a 289, and then a few short years later, the 289 was stroked to a 302.
The 302 cubic-inch engine was first referred to by Ford as a "5.0-liter" V-8, which was a metric unit of measurement rather than the U.S. customary notation. From 1979 to 1995, the Mustang 302 was a liquid-cooled, overhead-valve, 90-degree V-8 engine.
---
Engine History Of The Fox Body & 1994-95 Mustang
1979 Fox Body Mustang
In 1979, the 5.0-liter engine was a carry-over from the 1978 Mustang 2. This engine had an aluminum intake manifold, a two-barrel carb, and California-bound cars received a variable-venturi. A single-snorkel air-cleaner was used and new for 1979 was an aluminum water pump and a single v-belt accessory drive belt. This engine was rated at 140 horsepower and 250 lb-ft of torque with an 8.4:1 compression ratio. The engine block and cylinder heads were cast iron. Ford used cast iron for the engine blocks and cylinder heads throughout the production of the 302 in Fox Body and SN95 Mustangs.
---
1980-1981 Fox Body Mustangs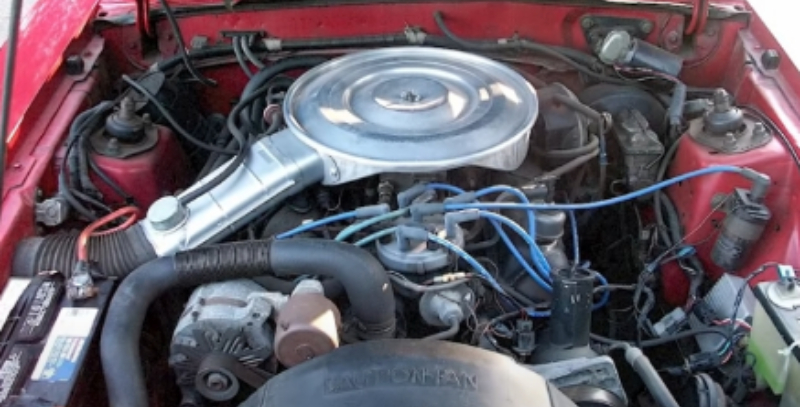 In 1980, Ford introduced a new version of its small-block V-8 engine. It was a 4.2-liter or 255 cubic inch variant of the 302 which had a smaller bore of 3.68 inches. Essentially, it was a scaled-down version of the 302. This engine was rated at 118 horsepower and 193 lb-ft of torque. This engine was a direct result of Ford's efforts to meet the ever more stringent CAFE requirements for fuel mileage. CAFE stands for Corporate Average Fuel Economy. The 4.2-liter engine, fortunately enough for enthusiasts, was only around for two model years which were 1980 and 1981.
---
1982 Fox Body Mustang
The return of the 302 in the Mustang coincidentally came in 1982 which was the year the GT model returned to the line-up. The new 5.0 carried an H.O. tag which was short for high output. The camshaft was taken from a 351 Windsor engine that Ford used in their Torino and a double-roller timing chain replaced the previous silent-link chain. The firing order was also changed from 1-5-4-2-6-3-7-8 to the 351 Windsor sequence of 1-3-7-2-6-5-4-8 which we have detailed in the image below: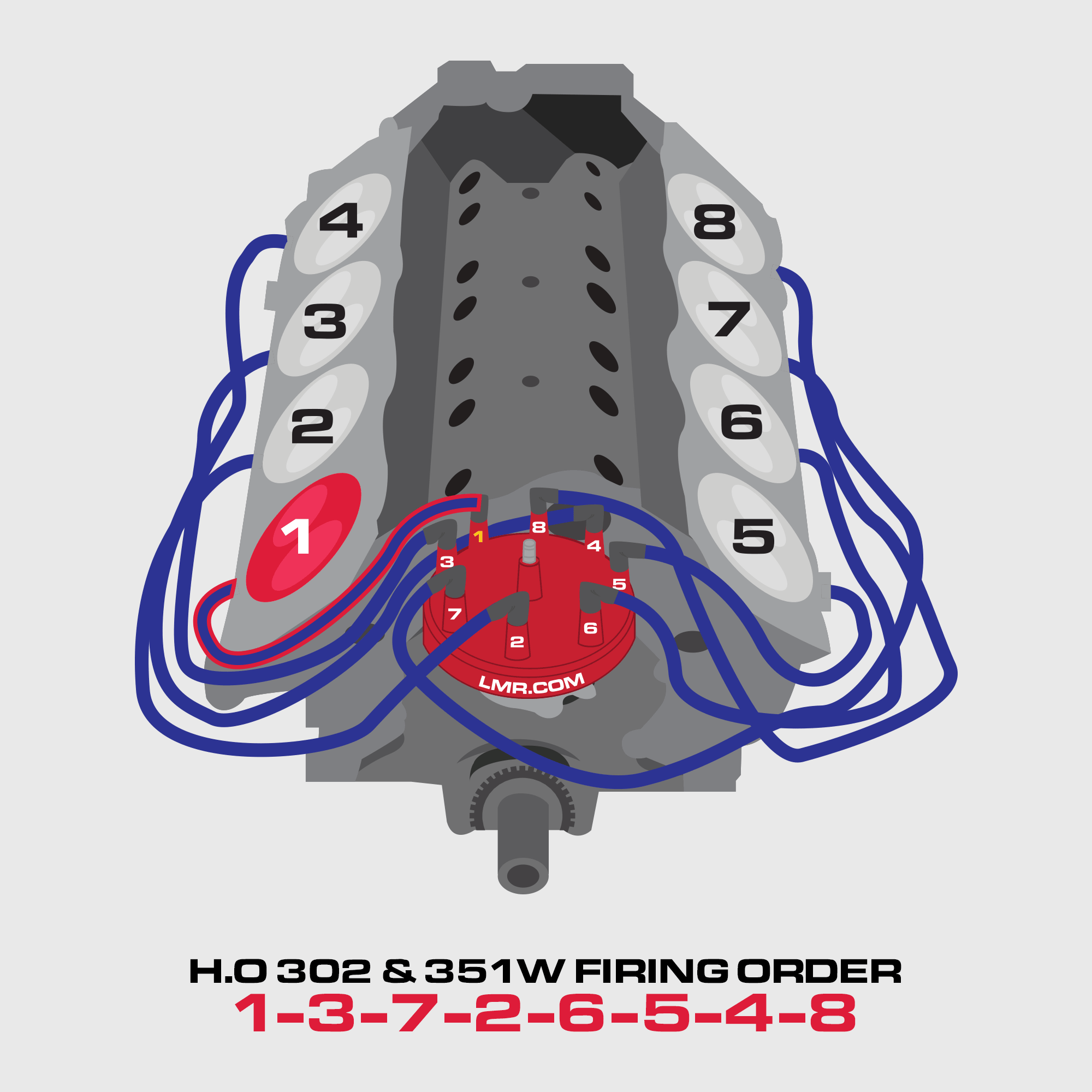 The cylinder heads were larger than those of the 4.2-liter and most people referred to this as "normal" 5.0 intake ports. It featured a Motorcraft carb which was rated at 368.5 cfm and the intake manifold was cast aluminum. This engine block was also gray instead of blue and this was the first year for gray.
The distinctive fifteen-inch air cleaner assembly was derived from the 351 Ford LTD H.O. police engine package. Its twin snorkel design drew cool air through the inner fenders via flexible rubber tubes. Other visual improvements included aluminum "Powered by Ford" valve covers. This 5.0 high-output engine was rated at 157 horsepower and 240 lb-ft of torque.
---
1983-1985 Fox Body Mustangs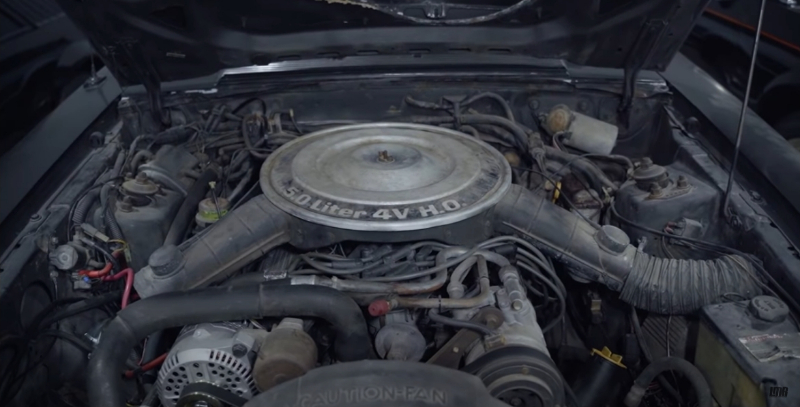 From 1983 to 1985, the 302 didn't change all that much. For the 1983 Mustang, the five-liter engine received a 4-barrel Holley 600 cfm carb which allowed for an additional 18 horsepower. This iteration of the five-liter engine was rated at 175 horsepower and 245 lb-ft of torque. The compression ratio was 8.3:1 and an a/c compressor cutoff was added whenever the engine saw wide-open throttle.
In 1984, Ford added its CFI or central fuel injection to the 4-speed automatic transmission Mustangs. The 4-barrel carb came with a redesigned automatic choke and was rated at 165 horsepower, which was 10 less than the manual. Torque remained the same at 245 lb-ft. One other minor change on the CFI version of the 302 was the use of a cast-iron intake manifold versus the dual-plane aluminum manifold on the non-CFI engine.
For 1985, the first roller-cammed 5-liter engine was offered. The roller design allows for more cam lift and more aggressive lobe profiles than traditional flat tappet designs. This version of the 302 was now rated at 210 horsepower and 270 lb-ft of torque. The automatic transmission-equipped Mustangs with CFI still used the non-roller engine and in early 1985 they were rated at 165 horsepower and 245 lb-ft of torque. Late-1985 CFI-equipped engines received a bump in power to 180 horsepower and 260 lb-ft of torque. 1985 was the last year of the carbureted 302 in the Mustang.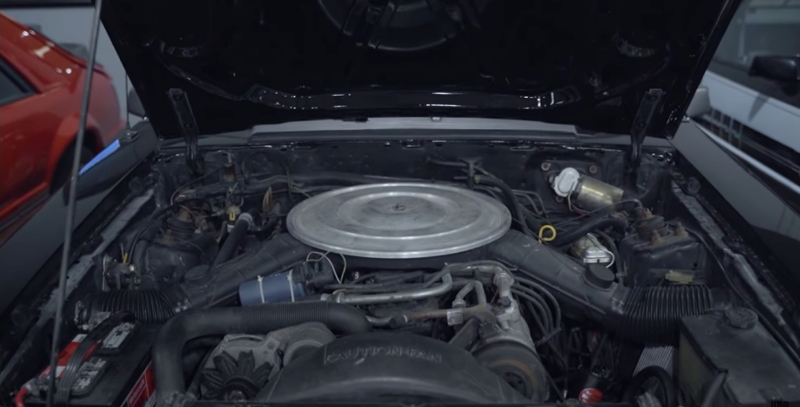 ---
1986 Fox Body Mustang
In an effort to avoid the federal government's gas-guzzler tax in 1986, the Ford engineers developed their sequential electronic multipoint fuel injection with speed density management. Unlike the previous years where there were two versions of the 302, there was now only one iteration of 5.0 with the addition of SEFI.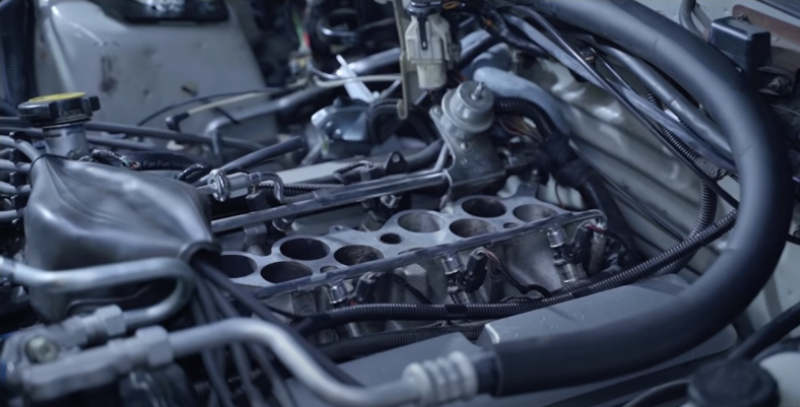 There were quite a few changes to this engine in 1986. At first glance, the most noticeable change was the upper and lower intake manifolds. The short block featured flat-top pistons without any valve reliefs. This bumped the compression ratio to 9.2:1. While this engine produced less horsepower than the 85 version at 200 horsepower, it did make 285 lb-ft of torque which was an increase of 15 lb-ft.
---
1987-1992 Fox Body Mustangs
In 1987, there were more changes to the 302. The short block featured a redesigned forged piston with a 30-thousandths deep dish and valve reliefs which netted a 9:1 compression ratio. The cylinder heads were also revised and had a casting number of E7TE. Although, early 87 cars did have E5TE cylinder heads which were first used on the 1985 truck engines. This cylinder head was used on LX and GT Mustangs until the retirement of the Fox Body Mustang in 1993.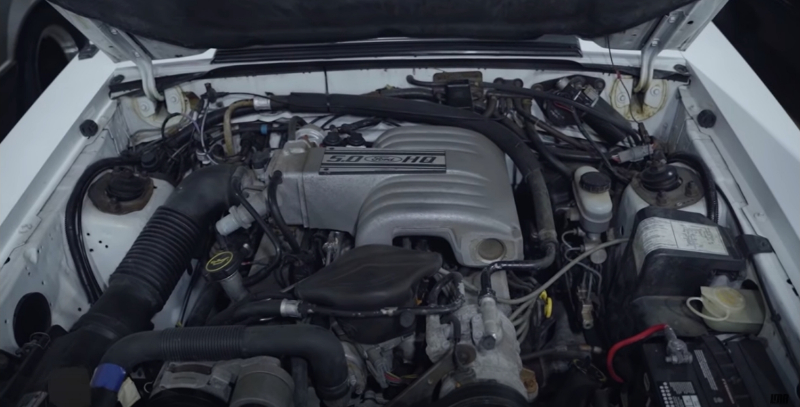 The 1987 version of the small block 302 was rated at 225 horsepower and 300 lb-ft of torque. This rating would carry over through the 1992 model year. California-bound cars saw the edition of a mass-air flow system in 1988, but all other cars were still speed density. In 1989, Ford transitioned all of the Mustangs to the mass-air system. Up until 1993, the 5.0 would remain unchanged.
---
1993 Fox Body Mustang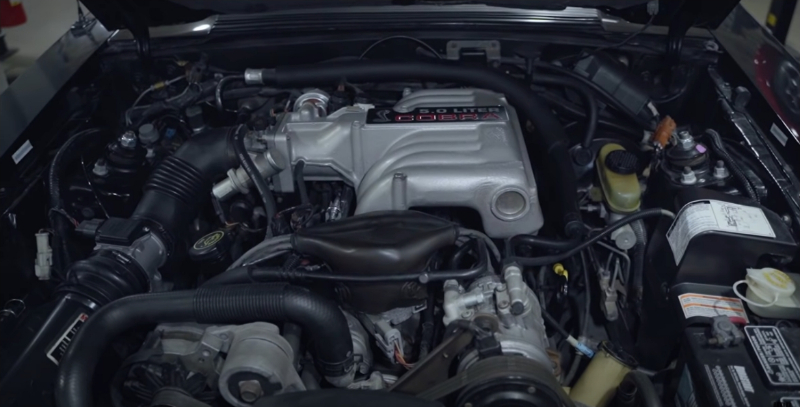 So here comes 1993! The year Ford underrated its 302s in preparation for the complete Mustang redesign in 1994. The standard 5.0 ratings in the LX and GT were lowered to 205 horsepower and 275 lb-ft of torque. Even the GT-40 version of the 5.0 in the '93 Cobra also had a very conservative rating of 235 horsepower and 280 lb-ft of torque. Chassis dynos proved these flywheel ratings were mediocre!
---
1994-1995 SN95 Mustangs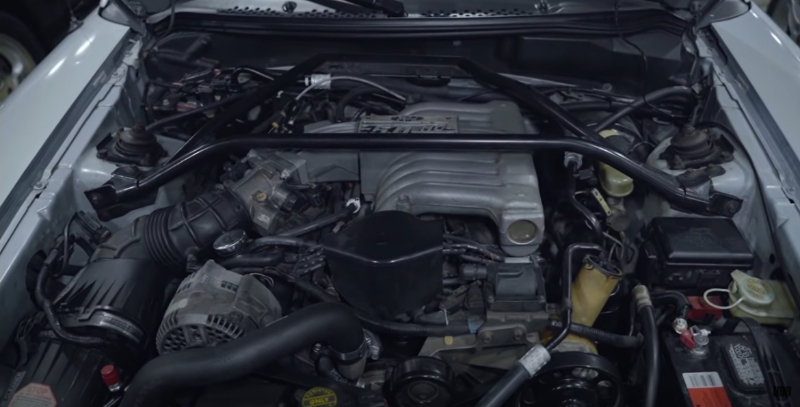 For 1994 and 1995, Ford rated the high-output 302 at 215 horsepower and 285 lb-ft of torque. While still very debatable, the power improvement over the 1993 engine was primarily from airflow improvements. The Ford engineers supplied a larger mass air flow meter which was the same size as the '93 Cobra.
---
Pushrod discontinuation
With Ford making the switch to the 4.6-liter modular engines in 1996 for the Mustang, they did produce the 302 up until 2001 which was an engine option in the Ford Explorer and standard in the Mercury Mountaineer. On December 6, 2000, a ceremony was held at Cleveland Engine Plant One to celebrate the assembly of Ford's final five-liter, pushrod V8 engine. And for one final tidbit of random information, there were roughly 10,000 of these engines shipped to Ford of Australia to be used in its Falcon line.
To this day, the small block 302 is still strongly supported by aftermarket components. From cylinder heads, camshafts, valvetrain components, and engine blocks; it's hard to beat some old-school hot-rodding in a world filled with high-tech, state-of-the-art engine technology.
---
Until next time, for all things 1979 to present Mustang and SVT Lightning; keep it right here with the real enthusiasts, LMR.com!
---