By now I am sure most of you out there are up to speed with out 2011 Mustang V6 Project: Six Appeal and have seen the suspension, performance and wheel and tire transformation we have completed so far. If not, search our blog for more info. Well as the title states, it was time for a few exterior upgrades on the new 2011 V6 Mustang.
There aren't just a ton of parts out there that really fit our project V6 Mustang so we kinda took a pick and choose approach to give it a little more tasteful look without going over board. We had to keep in mind that ground effects and items like that really wouldn't fit, being this car will be on track and driven pretty hard to be too pretty looking [:D]
One of the first things we knew the Mustang was missing was a set of factory style fog lights. Remember, we purchased the most plain Jane Mustang V6 we could when we started this project, so originally the factory fog lights were out of the question. Fortunately for us, our friends over at Starkey Products had just what we needed, a complete fog light kit with everything we needed to add new fog lights with minimal effort and very simple installation. This 2010-12 Mustang V6 Fog Light Kit from Starkey Products comes complete with 2 new fog lights, 2 new fog light bezels, a complete wiring harness, headlight/fog light switch and all the hardware you need for installation. Not to mention some of the best, fully detailed instructions we have ever seen!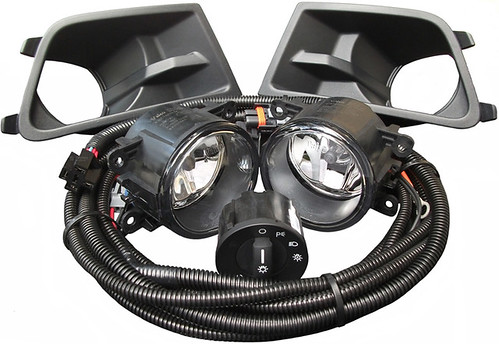 I started this installation right around 12PM on Sunday and by 1:30 I was taking pictures of my finished product. For a complete harness and light installation, this is no time at all! With the instructions and a few hand tools I knocked this out while also taking several pictures for this blog. I didn't get too in depth with the fog light installation pictures, and the reason for that is I just wanted to highlight the key points and show its is a very simple installation. Even the wiring harness looks like a factory piece so there is no odd looking wiring under the hood. Safe to say this installation can easily be finished within an hour and you don't even have to make any permanent modifications to your Mustang!
Not only does the new fog light kit add a little more styling to the front end of the V6 Mustang, it great improves lighting and appears just like it came from the factory. We couldn't be more pleased with the outcome and installation of the entire kit. If your new 10-12 Mustang V6 didn't come with factory fog lights, you need this kit! I promise you won't be unhappy with the purchase. Don't mind the missing grille, new one will be here this week. [:D]
Next on the list was a very simple deck lid black out panel from Classic Design Concepts. The Classic Design Concepts Rear Blackout Panel is a great was to clean up the rear end of your Mustang, once again with no modifications needed other that removing the faux gas cap off the deck lid which can easily be done with a heat gun and a plastic spatula. Check it out.....
Last up on the list of bigger items was a new Stillen Mustang V6 Chin Spoiler for the 2010-12 Mustang V6. This is about the only chin spoiler out right now for a V6 and offers the best quality and strength. They are made from urethane to help absorb any curb bumps and fit flush right over the existing chin spoiler. They come ready to install but I choose to paint mine with our Black Exterior Trim Paint to help give it a little more factory look. Make sure you clean the surface very well with alcohol or something similar to remove any dust or debris.
Installation of the chin spoiler is easy, simply set the chin spoiler on the existing chin spoiler and remove the two factory chin spoiler screws located in the fender wells. Once you reinstall the 2 factory screws, your chin spoiler should sit in place for any final adjustments. Before you install any of the other screws make sure to remove the backing tape on the pre-applied double sided tape to get a good seal to your bumper cover. After you remove the backing tape, go ahead and install the 2 screws above the factory fender well screws and then the remaining 7 go under the chin spoiler through pre-drilled holes and screw into the underside of your bumper cover. Quick and easy installation with a huge upgrade in looks!
One little extra I added on were the new Mustang 3.7 Emblems. These are designed to look just like the Ford OEM 5.0 logo emblems found on the 2011-12 Mustang 5.0L. They give a much more 3D look and fit the car just right! Pre-applied double sided tape makes for a quick and easy installtion!
For now this is all the exterior mods we made. Adding a little bit of style without going over the edge. We also have a rear spoiler and a new hood stripe that will be going on in the next few weeks so keep your eyes peeled for an update on that along with our final shots of the car before we head to the Mid-America Shelby Meet!
---