Fox Body Production Numbers
Wanting to know how many of your specific Fox Body models were made? Check out LMR's Fox Body production numbers to find out!
FOLLOW: 79 93 mustang , mustang , fox body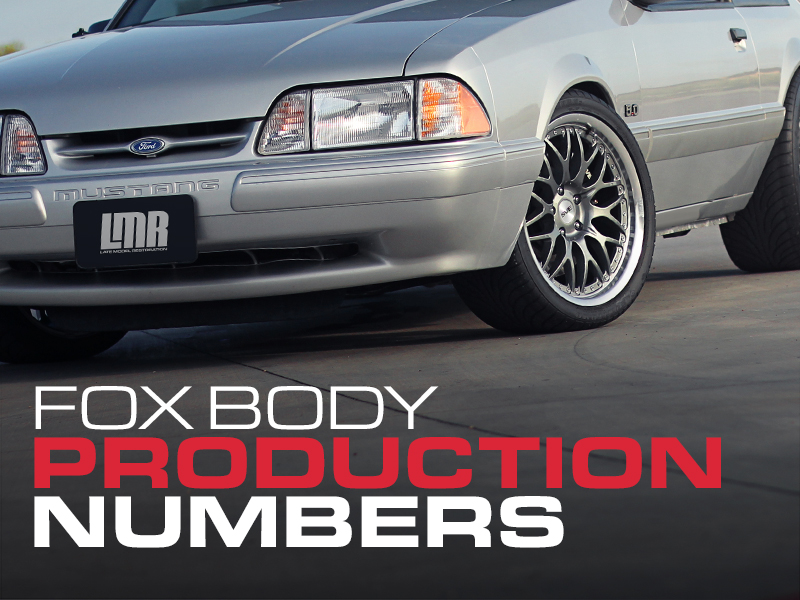 Possibly one of the most popular models of all of the Mustangs ever produced, the Fox Body may have also been one of the most diverse. Spanning the years of 1979-1993, Ford built an estimated 2,603,339 Fox Mustangs. Take a look at the follow Fox Body Mustang production numbers to see how many of your Fox were produced!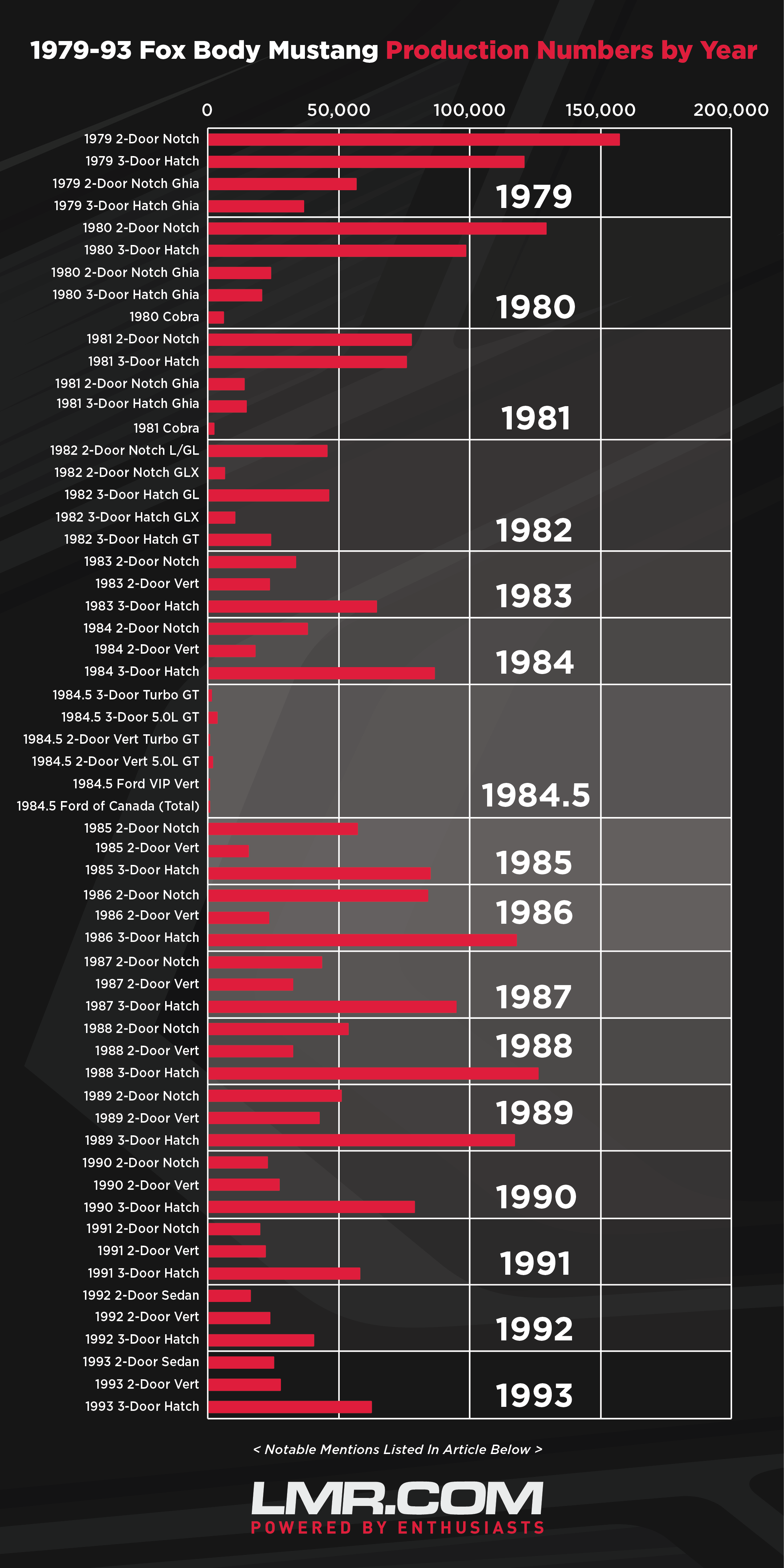 Fox Body Production Numbers By Year
Breakdown
2 Door Notch | 156,666
3 Door Hatch | 120,535
2 Door Notch Ghia | 56,351
3 Door Hatch Ghia | 36,384
Notable Mentions
All Models With 5.0L | 47,568
Pace Car Replicas | 10,478
---
Breakdown
2 Door Notch | 128,893
3 Door Hatch | 98,497
2 Door Notch Ghia | 23,647
3 Door Hatch Ghia | 20,285
Cobra | 5,550 (Included in non-Ghia Models)
---
Breakdown
2 Door Notch | 77,458
3 Door Hatch | 75,578
2 Door Notch Ghia | 13,422
3 Dppr Hatch Ghia | 14,273
Cobra | 1,821 (included in non-Ghia Models)
---
Breakdown
2 Door Notch L/GL | 45,316
2 Door Notch GLX | 5,828
3 Door Hatch GL | 45,901
3 Door Hatch GLX | 9,926
3 Door Hatch GT | 23,447
---
Breakdown
2 Door Notch | 33,201 (including 556 Turbo GT's)
2 Door Convertible | 23,438 (including 993 GT's)
3 Door Hatch | 64,234 (including 27,212 GT's)
---
Breakdown
2 Door Notch | 37,680
2 Door Convertible | 17,600
3 Door Hatch | 86,200
Notable Mentions
---
Breakdown
3 Door Turbo GT | 350
3 Door 5.0L GT | 3,333
2 Door Convertible Turbo GT | 104
2 Door Convertible 5.0L GT | 1,213
Ford VIP Convertibles | 15
Ford Of Canada (total) | 245
---
Breakdown
2 Door Notch | 56,781
2 Door Convertible | 15,110
3 Door Hatch | 84,623
Notable Mentions
1985 SVO Mustang | 1,515
1985.5 SVO Mustang | 439
---
Breakdown
2 Door Notch | 83,774
2 Door Convertible | 22,946
3 Door Hatch | 117,690
Notable Mentions
---
Breakdown
2 Door Notch | 43,257
2 Door Convertible | 32,074
3 Door Hatch | 94,441
---
Breakdown
2 Door Notch | 53,221
2 Door Convertible | 32,074
3 Door Hatch | 125,930
---
Breakdown
2 Door Notch | 50,560
2 Door Convertible | 42,244
3 Door Hatch | 116,965
---
Breakdown
2 Door Notch | 22,503
2 Door Convertible | 26,958
3 Door Hatch | 78,728
---
Breakdown
2 Door Notch | 19,447
2 Door Convertible | 21,513
3 Door Hatch | 57,777
---
Breakdown
2 Door Sedan | 15,717
2 Door Convertible | 23,470
3 Door Hatch | 40,093
Notable Mentions
2 Door Convertible - Vibrant Red | 2,019
---
Breakdown
2 Door Sedan | 24,851
2 Door Convertible | 27,300
3 Door Hatch | 62,077
Notable Mentions
2 Door Convertible - Canary Yellow | 1,503
2 Door Convertible - Oxford White | 1,500
Cobra Hatchback | 5,099
Source:Ford Motor Company
---