With all the buzz surrounding Ford Mustang Coyote engine swaps, it's no surprise that people have turned to the capable new 5.0 as a source for making big horsepower in the beloved Fox Body platform. With the abundance of power available in its stock form and strong aftermarket support, the new-school 5.0 certainly makes a case for taking the engine swap plunge and abandoning old-school technology.
What about the diehard pushrod fans, though? How can they make 400+ reliable horsepower without breaking the bank?
Well, I'm here to tell you that there's an old favorite that can serve the purpose of making big power and torque without engineering a custom swap setup and abandoning your old school 5.0's electronics and pushrod character. That favorite comes in the form of the 5.0L 302's big brother - the 5.8L 351W (Windsor) engine.
Not to be confused with the 351C "Cleveland," the Windsor is simply a taller-decked version of the 302, making many of the engine's accessories very similar to stock Fox Mustang 5.0's. The taller deck allows for big cubic inches and results in big power numbers. If you're accustomed to working on a pushrod 5.0, you'll recognize the 351W as a very similar engine that's just as easy to service.
There are some challenges to the swap, though. The 351's taller deck requires some unique parts. A taller deck height translates into a wider and taller engine. The Fox Body 5.0's intake manifold, headers, distributor, front accessory brackets, and hood clearance will all be affected by the bigger engine's width and height. Along with the deck height challenge, the 351W has a larger main journal size, resulting in a unique oil pan.
If you're familiar with 50oz v. 28oz balance in a small block Ford, you'll notice that the 351 shares the same balance as most 331 and 347 strokers, which require a unique 28-ounce harmonic balancer and flywheel or flexplate combination.
I know, it's sounding like a big deal now. It's not. Mustang owners have done this swap for years. Our General Manager, Scott, personally installed one in his 1990 5.0L coupe way back in 1998. If you consider that most Fox body builds can benefit from a new intake, headers, oil pan, flywheel, and balancer, then you're not far off from having what you need for the 5.8L swap.
Sure, stock 5.0 stuff won't work, but who keeps any 1979-1993 Mustang stock? If you're a 1987-1993 Mustang owner and want to keep your fuel injection, you're still okay. The 351's firing order is the same as your 5.0, so your factory computer works just fine.
Engines are available from various sources and vary wildly in cost, cubic inches, and horsepower production. Crate Motor suppliers such as Ford Performance offer a variety of fire-breathing, 351w-based engines that will nestle right between your Mustang's strut towers. You can check out our complete pushrod engine line up here: Fox Body Crate Engines.
At the end, when you're in the market for an engine build, consider the upgrade to a 351w big power potential and ease of fitment. Take a look at the parts list below and see what's needed to convert the typical mass air-equipped 1987-93 5.0 Mustang over to the mighty 351: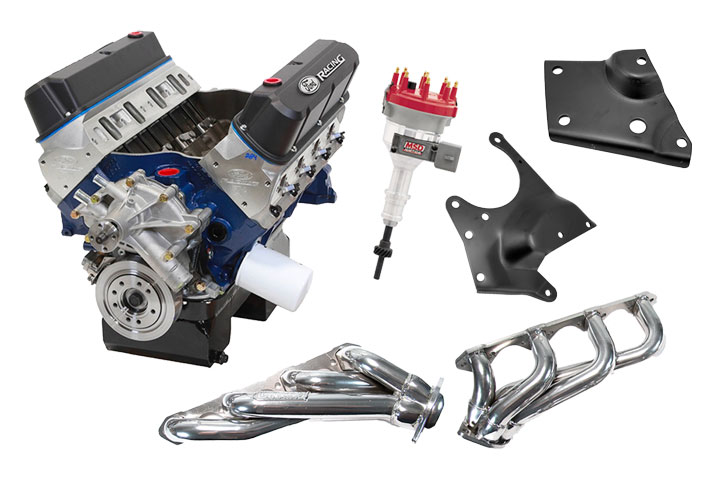 351W Conversion Parts list:
Intake manifold – An EFI intake manifold will be needed to accommodate the 351's wider dimensions. Standard 302 manifolds will not crossover to the 351 platforms.
Headers - BBK offers long tube and shorty headers specifically designed for Fox Body 351 swaps.
Oil Pan/Oil Pumps – 351 swap oil pans and oil pumps are available from both Ford Performance and Canton.
Accessory Brackets – FRPP offers the air conditioning bracket or air conditioning delete bracket that's required for the wider 351. The a/c delete bracket is designed to be used in conjunction with the FRPP M-8511-A50 a/c delete for 5.0's.
Distributor – MSD offers its Billet Ready-to-Run distributor for use with the 351w in EFI Mustangs.
Harmonic balancer – Ford Performance and TrickFlow offer a variety of 28oz balancers for use with the 351.
Flywheel/Flexplate – Ford Performance and Ram offer flywheels for manual transmission applications in the correct 28-oz imbalance, and Performance Automatics offers the flexplates needed for C4 or AOD conversions.
Hood clearance – We offer an assortment of fiberglass hoods that can provide additional clearance over the stock hood. Most 351's will work with a 2.5"-3" cowl hood, but intake spacers can require more space. K-member spacers from Maximum Motorsports can provide additional hood clearance, and drop motor mounts can lower the motor if needed. Be careful with combining drop motor mounts with K-member spacers. Ground clearance, header fitment, and engine angles can get wacky when lowering the motor too far. Standard 302 motor mounts will work to keep the engine in its stock location in the engine bay.
I hope this gives you an idea of what's needed to upgrade to the big Windsor in your Fox. It's a bolt-in affair, but it will require some unique parts. As with any engine build, the magic is in the combination. Bigger engines require more air, so you'll have to match your parts accordingly.
The great news is a 351 can provide more torque and horsepower than a 302 while keeping a mild street build. 350-400 rear-wheel horsepower is very achievable with a street 351, where a 302 will sacrifice streetability to get these numbers. Once your car is set up for the larger 351, the sky is the limit as to power production with as much as 427 cubic inches available via a Ford Performance Crate Engine.
---